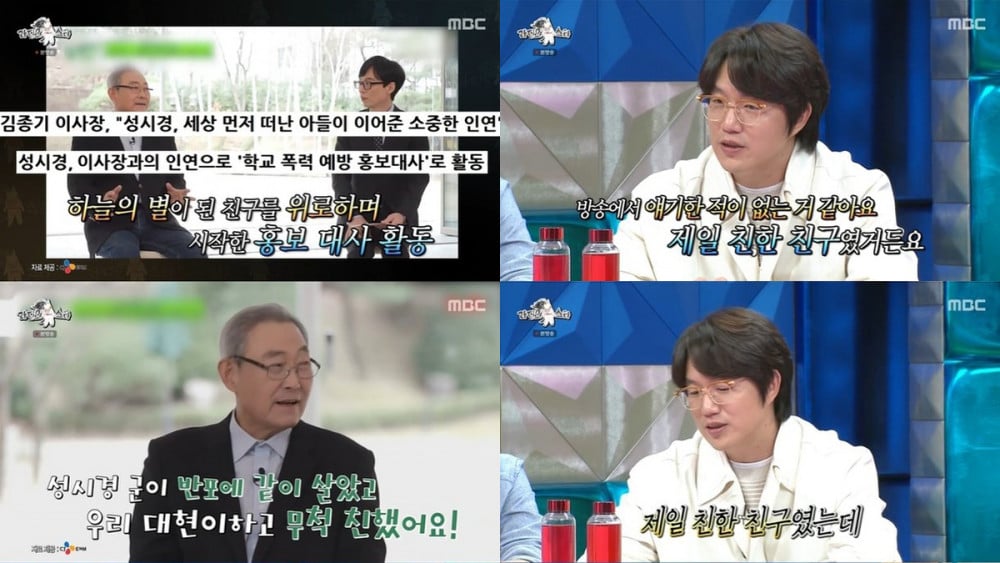 On May 4, singer Sung Si Kyung appeared as a guest on MBC's 'Radio Star' alongside Psy, (G)I-DLE's Soyeon, and Lee Seung Yoon.
Some time earlier this year, an episode of tvN's 'You Quiz on the Block' with guest Kim Jong Ki, founder of South Korea's Blue Tree Foundation, made headlines. The Blue Tree Foundation is known as South Korea's first ever non-governmental organization raising awareness toward school bullying prevention. During his interview on 'You Quiz on the Block', Kim Jong Ki revealed that his son chose to take his own life at the young age of 16 after becoming the victim of severe school bullying. Afterward, Kim Jong Ki left his job and founded the Blue Tree Foundation, devoting his life to school bullying prevention.
Kim Jong Ki also mentioned on 'You Quiz' that singer Sung Si Kyung, who was his son's best friend in school, kindly agreed to be the ambassador for the Blue Tree Foundation, expressing his gratitude toward the singer.
On 'Radio Star' on this day, Kim Jong Ki's recent appearance on 'You Quiz' was brought up. Sung Si Kyung said, "I saw that chairman Kim appeared on a broadcast some time ago. I've never mentioned this [story] myself on a broadcast before. But Kim Dae Hyun (Kim Jong Ki's late son) was my best friend in school."
Sung Si Kyung then reflected, "After going through living hell, Dae Hyun's father left his job at a large corporation to begin a foundation that focused on school bullying prevention. Even though it is something that has always been rampant in our society, at the time, 'school bullying' was actually not a phrase that was often used or brought up. And then, because of Dae Hyun's father, the gravity of the issue was finally recognized. It was a problem that someone had to address, and Dae Hyun's father devoted himself to do just that."
Sung Si Kyung also revealed, "Some other close friends and I used to visit chairman Kim on Dae Hyun's birthday. But at some point, it became too painful for me. Because even though much time had passed, when he saw that his son's friends were growing up, he was being reminded again that his son was not there in our midst. I haven't paid the chairman a visit in a while, but some of the other friends also contacted me again after seeing the recent broadcast. So I believe we will all get together and visit soon."
Finally, Sung Si Kyung stated, "This is an issue that we cannot ignore. The young students cannot handle it alone, the adults have to be there to help. Chairman Kim is at the forefront of the effort, and I'm always both grateful and apologetic toward him."