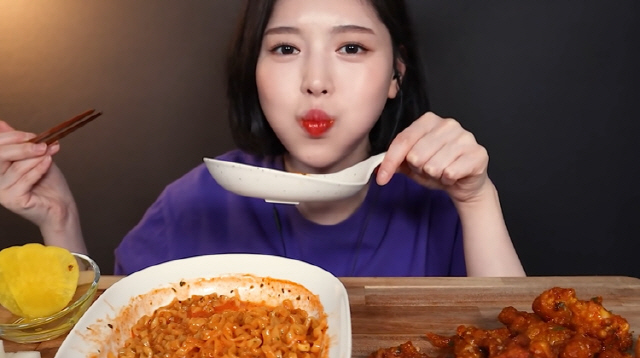 Mukbang has been a sensation in South Korea for quite some time, and it has become so sensational that celebrities and non-celebrities alike are all taking part in this syndrome. One very famous Mukbang artist Boki is famous for her mukbang channel on YouTube, called "Eat with Boki."

She is not your ordinary mukbang star; she eats a large amount of food, and what's really unique about her is that she can stuff quite a lot in her mouth... without making a single mess! The cleanliness of her process eating and her facial expressions, paired with her comments make any person who is watching her drool! The ASMR quality on this is also worth mentioning... If you are a fan of ASMR, then Boki will be the perfect channel for you. Might we mention... the food also looks extremely appetizing! She has achieved over seven million followers in less than 4 years, which is a pretty amazing accomplishment!
Check out some of her best videos, and let us know what your thoughts are!
Yupdduk Spicy Rice Cakes + Kyochon Honey Combo Mukbang
Yupdduk's spicy rice cakes and Kyochon's chicken combo has been a huge favorite combination in South Korea, and she was able to show us how it should be truly eaten!
Ramyun & Scallion Kimchi Mukbang
Everyone's favorite late time snack ramyun, but look at how many she cooked! And the real question is... how is she grabbing that much ramen at once?!
Salmon Mukbang
If you love salmon sashimi, then this one is for you. That just looks like a salmon paradise... She also added in some inari for us as well!
GCOVA Chicken & Jjamppong Ramyun Mukbang
GCOVA has been one of the hottest chicken chains in South Korea -- it's charm is that the chicken is smoked & roasted instead of fried. It also pairs perfectly with a bowl of rice. Boki decided to venture out further and add in a kick by pairing it with Jjamppong ramyun as well.


Daechang (Large Intestines) (ft. Beer) Mukbang
Nothing compares an amazing meal other than some large intestines! She added in some makchang as well to add to the fun.



King Crab Mukbang
Have you seen a king crab this big? Absolutely crazy to see how huge this crab is... but it looks so appetizing!



Butter Grilled Lobster & Spicy Seafood Pasta
I feel like even people who don't like seafood will be intrigued to try these dishes. She just makes it so appetizing!
After viewing all these mukbangs, I will apologize if you are hungry. We can't blame you! She is definitely in her own league for the world of mukbang. Make sure to subscribe to her channel Eat with Boki if you want to see more of her content, and we will finish this article off with her legendary "One-Bite Compilation!" Let us know your thoughts on Boki below in our comments!