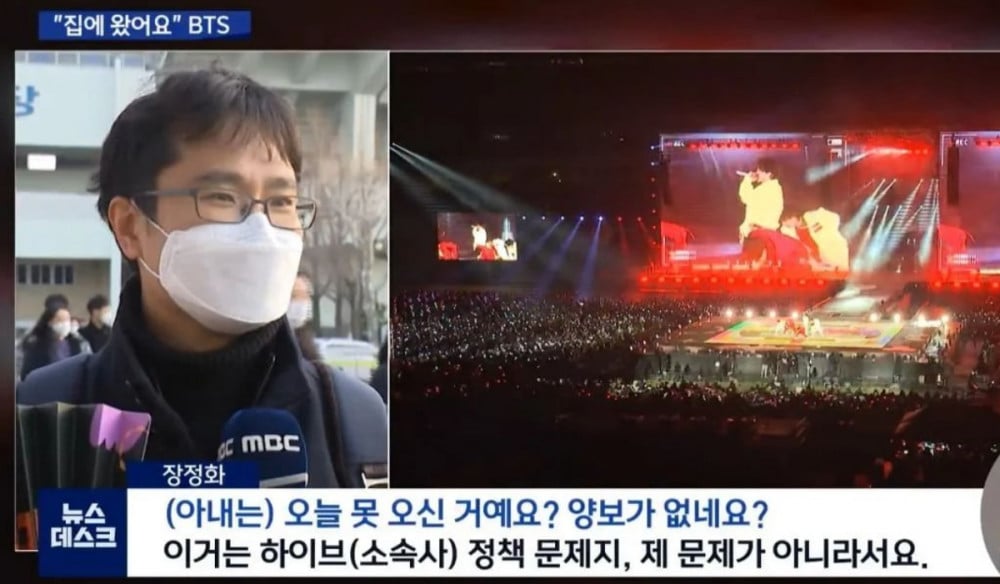 A husband went viral for his interview revealing he left his wife at home because the couple could only secure one ticket to the BTS concert.

On March 12th, MBC interviewed fans who made it to the second day of the 'BTS PERMISSION TO DANCE ON STAGE - SEOUL.' One of the interviewees then caught attention online for his entertaining interview.
A correspondent reported there was a husband who beat his wife in the competition for securing the ticket after a man was seen alone at the concert venue. He started, "But only I secured the ticket." The correspondent went, "So your wife didn't make it? No concessions?" He replied without any hesitation, "This is on HYBE, not my problem."
As he did not hesitate, his interview soon went viral online making many netizens burst out laughing. Some of the comments include: "OMG it'd be so much fun stanning the same group tho hahaha", "I can see his smile of victory through his mask lol", "Well, where is the lie? lol Their ticket policy makes it impossible to gift it to someone else.", "lol He didn't stutter", "This is hilarious lol"
The said interview can be seen around the 1:30 mark in the video clip below.