Source: Pann
Idol songs that landed in the top 10 in annual charts since 2008.
Gaon Chart was launched in 2010 (The 2008 and 2009's charts are Melon's).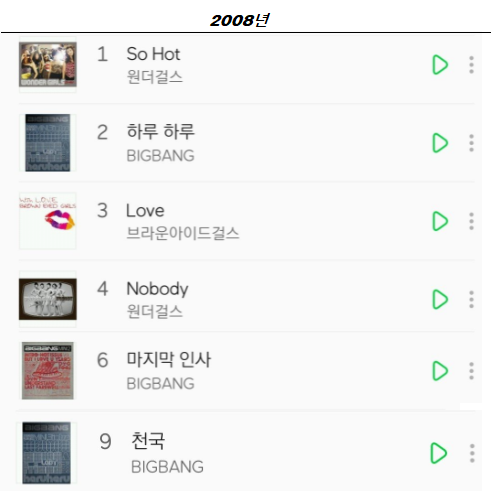 2008
1.Wonder Girls-So Hot
2.BIGBANG-Haru Haru

3.Brown Eyed Girls-Love
4.Wonder Girls-Nobody
6.BIGBANG-Last Farewell
9.BIGBANG-Heaven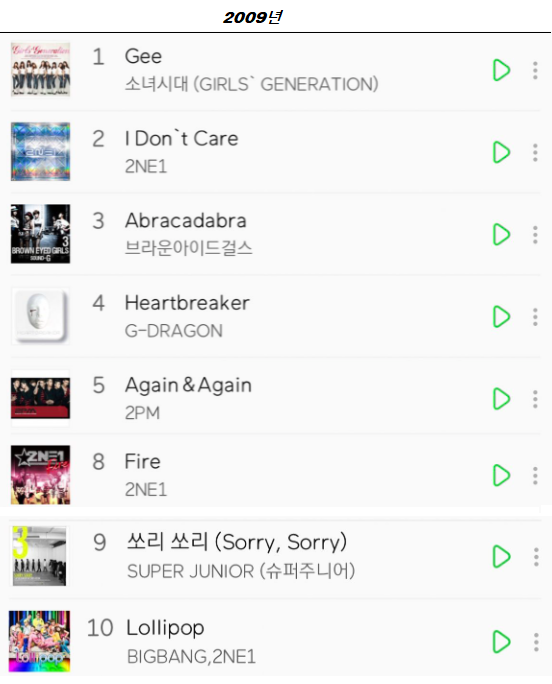 2009
1.Girls' Generation-Gee
2.2NE1-I Don't Care
3.Brown Eyed Girls-Abracadabra
4.G-Dragon-Heartbreaker
5.2PM-Again&Again
8.2NE1-Fire
9.Super Junior-Sorry Sorry
10.BIGBANG&2NE1-Lollipop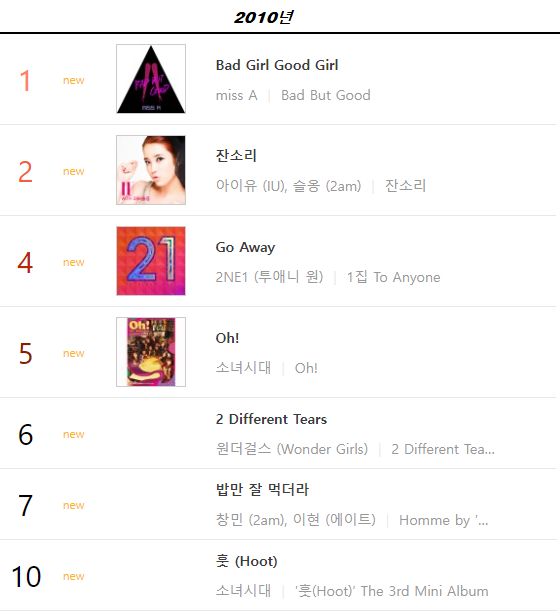 2010
1.Miss A-Bad Girl Good Girl
2.IU&Seulong(2AM)-Nagging
4.2NE1-Go Away
5.Girls' Generation-Oh!

6.Wonder Girls-2 Different Tears

7.Changmin(2AM)&Lee Hyun-I was able to Eat Well

10.Girls' Generation-Hoot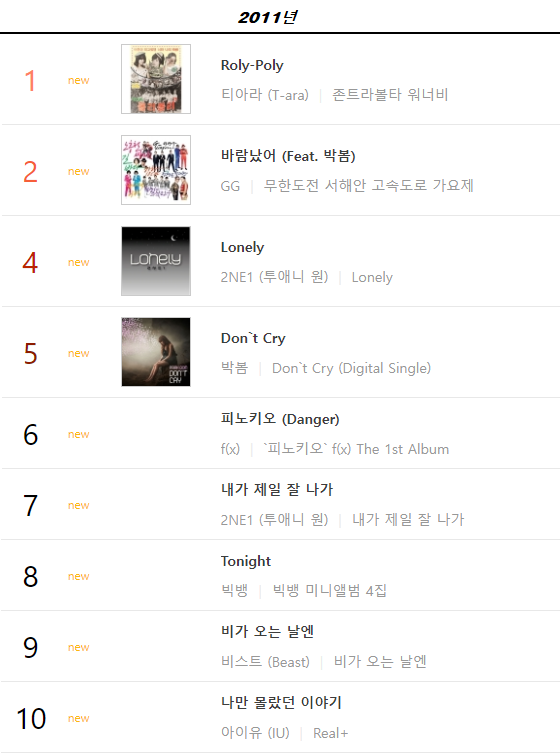 2011
1.T-ARA -Roly-Poly
2. GG(G-Dragon&Park Myungsoo) ft. Park Bom-Having an Affair
4.2NE1-Lonely
5.Park Bom-Don't Cry
6.f(x)-Danger
7.2NE1-I'm the Best
8.BIGBANG-Tonight
9.BEAST-On Rainy Days
10.IU-The Story I Didn't Know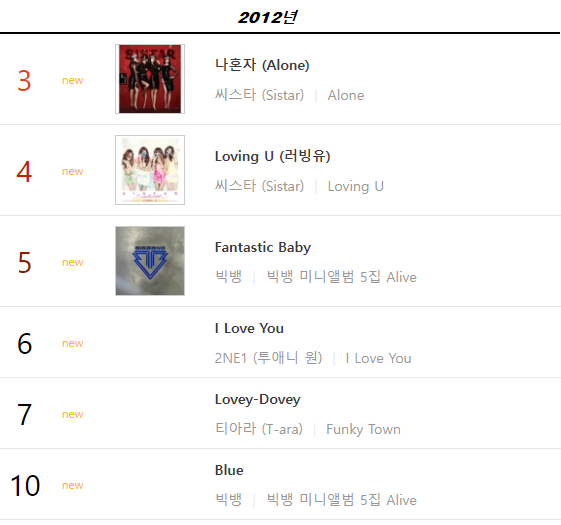 2012
3.SISTAR-Alone
4.SISTAR-Loving U
5.BIGBANG-Fantastic Baby
6.2NE1-I Love You
7.T-ARA -Lovey-Dovey
10.BIGBANG-Blue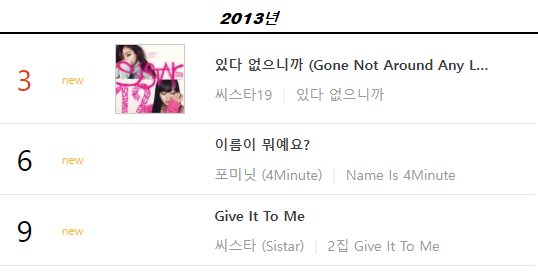 2013

3.SISTAR19-Gone Not Around Any Longer

6.4Minute-What's Your Name?

9.SISTAR-Give it to Me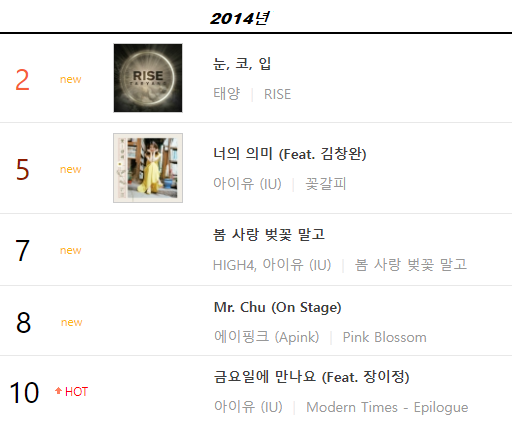 2014
2.Taeyang-Eyes, Nose, Lips
5.IU ft. Kim Changwan-Meaning of You
7.IU&HIGH4-Not Spring, Love, or Cherry Blossoms
8.APink-Mr. Chu (On Stage)
10.IU ft. Jang Yijeong-Friday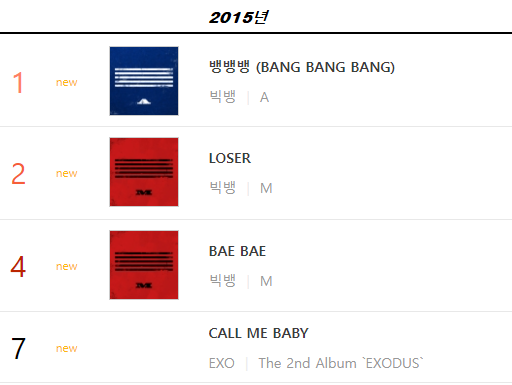 2015
1.BIGBANG-Bang Bang Bang
2.BIGBANG-Loser
4.BIGBANG-Bae Bae
7.EXO-Call Me Baby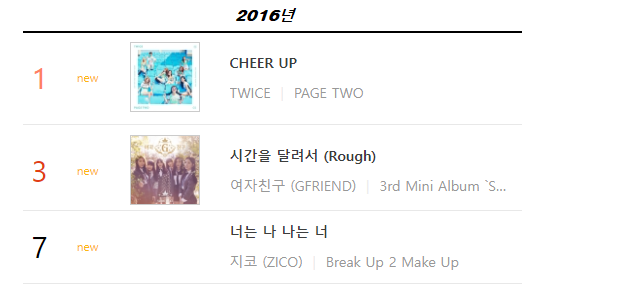 2016
1.TWICE-Cheer Up
3.GFriend-Rough
7.Zico-I am You, You are Me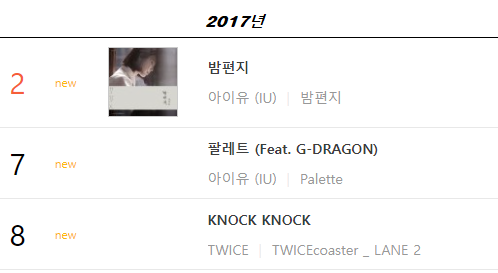 2017
2.IU-Letter
7.IU ft. G-Dragon-Palette
8.TWICE-Knock Knock
2018
1.iKON-Love Scenario
4.MoMoLand-Bboom Bboom
5.BLACKPINK-Ddu-du Ddu-du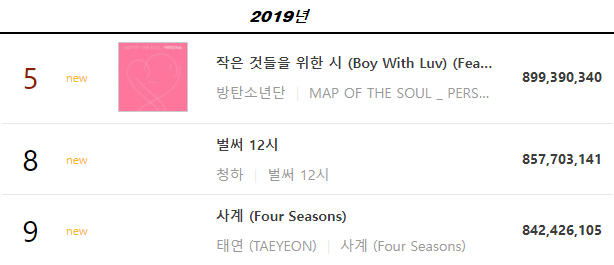 2019

5.BTS ft. Halsey-Boy with Luv

8.Chungha-Gotta Go

9.Taeyeon-Four Seasons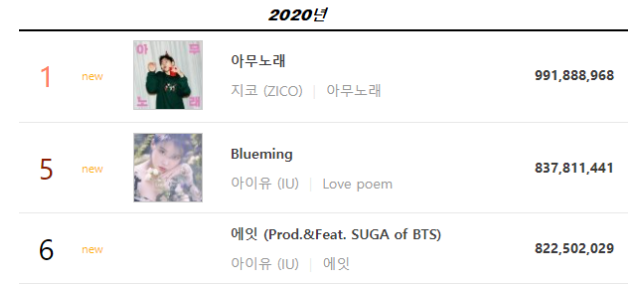 2020
1.Zico-Any Song
5.IU-Blueming
6.IU ft. Suga-Eight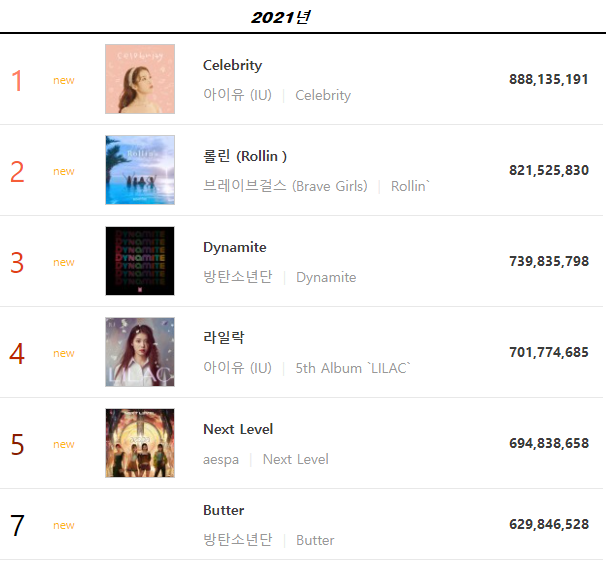 2021
1.IU-Celebrity
2.Brave Girls-Rolling
3.BTS-Dynamite
4.IU-Lilac
5.aespa-Next Level
7.BTS-Butter


Total entries:
(11times) IU

(10 times) BIGBANG

(7 times) 2NE1

(4 times) SISTAR

(3 times) Wonder Girls, Girls' Generation, BTS

(2 times) Brown Eyed Girls, T-ARA, TWICE, Zico

(1 time) G-Dragon, Super Junior, Miss A, Park Bom, Taeyang, HwangTaeJi(Kwanghee-Taeyang-G-Dragon), 2PM, 2AM Changmin, 2AM Seulong, f(x), BEAST, Apink, 4Minute, EXO, Chungha, Gfriend, MoMoLand, iKON, BLACKPINK, Brave Girls, Taeyeon, aespa



1.[+141, -7] I was expecting IU and BIGBANG but wow, 2NE1.. that's amazing.

2.[+130, -64] No matter how much you call them druggie idols, the reality is that BIGBANG is the best idol.

3.[+121, -35] After all, BIGBANG is the real legend at this point.

4.[+75, -2] In the 2nd generation, there was no stream culture.

5.[+67, -3] If BIGBANG had released an album every year, it would have been more than this. They always have a break for 2 years, 3 years, 5 years...

6.[+50, -1] Isn't (BIGBANG's) Heaven amazing? It's not even a title song.

7.[+43, -1] (BIGBANG's) Last Farewell was released in November 2007 and it took 9th spot in 2008ㅋㅋㅋ and in 2007 and 2008, BIGBANG ranked 1st on Cyworld's annual chart.

8.[+43, -1] If you count the collaboration between 2AM's Changmin and Seulong, why don't you count GD's? There are Heartbreaker and Having an Affair. Also, HIGH4 is missing in the 2nd list. It was amazing.

9.[+41, -2] Youtube's Domestic Chart 2015ㅋㅋ.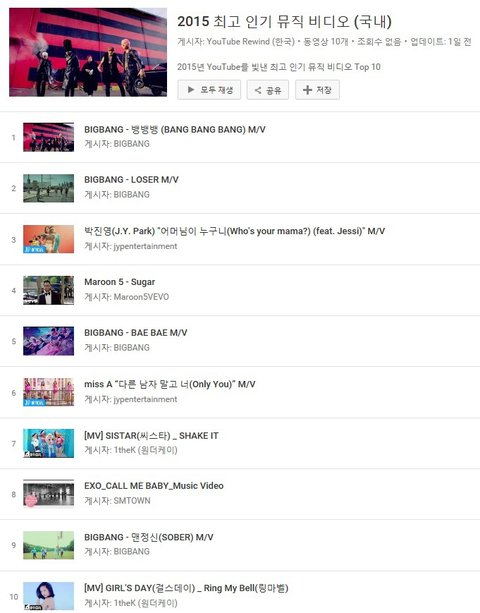 10.[+41, -1] Female idols' songs definitely do well on charts, but BIGBANG? Also, aespa as a rookie idol is crazy.

11.[+40, 0] 2nd generation girl groups are really amazing.

12.[+141, -7] Last Farewell is a song from November 2007. Haru Haru ranked 1st on Cyworld annual chart in 2008, which had over 20 million users at that time. Heaven is a b-side track but it ranked 9th.
↳Lies ranked 1st on Cyworld's annual chart in 2007. Both of them were released in August, and BIGBANG ranked 1st twice in a row.