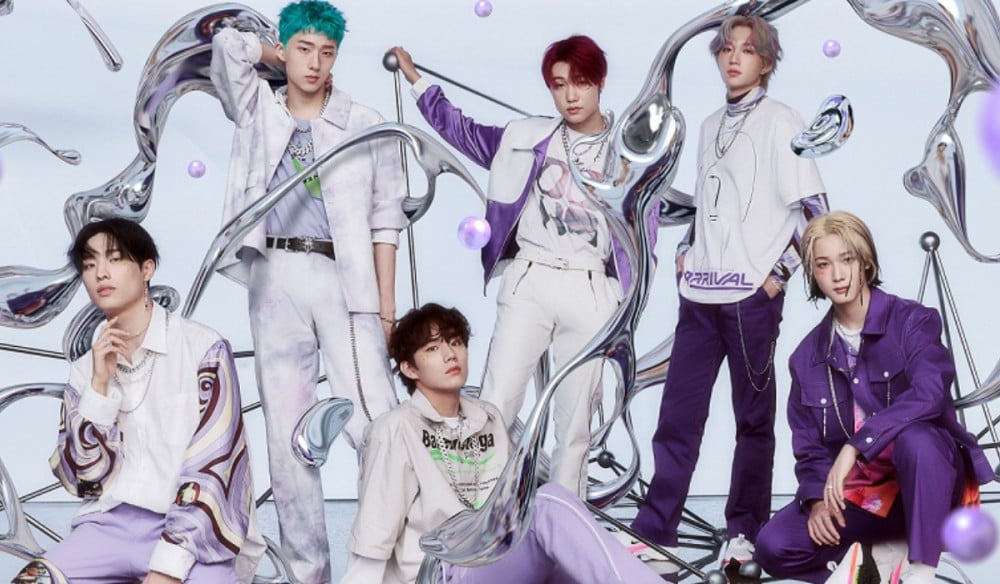 As FNC Entertainment's up-and-coming boy group, P1Harmony is creating a buzz in the K-Pop scene with their infectious hip-hop sound, impressive performance style, and focus on activities that bring them closer to their international fans, having spent the end of last year vigorously promoting in the United States.
With only one month left before their first U.S. tour 'P1ustage H: Peace,' the P1Harmony members linked up with allkpop for an exclusive interview, where they talked about their recent comeback album 'DISHARMONY: Find Out,' their favorite songs both on and off the album, and what it's been like finally performing live as a group that debuted mid-pandemic.
allkpop: First and foremost, congratulations on your latest comeback! We're big fans of your new single "Do It Like This" at AllKPop. Can you tell us a bit about the song's behind story and how it came to be the album's title track?
Keeho: Thank you! At first, we didn't think our title track, "Do Like It Like This," was strong enough, but while we were recording the track, and thinking about the choreography, we gained a lot of confidence about it; like it stuck and grew on us, which is how it became our title track. The song is about simply following your dreams ― no matter how difficult it is― and to just 'do it like us!'
AKP: What was it like working on the "Do It Like This" music video with U.S. dance crew The Lab. Was there a particularly funny or memorable moment that occurred on set or through the collaboration process? What's something special you feel that you've gained from that experience?
Jiung: It was fascinating to have finally met them in person because we really liked their style [we watched a lot of their videos on YouTube prior to meeting them in person]. We learned a lot from them.
Keeho: This is TMI, but it was kind of awkward in the beginning because they didn't think we spoke English, but as soon as I said something in English, we immediately bonded, and we had a lot to talk about because one of the members was from Toronto as well!
Intak: Their style, facial expression, formation & energy really inspired me, and some of the point choreography [also known as 'gesture choreography'] was highly influenced by them. It was fun!
AKP: 'DISHARMONY: Find Out' is the final album of your 'DISHARMONY' series. Can you briefly explain the significance of the 'DISHARMONY' series and how this album particularly contributes to that story?
Keeho: The 'DISHARMONY' trilogy ends here with DISHARMONY: FIND OUT, but our bigger narrative ― which is to bring harmony ― will continue. The trilogy was always about bringing harmony to the disharmonious world, and most importantly to inspire our fans/listeners to gain confidence to do whatever they want, to never doubt themselves or ever falter. While we were more focused on talking about tackling social injustices and systemic issues, this album is more about enjoying life and building confidence to follow our dreams.
AKP: What did you focus on the most for this album that might be different from the other 'DISHARMONY' releases?
Keeho: We were more focused on sending a positive message while exploring and building a new world of unlimited possibilities with our P1eces.
AKP: The new album also features an English version of "Do It Like This." What was the process of creating the same song in a different language like? Were there any particular challenges?
Jongseob: When my verse was translated into English, the flow and rhythm were different from the original, so it took a while for me to practice.
Intak: The person who helped with my verse changed the line "네 이웃을 [which means 'my neighbor' in English] to 'blow the whistle,' and surprisingly, the pronunciation and flow were so close to the original that I was super impressed.
AKP: This is a question for each one of you to answer: Which song on the album do you think you sound your personal best on? If you could say to your fans, "Check out my part on this track. I really like how it came out," which track on the album would you choose and why?
Jiung: For me, it's "Peacemaker" because I was able to show off my warm and softer tone, which I think personally, really went well with the entire mood and soundscape of the song.
Theo: For me, it was "Before The Dawn" because I was able to sing in my most confident vocal range.
Keeho: I would choose "Do It Like This" because it's the first time I sang in my lower register, which I think is one of my biggest strengths.
Jongseob: My first rap verse in "Bop" is my favorite as my style and tone fit the youthful energy of the song.
Intak: For me, it's "Do It Like This" because I think my rap verse is super addictive and impactful.
Soul: I'd say "Peacemaker" because my emotions were really well captured.
AKP: What are your goals during 'DISHARMONY: Find Out' promotions? Is there any particular response you want P1ece to take away from listening to the album?
Intak: Our goal with any album is to reach the top! We would like to win first place at a music show soon!
Jiung: We want our fans to just enjoy life and have fun! Like, 'do what you want to do and do it like us!'
AKP: In 2021, you spent a lot of time focusing on overseas promotions, including being able to greet North American 'P1ece' through various performances, fan meetings, and press collaborations. What was the experience like, and what was each of your favorite parts of being able to visit the United States?
Jiung: Definitely our show in LA. Not only was it our first time performing in front of such a large crowd, but also it was the first time we felt our U.S. fans' love and support in person. We cannot forget the interaction we had with them. It will always be our most memorable and precious memory, no matter how many times we go back. We are so blessed and grateful for our P1eces.
AKP: Especially as one of the many groups who debuted during the COVID-19 pandemic, how did the opportunity to finally perform in front of fans affect you artistically? Do you feel your process, morale, or even your goal(s) as a group has changed at all?
Jiung: It felt like we were reminded of something we've forgotten because we got so used to doing stages without an actual audience and being on stage in front of an actual audience made us realize what our main goal was in the first place, which is to really connect with our fans through our music and performances.
Intak: Through that unforgettable and precious experience, I realized how I need to work harder to really hone my craft, to be perfect, more charismatic, and sincere on stage.
AKP: As you've covered a broad selection of songs in the past, we bet that you all have pretty diverse tastes in music. If you could recommend to 'P1ece' a song that you're really loving lately, which song would you recommend to them and what's the best way to listen to it (ie: at home on a rainy day, getting ready to go out with friends, etc.)?
Theo: I would recommend 10cm's "Drawer." It's a perfect song to listen to when you want to sit back and reminisce about your past.
Keeho: Jhene Aiko's "Eternal Sunshine," when you're feeling down and want to be lifted and positive. The song reminds you that you always have something to be thankful for. It's a good song to listen to when you miss your family. I listen to it when I miss my family, especially my mom.
Jongseob: The Weeknd's "Gasoline." I just love this song and I think it's a good song to listen to in any situation!
Intak: Giriboy's "Sooljalee." This song is good to listen to when you've had a long day and all you want to do is lie down and do nothing while cuddling a teddy bear. I actually have one [a teddy bear] and do this often after an exhausting day.
Jiung: The Black Skirts' "Want Your Love." It's a feel-good song to listen to while you want to feel livelier!
AKP: Lastly, with the new year starting, we want to know: Do any of you have a special goal or challenge you want to try for 2022? (It can be personal or professional, in or out of the group.
Keeho: I want to go home! I want to go to Toronto!
Soul: Me too. I want to go home. I miss my puppies!
Jongseob: I want to buy a digital camera and take more pictures.
Jiung: It'd be nice to go on a trip with the members.
Intak: I bought my mom a gift [something she really wanted], and hopefully, I can buy her more gifts this year.
Theo: I want to color my hair black!
AKP: allkpop readers include P1Harmony fans not just from the U.S., but all over the world. Any last things you'd like to say to them?
Keeho: Thank you for supporting us from so far away, and we hope to perform in every single country. But until then, please continue to love and support us! Thank you and we love you ALL.