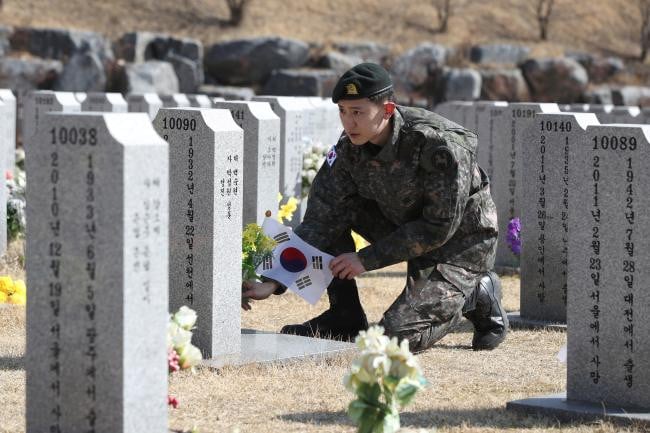 Corporal Park Chanyeol, a member of EXO currently serving in the 9th Infantry Division, has a special relationship with his unit. His grandfather, the late Park Jun-Geun (reserve lieutenant colonel), a veteran of the Korean War, commanded the unit more than 60 years ago as the battalion commander of White Horse Unit, where Chanyeol currently serves.
'February 22nd' is a special day for Corporal Park Chanyeol as it is the anniversary of his paternal grandfather Park Jungeun, who passed away 11 years ago.
On this day, Chanyeol visited the Daejeon National Cemetery. Prior to visiting his grandfather's grave, Corporal Park first removed the 'Army Headquarters' unit mark attached to his left arm and attached the mark 'white horse' of the 9th Division, the original unit.
He is currently dispatched to the Army Musical Team.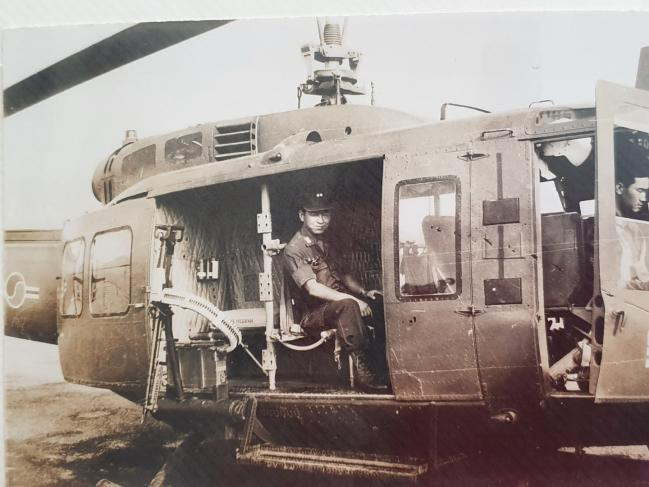 Chanyeol saluted his grandfather with a strong voice and began paying respect. He silently paid tribute for about 5 minutes conveying what he wanted to say to his grandfather. He said, 'I'm sorry I couldn't see you often' and 'I came to visit you with the 9th division mark where you were in. I think you can be proud of it,' he said with a firm smile.
Soon after, his father, Park Sung-jin, came to visit and said, "I am happy that the image of the father I respected can be seen in the son I love, and I am happy at this moment." Chanyeol is greatly influenced by his grandfather from an early age. He said, "Thanks to my grandfather, who often and vividly told the story of his time in the war, I naturally became grateful for our military."

He also said that he had a lot of worries before enlisting, "Actually, I thought my enlistment was different compared to a good soldier like my grandfather. the perception of 'duty' played a stronger role than 'patriotism.'" However, Chanyeol surprisingly found out something during an interview with the battalion commander after receiving a Battalion Deployment Of The 9th Division. His grandfather's name was written on the 21st battalion commander among the 'nameplates of past commanders' hanging on the wall of the battalion commander's room.

Afterward, he found out that his grandfather's unit was the same through the phone call with his grandmother and father. He said, "I had a strong feeling that my grandfather was watching me from heaven. Afterward, Corporal Park said that he was proud of himself for wearing the 9th division mark. After that, His military life also changed 180 degrees. Inheriting his grandfather's patriotic spirit, he decided to become a 'true soldier' ​​as long as he served in the military.

Since then, he has challenged a special warrior and achieved this in the first place. In addition, Corporal Park, who served as the second lieutenant of the Panzerfaust (PZF-Ⅲ), participated in the weekly night shooting and skillfully performed the mission. Currently, he's been cast as 'Laman' in the army's creative musical 'A Song Of Meissa' and is working enthusiastically.

He said, "After seeing the announcement of the musical audition, I applied because I wanted to devote myself to the country using my skills and experiences.