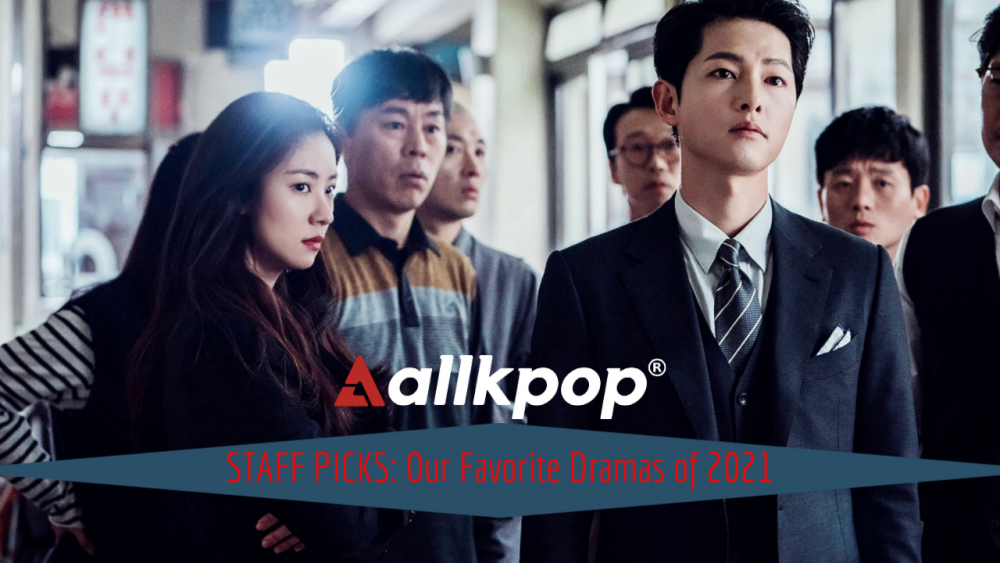 2021 was another year filled with amazing K-Drama releases. Out of the countless new dramas that came our way this year, here are the favorites that the allkpop staff loved the most!
Nishtha A's Pick: Vincenzo
Vincenzo was different when compared to what most Kdramas are like. It was on my list and I watched it in early August. The storyline was so intriguing that I couldn't help but binge it in one night.
Lorr-Ye's Pick: Work Later, Drink Now
With an amazing cast and a super fun and relatable plotline, Work Later, Drink Now is my favorite drama of the year. Just light-hearted enough, this drama is fun and enjoyable to consume with my friends. Each character has a load of depth despite the overall show's simplicity and in particular, I liked the way that women were portrayed as complex and multi-dimensional. A must-watch for those looking for something refreshing to enjoy!
Germaine-Jay's Pick: My Name
Korean dramas and films have some of the greatest revenge plots, and it was the same case with 'My Name'. I loved following the lead character as she did everything to seek vengeance, and I appreciated seeing Han Seo Hwi in an action role.
Sofia-Sayson's Pick: Hometown Cha-Cha-Cha
A beautiful and relatable Korean drama. It's a healing drama everyone needs in a time like this. This drama has been receiving so much love from all over the world which it deserves, it's definitely worth it to watch.
Ezra-Glow's Pick: Vincenzo
It's a mafia thriller. It's a quirky comedy. It's a murder mystery. It's the perfect blend of all three that will have you laughing, crying, and too entranced to stop watching. If you haven't watched Vincenzo yet, you seriously need to.
Jia-Lin's Pick: Hometown -Cha-Cha-Cha
A healing story that provided me with comfort and warmth this year. Chief Hong's story is something that people studying and working in a fast-paced city can relate to–and it's the sad reality for most people in today's world. This drama revolves not just around the main couple, but every character in the seaside village has a unique and strong personality that worked well with each other. The warmth and kindness of every character in the drama touched me and is definitely a must-watch this year!
Yeom-My's Pick: Hellbound
A genre that K-dramas have never been able to cover before and really leaves many thoughts even after the drama is over.
Sophie-Ha's Pick: Hospital Playlist Season 2

The second season of 'Hospital Playlist' continues to follow the story of five doctors who are in their 40s who have been best friends since college. These five doctors gather together once again as they embark on adventures revolving around their careers, music, and relationships. The second season follows with the mellow, slice-of-life genre as it continues to show the lives of the five beloved characters.


Jieun-Im's Pick: Taxi Driver
SBS's 'Taxi Driver' was full of refreshing storylines and the outstanding acting skills and chemistry among the actors immediately pulled me in. Notably, actress Pyo Ye Jin sparked interest with her excellent portrayal of the skilled hacker Ahn Go Eun, who suffers from a deep wound after losing her older sister to a particular case that is later brought up again. I greatly appreciate films or dramas that act as a stepping stone for actors and actresses in their career, and Pyo Ye Jin really shined in this series. Also, I always appreciate dramas that don't have me feeling frustrated throughout.
David's Pick: Squid Game
I watched this the first day it dropped on Netflix, before it went viral worldwide. The moment you see someone get shot in the first game, everything changes, and I was glued to the screen the rest of the way. It was action-packed with an all-star cast, amazing acting, storyline, and production. There is a reason it's the number 1 most streamed show on Netflix.
Paul's Pick: Vincenzo
I only watched two K-dramas in 2021, this and 'Squid Game.' I loved both but 'Vincenzo' barely edges out 'Squid Game.' This drama made me laugh and Taecyeon's character made me want to punch something, so the show did a good job in drawing out the emotions of the viewer. Like Vincenzo would say, "Complimenti, molto ben fatto!"
Janie-Reign's Pick: Part-Time Mellow

This web drama is an ongoing series that features SF9's Dawon as the lead. It also stars Lee Eun Sang, whom I personally got to know for the very first time, despite his fame through 'Produce X 101'. Both Dawon and Lee Eun Sang are very natural in this drama. Their vocal tone, pacing, and facial expressions deliver exactly what their characters should be: Dawon as the cheeky (and sometimes grumpy) but deep down sweet and caring co-worker, and Lee Eun Sang as the cutest yunhanam (younger male love interest) who can't take his eyes off his new noona crush. This drama does not give at least a second of what you might call "boring", because the story is centered around a love triangle as well as another love line, which I regard to be equally important to the storyline. The acting, as well as the humor, are not overdone, and there are surprisingly many relatable issues for a web drama (e.g. difficulty of finding a stable job in your twenties, having family responsibilities, getting cheated on by someone you trust, etc.). The narrative may not be as complicated, but I think that is the charm of web dramas. Sadly, this drama will only be available for Seezn subscribers in South Korea starting from Episode 7, but I would still suggest watching the first six to get a good taste of our K-Pop boys' amazing acting skills!
Yaki Jones's Pick: Inspector Koo
Inspector Koo breaks many cliches and thus provides fresh and delightful entertainment. You won't see a stereotypical have-it-all working mom or deranged-looking serial killer. The comical and theatrical editing only makes this show more quirky and interesting. I also loved how this drama dealt with a lot of current social issues without making it unnecessarily uncomfortable such as focusing on how the crimes were committed. The recent trends in production emphasize shocking factors including violent crime scenes, oftentimes putting victims in the spotlight. If you are tired of this trend but still want to tune in for a well-made crime drama, you should check this one out.
Dani's Pick: Yumi's Cells
While dramas that are adapted from popular webtoons and manhwa are not exactly uncommon, it Is sometimes difficult to do the original as much justice as the drama adaption of NAVER webtoon 'Yumi's Cells.' A sort of 'Inside Out' for twentysomethings, the story follows young office worker Yumi as she navigates her way through her personal and professional life, steered around by emotion-controlling 'cells' like Hunger, Love, and Rational. For the drama version, not only are these cells brought to life through very whimsical 3D animation, but for K-Pop fans, seeing GOT7's Jinyoung and SHINee's Minho in supporting roles makes the show an even bigger delight.
KG's Pick: D.P.
As someone who served in the Korean military, this drama gives a realistic look at the hazing and bullying that used to be prevalent in the army. No sappy love romance story, this is all drama. D.P. is very relatable and I can't wait to watch season 2.