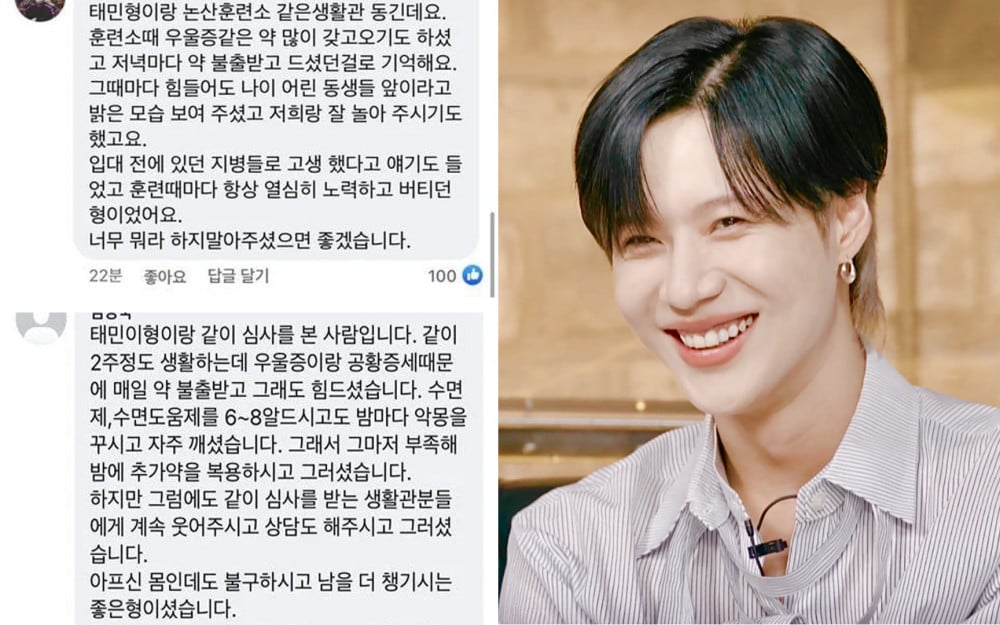 It was reported earlier that SHINee's Taemin had been transferred from active to reservist duty due to worsening depression and panic disorder. On January 14, SM Entertainment stated that Taemin will be carrying out the remainder of his mandatory military service as a public service worker.

With the news of Taemin's condition, many fans came to support the artist, hoping that he recovers quickly and returns healthy. However, it seemed that there was a hand full of malicious commenters who took issue with Taemin carrying out the remainder of his mandatory military service as a public service worker.
One colleague who was with Taemin at the military training center stepped up to defend the idol. The colleague explained that Taemin had tried to stay strong and bright despite his condition. The colleague wrote, "I am a colleague (of Taemin) who trained at the Nonsan basic training camp. Starting from the basic training, he brought a lot of depression medication, and he would be issued the medication every evening during dinner time. Every time it was difficult for him, he tried to stay positive and bright since he's in front of younger colleagues, and he would play with us a lot too."
The colleague added, "I heard he had suffered from these illnesses even before enlisting, but he always gave his best effort in every training. So, please refrain from saying stuff about him."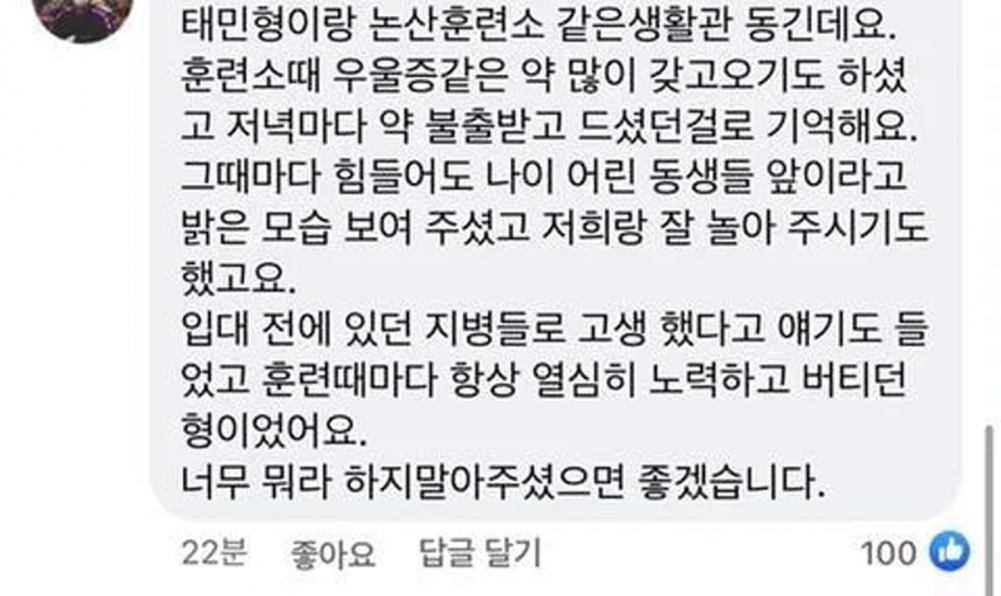 Another colleague also left a message in support of the idol and explained how Taemin tried to overcome his illness and gave his best efforts despite the condition he had.
The second colleague explained, "I was someone who went through an assessment with Taemin Hyung. I stayed with him for two weeks, and he was issued medication for his depression and panic disorder every night. Still, he was having a hard time. He was also given sleeping pills or 6-8 pills of sleeping assistance supplements. Still, he would often have nightmares and wake up in the middle of the night. That wasn't enough, so he would take additional medication at night. Despite all this, he would constantly smile at the military barracks officers who are being assessed and would listen to their consultations."
This second colleague added, "Even though he wasn't in good health himself, he would take care of others around him, and he was a good older brother. He was such a kind Hyung who even cheered me telling me to have strength. He also said he was afraid of what people would say when he leaves."
The second colleague concluded by saying, "He is not feeling well. So please do not say anything. Thank you."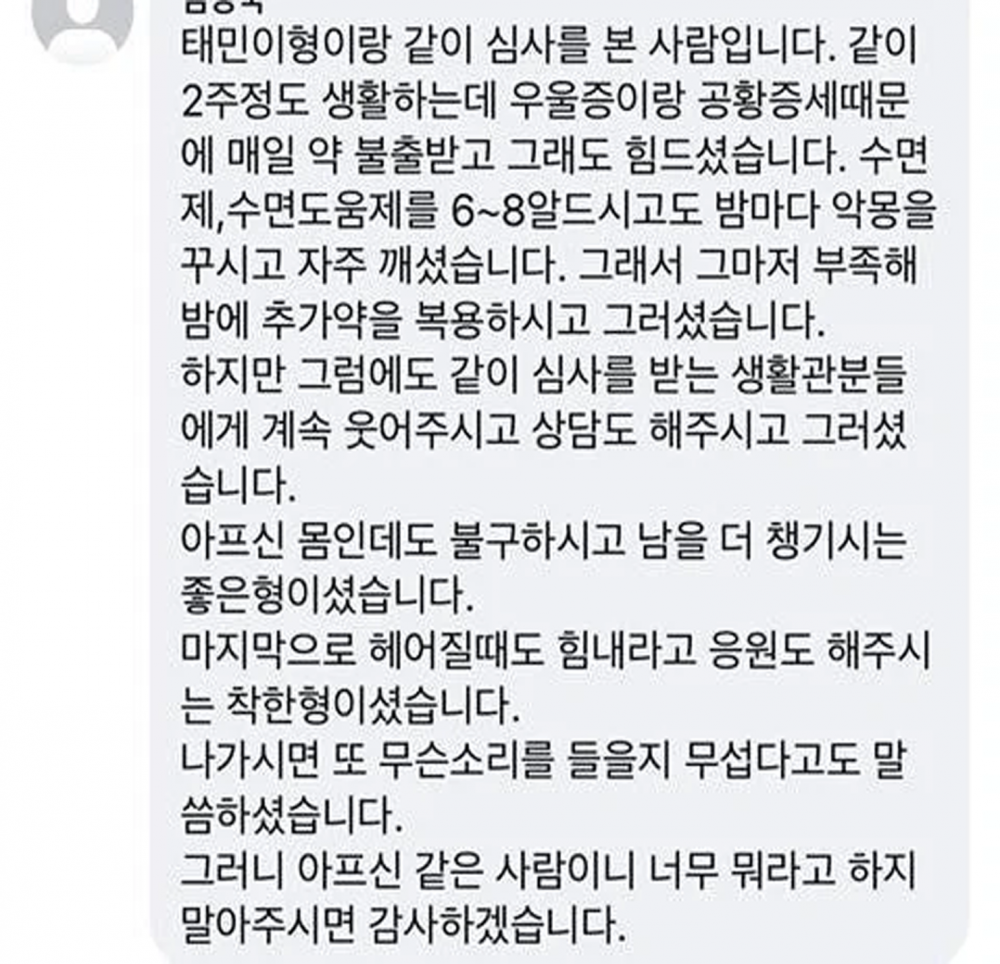 After reading the colleagues' comments in defense of Taemin, other netizens also joined the online community and expressed their support for the idol. Netizens commented, "I think he's amazing that he tried to finish his mandatory military duty even in that condition. I really feel that Taemin had the strong will to get better. I'm a family member of someone with depression, and it's really hard to overcome and have that strong will to get better. I really hope he gets better," "Taemin is so precious, I just hope he gets better and has happier days ahead of him," "I really admire how he enlisted in active duty even in his condition. He could have easily just enlisted as a public service worker," "I feel like crying. Really hurts my heart," and "I can't believe he was trying so hard to smile even though he was having a hard time."