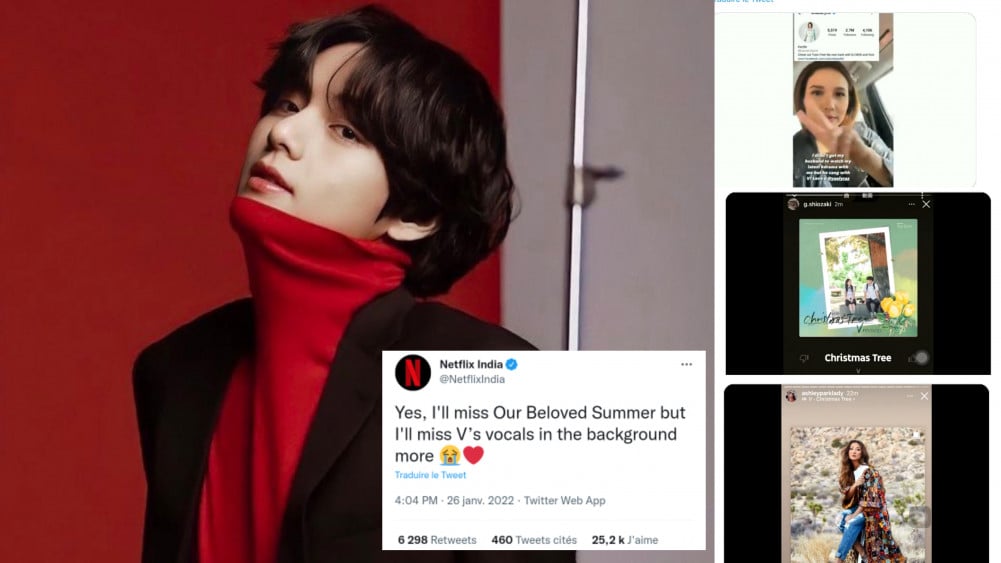 V's 'Christmas Tree' is the hottest topic lately, not only making records everywhere but also receiving so much love from everyone, gaining the most positive reactions.
Celebrities from all around the world and idols posting about listening to the song.
Ateez's San posted a video while humming to 'Christmas Tree' on Vlive.
Ana Karylle Padilla, known as Karylle, is a Filipino singer-songwriter, actress, dancer, TV host, model, athlete, musical theater performer who posted a video with her husband singing 'Christmas Tree' on her Instagram story.
Go Shiozaki, a Japanese professional wrestler posted listening to 'Christmas Tree' on his Instagram story.
Ashley Park, an American actress, dancer, and singer, used V's 'Christmas Tree' in her Instagram story.
Shania Junianatha, an Indonesian model and former captain of JKT48, posted that OST in her Instagram story.
V gained a solid fandom of celebrities and artists who expressed their admiration for his music.
South Korea's Grammy Award-winning soprano 'Sumi Jo,' Indonesian actress and host 'Dena Rachman' and the Scriptwriter of our beloved summer 'lee naeun' all shared the song via their Instagram stories.
Not only them, official accounts and media shared their love for Taehyung's voice and credited the popularity of the drama to his OST. Netflix India official account shared that they'll miss Taehyung's voice the most.
Variety mentioned how V added to the buzz surrounding the drama while making so many records everywhere.
The Stan Attractor Taehyung struck again as he took over non-fans with his voice and song. The OST is the talk of the internet collecting new fans.
V grew as a solo artist, developing a brand and image that is distinctly his and will always be remembered as one of the artists that helped redefine Korea's music industry.