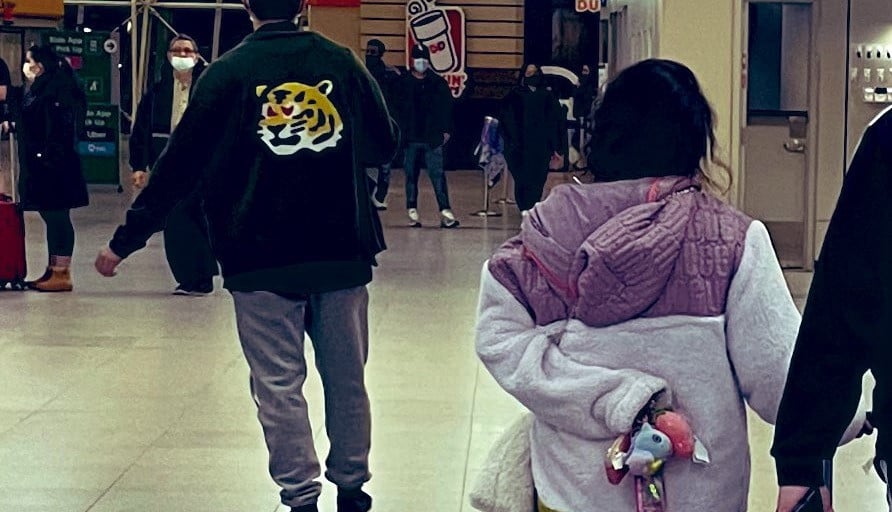 A BTS fan has hidden her identity as an ARMY for RM.
On December 18, a Korean media outlet reported that a fan who goes by the Twitter ID 'perfectlylonely' posted a photo with the following caption:

"When you see RM when you arrive to NYC. And yank your BTS merch off ur neck so he doesn't know you are ARMY"

According to this fan, BTS's RM was spotted at the airport in New York City, as he and all other members were currently on break. On December 14, an ARMY who knew of this had quickly decided to hide her identity as an ARMY as not to disturb RM's peace. Quickly, she hid her BT21 key chain merchandise behind her back.

Korean netizens who saw this act reacted with comments like:
"Wow, that's really hard to do..."
"That's a true fan...anyone could have just shrieked and run up to them..."
"So...kind and so...considerate. That's a chance of a lifetime to see a BTS member up close in real life and yet..."
"That's a real fan"
"Amazing"
"I wouldn't have been able to keep calm in that same moment"
On Instagram, BTS V had also uploaded a thank-you message to all the ARMYs for pretending not to know. V was vacationing in Hawaii at this time, and he had also taken notice of the ARMY's deliberate act of consideration.