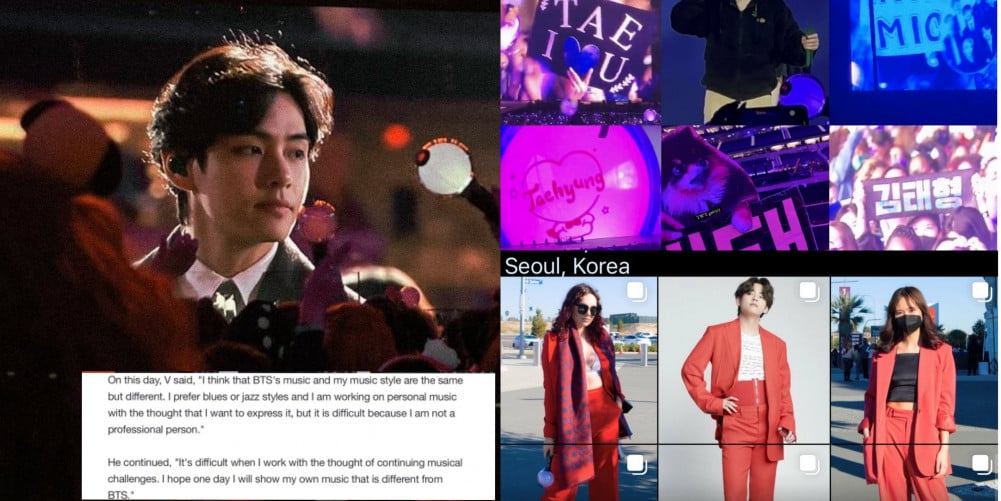 "BTS would be boring without Taehyung," as his fellow members said before, and it's proven once again as V continues to stand out whenever BTS goes.
At BTS's global press conference for their PTD Concerts in LA on November 28, the media showed their acknowledgment and adoration for V's music.
Taehyung seems to have a tight hold on everyone as a musician whose music is the most anticipated. Journalists at the press conference couldn't help but ask the artist about his solo music in the future as cameras couldn't escape his alluring aura zooming into his face multiple times...
"I hope one day I will show my own music that is different from BTS" Kim Taehyung.
V's music is always highly anticipated. The excitement rose among everyone waiting for the new songs from him, especially since he previously mentioned in his vlive that he wanted to release a Jazz Christmas song and that he'll work on it when he goes back to Korea.
"Taehyung is never beating the main character allegations," as fans love to praise the artist for his ability to stand out in every performance and event.
V took over LA concerts with his impeccable performances and vocals. The artist loves to be on the stage so much that the fans couldn't help but notice how much he glowed and shined in every performance, delivering the best and perfect shows.
Despite him still undergoing physiotherapy for his leg and still not fully recovered, the artist didn't let that hold him down. Instead, it only left the fans in awe at his level of professionalism.
The main character of LA V appeared in SBS news. Dispatch wrote an article about how many armys were inspired to dress like him...
V love being on stage performing. He loves music and admires what he does. We wish to see more of what the artist has to offer in the future.