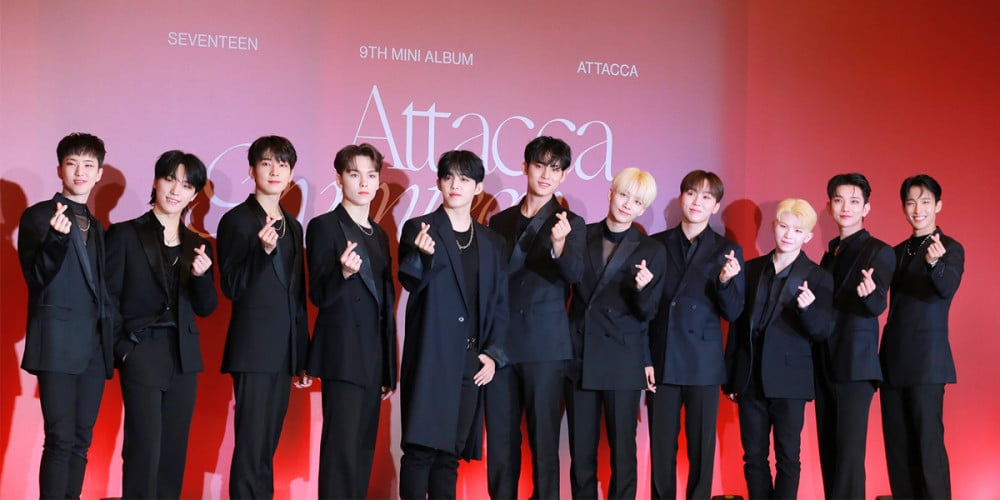 On October 22, Seventeen attended a press conference in light of the release of their 9th mini album, 'Attacca'.
This will mark Seventeen's first ever promotions as 11-members, as members Jun and The8 will be focussing on their activities in China for the remainder of 2021. Regarding the change, member Seungkwan commented, "We have always been 13-members since out debut, so I think feeling that gap from the two members who are away is just natural. We were always together not just during our promotions but in our daily lives as well, so we miss them a lot."
Seungkwan also added on, "We actually just finished a pre-recorded performance, and the members (Jun and The8) watched and said that we filled up their empty spots well, so they were grateful. We are keeping in touch, and Jun and The8 are also working hard in their promotions overseas. We all plan on doing our best."
Wonwoo then shared, "Since this is our first time promoting as 11-members, we are also curious how it will turn out. Jun and The8 filmed a lot of content, like dance performances, with us before they left. We have a lot prepared so that fans won't have the chance to miss them too much, so I hope you look forward to it."
Lastly, Mingyu said, "We miss you a lot, but we decided that we would do our best in our respective places, so fighting!"
Meanwhile, Seventeen's 9th mini album 'Attacca' drops worldwide on October 22 at 12 AM EST.