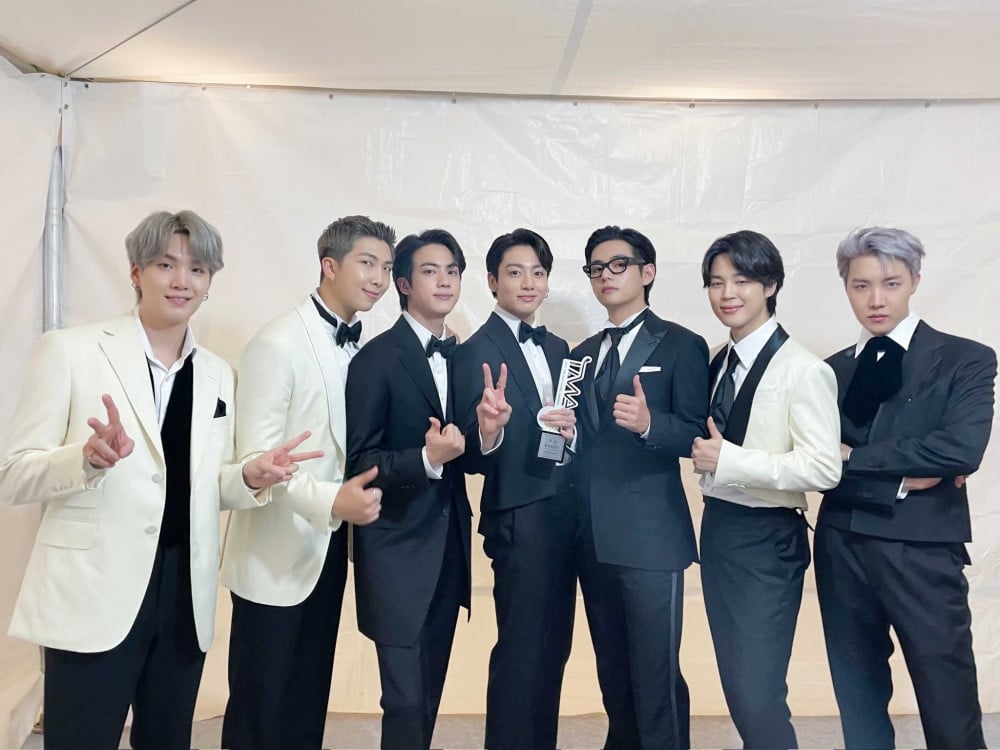 BTS took home 5 awards including the Daesang from '2021 The Fact Music Awards'.

The '2021 The Fact Music Awards' took place on October 2 online and without any audiences, which was hosted by Shin Dong Yup, Seohyun, along with actress Kim So Yeon, actor Park Hae Jin, actress Lee Som, and actor Kim Seon Ho as awards presenters.
BTS took home a total of 5 awards including the Daesang, Artist of the Year, Listener's Choice, Fan N Star Most Voted (Group), and the U+ Idol Live Popularity Award. You can check out the full list of the winners here. This marks their 4th year in a row winning the grand prize, Daesang.
In their Daesang acceptance speech, RM said, "Thank you so much for the big award. We've done and achieved a lot this year, but we weren't able to do the most important thing- seeing our fans. We're sorry for this but we're also grateful that we were able to receive another big award like this thanks to your contactless support and love. Since the words 'let's meet when this is over' are becoming repetitive, I won't say that anymore. We're working hard for our October concerts, so let's see each other with a smile."
SUGA relayed, "I am happy to be here today for the first time in a year. In particular, I believe the Daesang is an award given by ARMY. A lot of things have happened this year, but I'm excited that we will be able to meet ARMY soon. I hope that soon Korea will be able to hold concerts again and we will be able to see Korean ARMYs as well as ARMYs all over the world."
J-hope said, "I am most grateful to ARMY and I'll also take this chance to say thank you to our staff members, who are always working hard and putting in long hours and much effort on our behalf." V said, "I came to Seoul when I was 17 and I am now 27 years old. I'm grateful to the members for staying by my side for the past decade. ARMY, I love you too."
Jin said, "We're also grateful to our family and our family at Big Hit, and HYBE as well. I think that our agency has put in a lot of work.", while Jimin said, "If it's been 10 years for Taehyung, then it's been nine years for me. I've been working hard and I'll continue to work hard. Thank you ARMY for watching us over by our side."
Jungkook concluded the speech by saying, "This year is almost over. I want to spend the rest of it making happy memories with ARMY. I miss you. Thank you very much."
Congratulations to BTS!