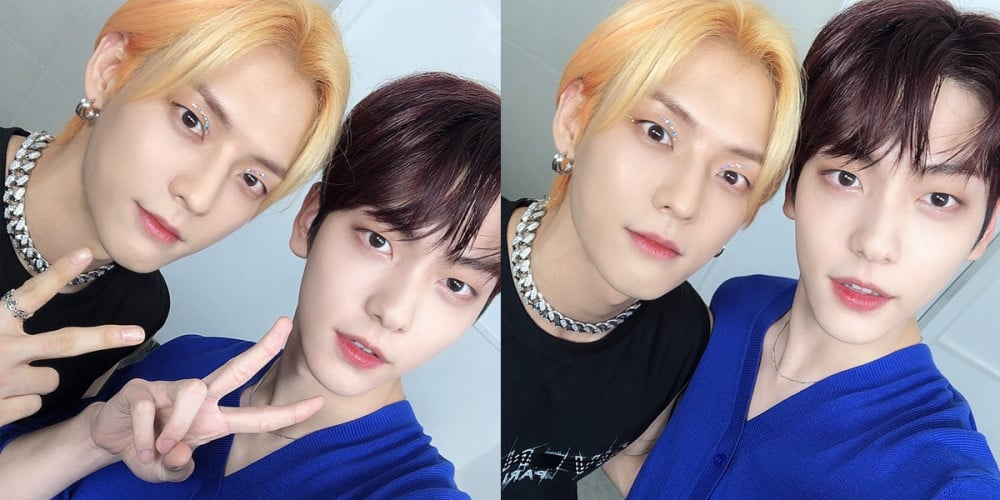 They say that if you meet your doppelgänger, you die! But what happens when you meet your doppelgänger more than once?
Well many fans consider BTOB's Minhyuk and TOMORROW x TOGETHER's Soobin are doppelgängers, because of their striking resemblance to each other. The two idols previously met for the first time in November of last year, when BTOB 4 U debuted with "Show Your Love" on KBS2's 'Music Bank'. Seeing the two meeting up in person for the first time really tripped up fans, and even the members of BTOB and TOMORROW x TOGETHER!
Less than a year later, Minhyuk and Soobin have reunited for some life-threatening(?) selcas once again, backstage at KBS2's 'Music Bank'!
After their latest encounter, BTOB's Minhyuk took to his Instagram to update fans on his wellbeing, writing, "Sigh.. My life was in danger once again today..". Minhyuk also shared a series of friendly selcas with his doppelgänger Soobin, mimicking each other for every pose and expression.
TOMORROW x TOGETHER's Soobin also posted his selcas with Minhyuk via Twitter and wrote, "Hyung~~~ I missed you so much too hehe. Our BTOB sunbaenims, who always greet me so brightly, fighting!"

Meanwhile, BTOB 4 U recently made a comeback with their 2nd mini album '4U: Outside', and are currently promoting their title track "Outsider" via various music programs. TOMORROW x TOGETHER's Soobin is greeting viewers each week as the MC of KBS2's 'Music Bank'.