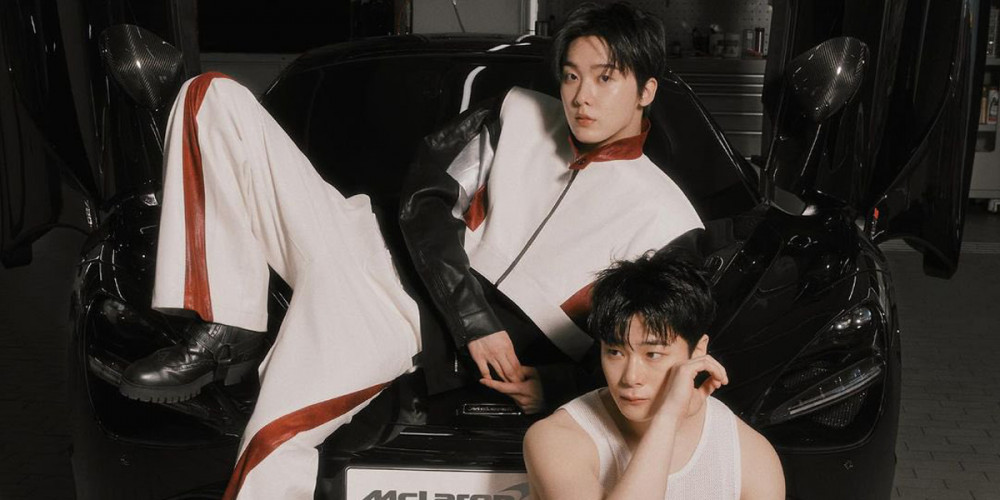 ASTRO's first official unit Moonbin & Sanha has partnered up with the British supercar series 'McLaren' for an edgy pictorial in 'Singles'.
For this pictorial, Moonbin and Sanha posed with McLaren series including the McLaren GT, McLaren 720S Spider, etc. During their interview which followed the pictorial, the two ASTRO members opened up about where they were in their careers, and how far they've come.
First, the two members shared their thoughts on ASTRO's first #1 win on a major broadcasting station music program. Moonbin said, "It's an award we received 1999-days from our debut date. It's not that we always want to be awarded for our promotions, but you do end up having some hopes with each comeback." Sanha stated, "I was so happy. Getting #1 on a major broadcasting station music show was always my goal, and our name was finally called. All of the time that we put in during the past 1999-days flashed through my mind. That's why I started crying while saying to the members, 'We went through a lot of difficulties, but I'm thankful that the hyungs endured it with me.'"

Next, Moonbin and Sanha reflected on the good memories that they have from going on the road for tours. "We are in a situation where we cannot hold in-person concerts or go on overseas tours. I have so many fun memories of us stopping at rest areas on our way back from shows to eat delicious food, so I am disappointed that we cannot go on the road. I hope that we can hold in-person concerts soon, so we can feel the energy of the crowd up close," Moonbin relayed.

Finally, the two ASTRO members were asked what they have learned to let go as they grew in their professional careers. Moonbin answered, "I try not to be too hung up about what happened in the past. I am letting go of the past so I can focus on the present, and prepare for the future." Sanha also remarked, "I tend to worry a lot, but these days, I try to say, 'Just do it!'. Just do as your heart desires!"