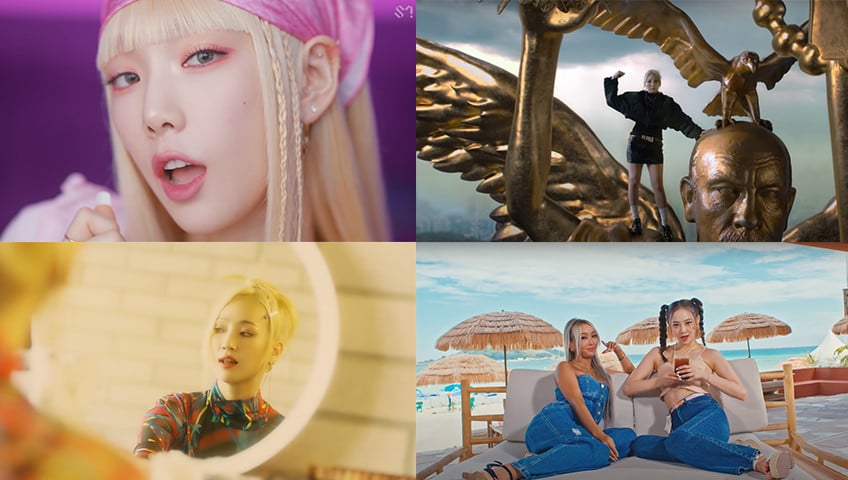 In the fast-paced and ever-growing world of K-pop, there is no shortage of new and talented idols moving front and center every year. Being able to debut is definitely not a walk in the park, but maintaining a place on the stage is not much of a breeze either. However, as tough as the industry gets, there are some who have managed to thrive and hold their place in the spotlight.
2021 got our earphones playing one comeback after another. And the best part about it? There seems to be a surge of new music from the OG royalties of the Korean wave: the second-gen idol groups. Check out these releases by former and current members of girl groups that speak irrefutable power even after years of being in the scene.
Can't Sleep by Jessica
While her Youtube vlog is brimming with Jessica content, it still hits different when the former Girls' Generation singer surprises us with her cotton candy vocals. Can't Sleep is an OST from the Jessica & Krystal US Road Trip and the music video features casual Jungsis moments that still leave us feeling awww like before.
Spicy by CL
Excuse me, excuse you! The baddest female is back with a flaming hot track that justifies her rightful throne in K-pop. Spicy is a first peek of her upcoming full-length album "Alpha," which is scheduled for release this October.
Soop by Jenyer
4minute's Jeon Ji-Yoon, a.k.a Jenyer, graces our playlist with an anthem of longing that will leave us going over our own unsettled emotions from the past. Giving fans a side different from their iconic, edgy girl-crush concept, Soop also features her former groupmate Gayoon.
Summer or Summer by Hyolyn & Dasom
Summer queens Hyolyn and Dasom brighten up the year with a chart-topping song and an MV that drives us straight to the beach, delivering the vitamin sea we badly need. Since their disbandment in 2017, Summer or Summer is the first collab single done by two Sistar members.
Second by HYO
Taking the fun to another level, DJ HYO worked with artist BIBI on the sunny pop track that will complete the vacation feels we all deserve. Like her previous release, Second comes with a dance challenge in which SM's big boss Lee Soo Man and her Girls' Generation sisters have all participated!
You can't sit with us by Sunmi
Going full-on retro, ex-Wonder Girls' member Sunmi holds everyone's attention with her latest comeback, You can't sit with us. From the unfailing 80s pop synths to a genius mix of classic film references, she is utterly committed to serving us throwback aesthetics she knows she is best at.
Summertime by Ha:tfelt
Another gem of Wonder Girls establishes a striking presence this 2021 with a song that shies away from the formula used in this season's typical sound. Ha:tfelt a.k.a Park Ye-Eun defines Summertime with a jam you can bob your heads to while yearning for someone no longer reachable in the present.
Teamo by Minzy
Tapping into Latin influences, Minzy showcases a whole new level of performance strength with hip-hop dance single Teamo. Wanting to explore another area of musical flavor, the 2ne1 maknae worked with an international team of producers and artists, including Gionata Carraciolo, Sofia Ahlang, and Janne Hyoty.
Weekend by Taeyeon
In a dreary cycle of daily regimens, kid leader Taeyeon drops a beat that will make your Weekend a thousand times better. Stepping outside of the ballad genre, the Girls' Generation main vocalist takes us to a dreamy ride of disco and city pop in a dash of pink.
Make it better by Amber Liu
f(x) member Amber Liu lets out unanswered questions and disentangles personal sentiments in make it better. It is an English track from her multi-lingual EP "y?" in which the global pop figure worked with artists like Peniel of BTOB, MaSiWei of Higher Brothers, Junoflo, and Blow Fever.
Do Re Mi Fa Sol by Park Bom
An easy, no-fuss kind of love is possible with Park Bom's comeback Do Re Mi Fa Sol. Featuring rapper and producer Changmo, the 2ne1 main vocalist offers a sweet and soulful serenade that effortlessly satisfies the listener's cravings for a laidback yet comforting tune fit for any random reverie.
Interview by Soyeon
For her second work as a soloist, Soyeon enlisted the help of a reporter to pull off the authentic Interview vibe. Utilizing her stunning, clean vocals, the former T-ara member plots a breakup recollection through a ballad that is equally soothing and heart-rending.
Good Night My Love by Soyou
Employing her mellow and airy style, Sistar's Soyou unwraps a gift of lullaby in her latest single Good Night My Love. Written by Lee Hyori and composed by Babylon, its calming melodies might be just what you need in these trying times.
Good Girl by HyunA
HyunA is not that Good Girl everyone likes; she is simply an original version of herself. In this single, she pumps up the mood with an anthem of owning self-identity that packs a punch with its catchy beats. It is part of her seventh EP, "I'm Not Cool," released last January.
Perfume by Yubin
Starting the year with a certified banger, all-rounder Yubin embodies the retro genre dominance of past group Wonder Girls in Perfume. The glitzy MV puts the spotlight on her as a fierce alpha female ruling in all things luxurious. It also seems to have hints of the film Perfume: The Story of A Murderer, but flips the gender of the main roles.