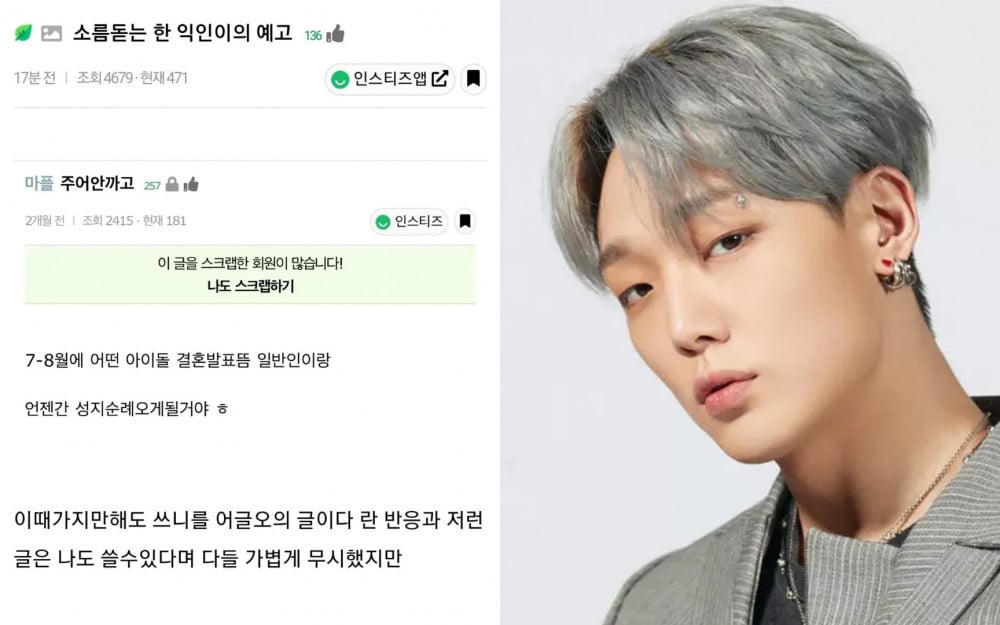 Back in June, there was a community post on Instiz that went unnoticed as many people believed that it was just a hoax.
The creator of the online community post wrote, "Around July or August, there will be an announcement that an idol member is going to get married to a ordinary person (civilian). You guys will come back to this post." The creator of the post also added, "Doesn't matter if you believe me or not. I'm going to sleep, ㅂㅂ~ (Hangul characters hinting at 바 Bo 비 bby)." Since the post only had just these two sentences, many netizens at the time neglected the post.

However, with the recent news that Bobby will be married and will become a father next month, various netizens are coming together to discuss this matter. Many netizens believe that the person who created the post must be an acquaintance of Bobby and knew that his girlfriend was pregnant since the post was only two months prior to the news.
Netizens commented, "You can't really call this a prediction since it's only a few months old," "I feel like the person who created the post is an acquaintance of Bobby. He said his baby is coming in September and this was created a month or two ago so she must have been seven months pregnant so probably close people knew about this," "ㅂㅂ must be for Bobby," "I definitely think they threw a hint by using 'ㅂㅂ'," "I think everyone around them knew about this except the fans," "This person just wanted to share online and is definitely someone who knows Bobby," and "I'm pretty sure everyone around him knew about Bobby's baby."