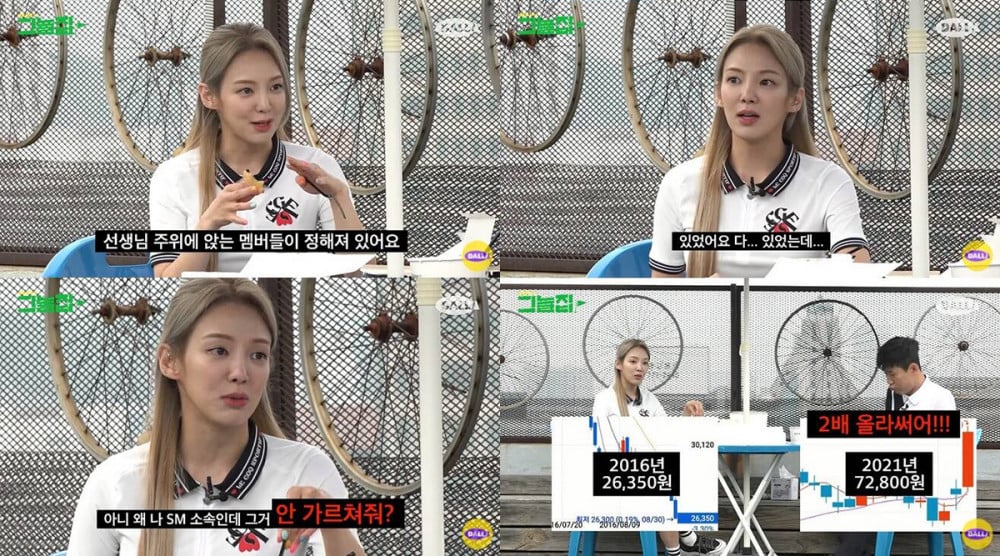 During a casual chat and golfing session with singer Kim Jong Min, Girls' Generation's Hyoyeon confessed that she no longer holds any shares in SM Entertainment!
On August 12, Hyoyeon appeared as a guest on the web variety show 'Shaded Terrace'. Hosted by Kim Jong Min, 'Shaded Terrace' invites celebrities from various entertainment fields to hang out at a rooftop mini golf course, catching viewers up on what they've been up to lately.
On this day, Hyoyeon reminisced about being the #1 trainee at SM Entertainment. She said, "Of all of the members in Super Junior and Girls' Generation combined, I was the first trainee to enter SM."
Kim Jong Min then asked, "Do you want to become a board member at SM, like BoA or Kangta?" Hyoyeon honestly replied, "I'm sure that all of the artists in my generation have thought about these things. When there are company-wide dinners, there are always a select few people who sit next to Lee Soo Man sunsaengnim. Changmin, Kyuhyun, and Minho. When I see them sitting all the way over there, I feel like I have a long ways to go."
Next, Hyoyeon confessed that she once had some shares in SM Entertainment, but she sold them off long ago! She remarked, "I had some shares. But I have no idea how these things work. I saw that the prices rose a little, and so I sold them all at once like 5 years ago."
Here, Kim Jong Min checked the latest projected prices of SM Entertainment's shares, which have more than doubled since about 5 years ago. Hyoyeon then responded, "Why didn't anybody tell me?"