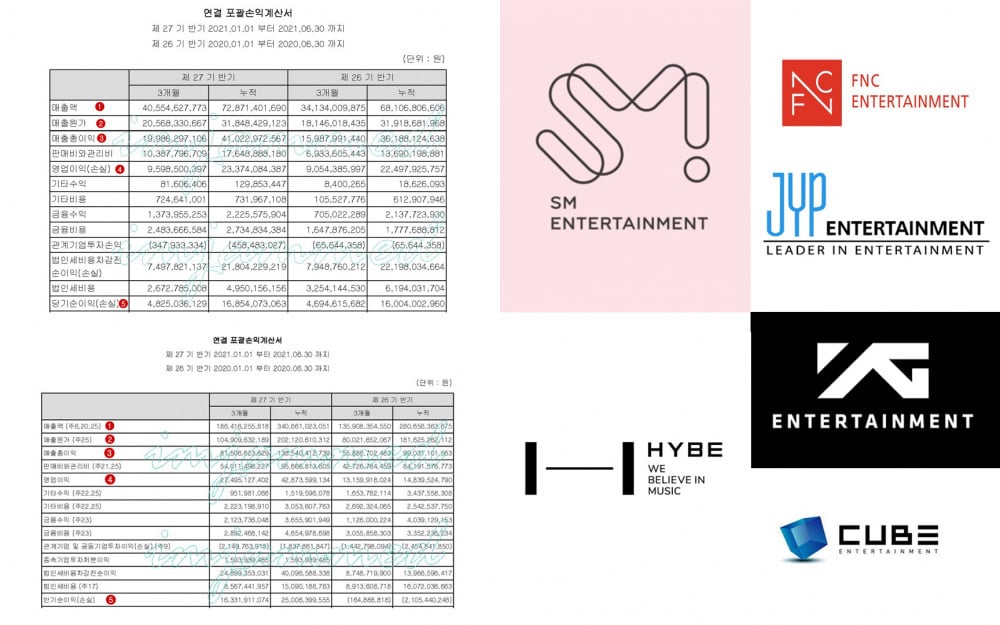 Every year, large public corporations release their financial reports revealing their sales, profits, and more.
This goes for entertainment companies as well. In 2021, major entertainment companies released their financial reports for the second quarter of this year. These reports have been shared through online communities and social media outlets.
The IR Team Twitter account released the financial reports of these major entertainment companies, including HYBE, SM, YG, JYP, Cube, and FNC. So here are the second-quarter financial reports of these large entertainment companies below. The reports were given in KRW (Korean Won) showing the 2nd quarter financial reports (April, May, June) along with the first half of the year financial report.
---
Q2 2021 Sales order:
#1 HYBE 278,609,668,000 KRW (236.7 Million USD)
#2 SM 186,416,255,818 KRW (158.4 Million USD)
#3 YG 83,658,000,000 KRW (71.1 Million USD)
#4 JYP 40,554,627,773 KRW (34.47 Million USD)
#5 FNC 18,656,788,039 KRW (15.86 Million USD)
#6 Cube 18,086,037,979 KRW (15.37 Million USD)
Q2 2021 Net Income Order:
#1 HYBE 20,259,234,000 KRW (17.22 Million USD)
#2 SM 16,331,911,074 KRW (13.88 Million USD)
#3 JYP 4,825,036,129 KRW (4.1 Million USD)
#4 Cube (Loss) -224,177,122 KRW ( -190,513 USD)
#5 YG (Loss) -1,596,000,000 KRW ( -1.35 Million USD)
#6 FNC (Loss) -4,507,434,387 KRW ( -3.83 Million USD)