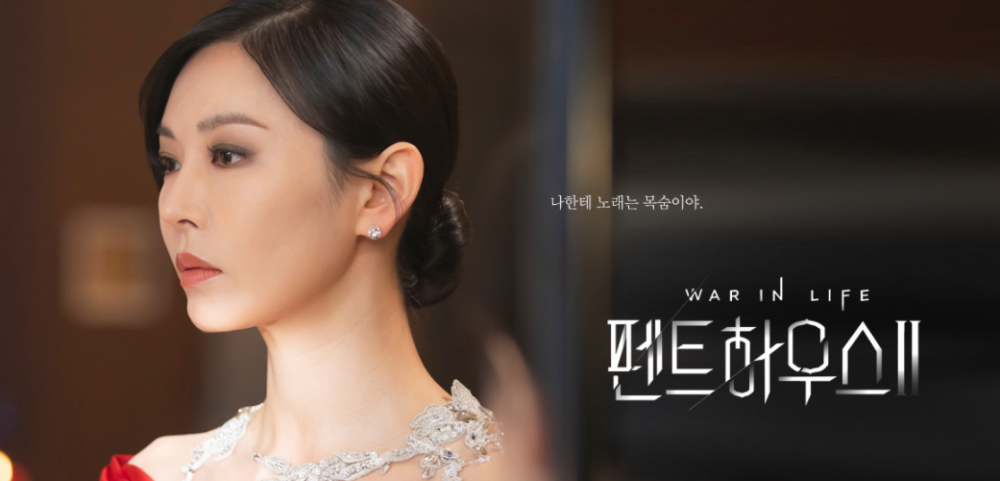 The famous drama "Penthouse" is well underway in its third season, and there were so many great moments from these veteran actors. Kim So Yeon has specifically received praise for her villainous acting on the drama, whose ambition seems never to stop.
The things that happen in the drama are actually crazy and unrealistic, which stirred up plenty of controversies. One thing for sure, however, is that Kim So Yeon's acting is surely unmatched, and her performance on Penthouse is incredible. It is garnering even more attention because Kim is NOTHING like Cheon Seo Jin in real life. Kim So Yeon is known for being one of the nicest and down-to-earth people in the entertainment world. Her 180-degree switch shocked many and demonstrated her ability in acting any role. Check out some of the most legendary Cheon Seo Jin moments in the three seasons.
1) Cheon Seo Jin's Killing Her Own Father & Her Crazy Piano Reaction
This scene is praised for being quite possibly Kim So Yeon's best acting scene of season 1. The ambition to keep Cheong Ah Foundation to herself to the point where she will kill her father portrays her villainous side at its finest. The next scene depicts her sadness and anger; however, she ultimately does not regret her decision.


2) Cheon Seo Jin's Staged Despair at Her Father's Death Bed

Continuing right after that famous scene, Kim continues her psychopathic ending by going above and beyond grieving her father's death. She staged it perfectly well so that no one could even suspect that she is related to her own father's death.


3) Cheon Seo Jin in Despair

This is another SUPERB acting scene by both Kim So Yeon and Yoon Jong Hoon. When Cheon and Cheong Ah Foundation is on the verge of falling apart, Cheon's ex-husband Ha Yoon Cheol tries to stop the ongoing madness and lies. He even calls her "Seojin-ah" for the first time in the drama, portraying Ha's sincerity to her. Cheon, however, disagrees with Ha and continues to seek help. The phone call was legendary because she demonstrates both laughter and crying in this scene, and she desperately seeks help -- a side that Cheon has never really shown in the series (until later on..)


4) Cheon Seo Jin's Fake Acting During Her Scheme Against Ju Dan Tae

This scene is also a fan favorite, as Cheon Seo Jin "acts" as if she knows nothing about the scheme she set up for her abusive husband, Ju Dan Tae. The funny part about this is that Kim So Yeon acting like Cheon Seo Jin, who is acting like she doesn't know, is very childish and bad, and it lightened up the tension that viewers were having due to the intense drama. Her sudden change of expression after Ju asks, "How do you know Na Aegyo?" is a killing point that satisfies many viewers' frustrated minds.
5) Cheon Seo Jin Slitting Oh Yun Hui's Throat with a Trophy
This is one of the original scenes of the first season and clearly defines the horrible relationship that Cheon and Oh had since their college days. Oh Yun Hui feels cheated from the Cheong Ah Music Awards trophy, and she firmly believes that Cheon's father cheated the system so her daughter could win. Cheon continually denied that claim; however, Oh would not admit to the results, calling her a "thief" and "fake." The inferior Cheon strikes at Oh with her trophy, causing a scar and permanent voice damage. Of course, her father stages it so that Oh becomes the attacker and Cheon becomes a victim.
6) Cheon Seo Jin Pushing Oh Yun Hui Down the Cliff
Last but not least, we forward to season 3, when Cheon ends up killing Oh Yun Hui (or did she?) by pushing her down a cliff. Ju Dan Tae was initially chasing Oh and unconscious Ha Eun Byeol to stop Oh from telling Shim Su Ryeon about her twins' secret. Ha Eun Byeol was unconscious due to psychopathic Jin Bun Hong kidnapping Eun Byeol. When the police get near the crime scene, Ju places a rock on the acceleration pedal and runs away. Meanwhile, Cheon finds the crime scene, and Ha Eun Byeol becomes her priority. Before this scene, it seemed pretty clear that Cheon Seo Jin would also save Oh Yun Hui, as Oh calls Cheon, informing her about the situation. Cheon desperately requests Yun Hui to save her daughter, saying that she would do anything. Unfortunately, Cheon Seo Jin is a villain -- when she sees Oh stuck behind the car, she has flashbacks of all the bad memories with her and ultimately ends up pushing the car & Yun Hui down into the river.


While we don't know if Oh Yun Hui is actually dead or not, we can all agree that Kim So Yeon's acting on Penthouse has blown all of us away. Fans are definitely upset that the third and final season is almost coming to a close; let's look back at these Cheon Seo Jin legendary moments -- was there another favorite scene that you had? Let us know in the comments below!