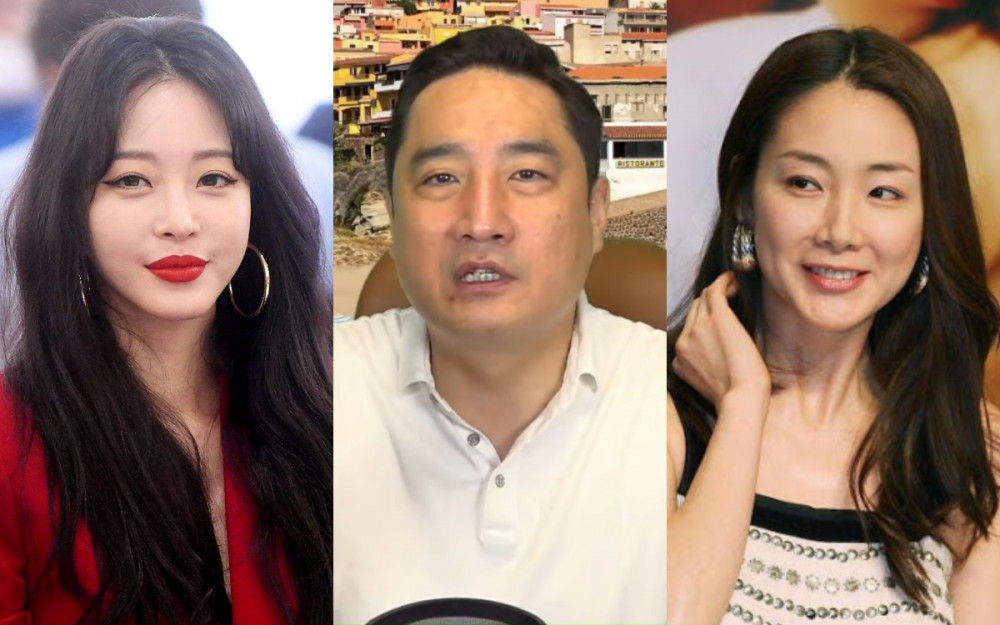 Garo Sero Institute affiliate Kang Yong Seok is speaking out in defense of the YouTube channel's decision to go after actresses like Han Ye Seul and Choi Ji Woo by exposing their private lives.
In a new Garo Sero Institute video posted on June 11 KST, the lawyer and right-wing media personality hosted the channel's 'InSsa News' corner, responding to the public's criticism of their actress scandal coverage by asking, "So you're saying Choi Ji Woo and Han Ye Seul are fit to be endorsement models?"

Previously, Garo Sero Institute revealed that actress Han Ye Seul's boyfriend used to work as a host and that actresses Han Ga In, Choi Ji Woo, Go So Young, and Cha Ye Ryeon were 'karaoke friends.' Later, they alleged that Choi Ji Woo, like Han Ye Seul, dated a host and eventually married him, then set up a business to wash her husband's identity. Since then, Garo Sero Institute has received a lot of public criticism, especially after disclosing the identity of Choi Ji Woo's non-celebrity husband and raising suspicion of an unconfirmed extramarital affair.

"It keeps being said that Garo Sero Institute went too far, but is it normal for young and beautiful actresses to choose the man they're going to marry at a host bar? [Choi Ji Woo and her husband are] parents who have a daughter, that's what the media should point out," Kang Yong Seok stated. "Are actresses immune from criticism? Celebrities are also public figures. Celebrities and politicians can't say anything about their private lives being revealed."
"Choi Ji Woo, who receives 1 billion won from advertising, pretends to be all noble and sets up a business with a man she met at a host bar. Is that normal?" He continued. "Celebrities' family members are also public figures to some degree. With the fact that Choi Ji Woo's husband was a host being revealed, what kind of life does she live?"

Meanwhile, Kang Yong Seok's Garo Sero Institute video can be seen below.