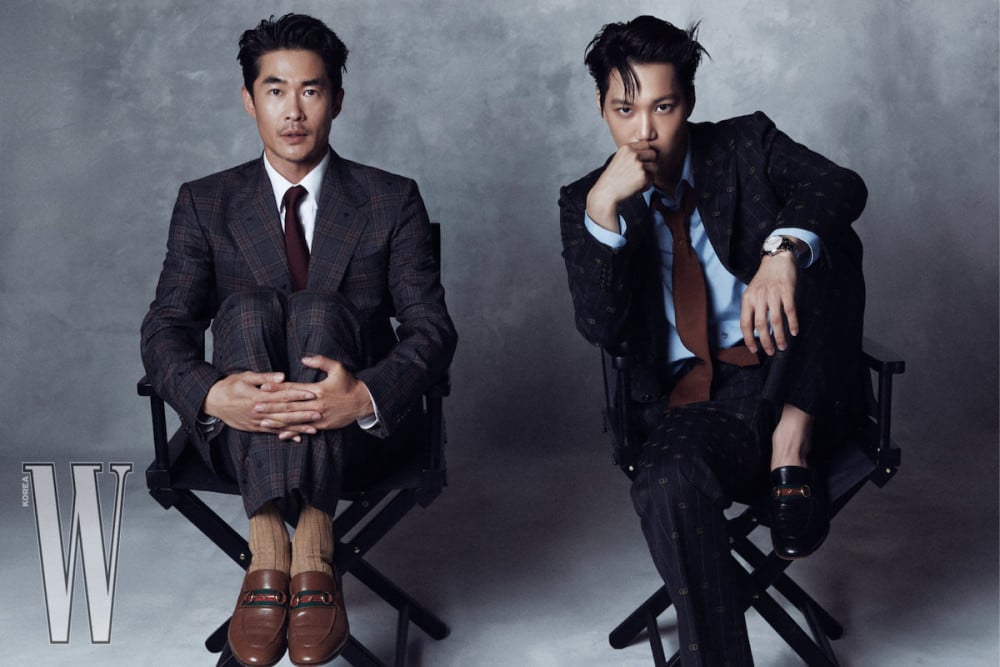 EXO's Kai and model Bae Jung Nam, currently working together as boss and employee as a unique fashion consultation duo on tvN's 'The Devil Wears Jung Nam', have decided to bring their workplace chemistry to the pages of 'W Korea' magazine!
For this chic, high-fashion pictorial, Kai and Bae Jung Nam pulled off elegant 'Gucci' men's styles. As many fans know, Kai is currently well-known as a global ambassador for the brand 'Gucci'.
During his interview, the EXO member opened up about the valuable experience of working with Bae Jung Nam on 'The Devil Wears Jung Nam'. Kai, who has never worked in any business outside of the entertainment industry in his life, shared, "I believe that I was able to experience business life in society even the smallest bit through this program. I have never been out in society like this before. I have the profession of a singer, but whenever there are public incidents, they are typically resolved by representatives from my agency, rather than me handling the issues on my own. With Bae Jung Nam, I've been able to act in ways that I would never have done if I were working in a regular business company, like using informal speech. In my daily life, I would never use informal speech to someone older than me. Because I have an older sister who is quite older than me, I grew up knowing that there are certain boundaries that need to be kept between people. So I try my best to uphold good manners in public, but with Bae Jung Nam, I was able to act a little more goofily, even if it was for the sake of a broadcast. If he was someone who was likely to feel uncomfortable by my actions, I wouldn't have been able to act that way. But he was so comfortable with me, that I was able to work with him well."
Next, Kai also gave his honest thoughts on being more active through variety shows these days. He stated, "I don't have a whole lot of desire to be on variety shows. For me, my main profession as a singer will always come first. But I felt that variety shows were good opportunities for me to make myself known to a wider range of audiences. If someone who didn't know me before got to know me through a variety show, then they may also look forward to my performances in the future. At times, I feel that even though I am a singer whose target audience is the public, I am separated by the public by a large gap. In that sense, variety shows allow me to grow a little closer to the public."

Check out Kai and Bae Jung Nam's stunning 'Gucci' pictorial with 'W Korea', below.