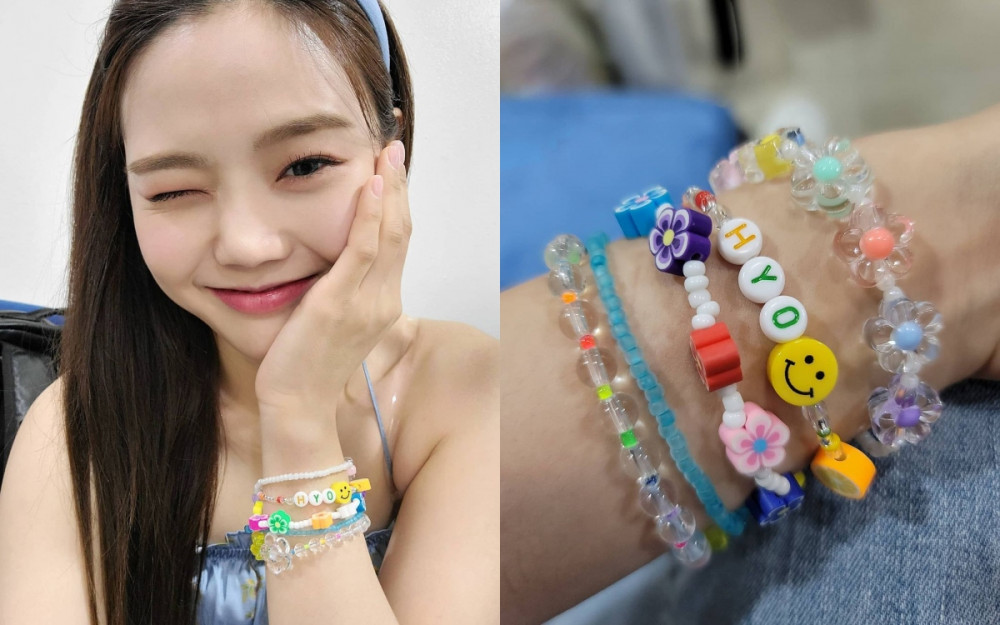 Oh My Girl's Hyojung has revealed her adorable friendship with ITZY member Lia!

On May 23 KST, Hyojung took to her personal Instagram account to share selfies she took behind the scenes of this week's 'Inkigayo' broadcast. In the images, she's seen on set in that day's "Dun Dun Dance" stage outfit, striking poses on a staircase as she shows off the several beaded bracelets in her wrist, including a unique one with a smiley face, lemon wheel, and alphabet beads that spell out 'HYO.'
"A bracelet given to me as a present by [ITZY's] Lia 💎," she began in the caption. "When I imagine her making it with her tiny hands, it's too adorable...💜."

Both Oh My Girl and ITZY performed on the 'Inkigayo' episode, with Oh My Girl being one of the three contenders for #1 that week. The bracelet was likely gifted while both were on the music show that day.
Meanwhile, fans that follow Hyojung's Instagram account were charmed by the sweet exchange between the two friends, leaving comments like, "Ah, that's crazy! You both cute," "The person wearing it is adorable too," "I support this friendship," and "ITZY's Lia gave her the bracelet. So sweet 💛."

Check out Hyojung's Instagram post below!