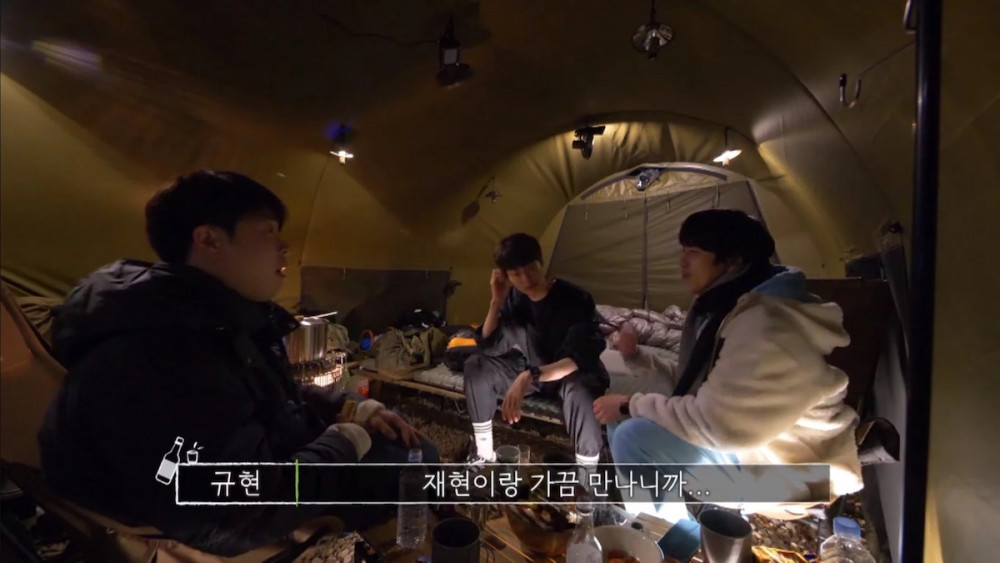 On the May 14 broadcast of the TVING-original variety series 'New Journey To The West - Spring Camp', actor Ahn Jae Hyun held an honest talk time with fellow cast members Super Junior's Kyuhyun and Block B's P.O. (The other crew member, WINNER's Song Min Ho, was knocked out after a full day of camping!)
After taking a hiatus for nearly 2 years after his divorce, Ahn Jae Hyun officially made his broadcast comeback with TVING's 'Spring Camp', rejoining the cast of 'New Journey To The West'. On this week's episodes, Ahn Jae Hyun, Kyuhyun. and P.O. enjoyed some drinks in the coziness of their camp site before going to bed. Naturally, the atmosphere became quiet and sincere.
Regarding Ahn Jae Hyun's return to the crew, Kyuhyun commented, "I guess because I've been seeing him all the time already, it just feels natural for me. I drink with him from time to time so. But during our ['New Journey To The West'] meetings I'd always joke and be like, 'Can I call my friend over?'. I'd say, 'Can I call Ahn Jae Hyun?'."
However, Ahn Jae Hyun felt, "It's been so long... I rested for 2 years. What should I do? It was a difficult dilemma."
Ahn Jae Hyun and P.O. also chatted honestly with each other, as Ahn Jae Hyun mentioned, "You must also have a lot on your mind. You have your enlistment coming up. You must feel so constrained." P.O. responded, "I'm just grateful for all of this attention I've received. It's astounding. I've had so many good things happening for me. So I've been thankful throughout it all but..." without continuing on, P.O. just exchanged knowing nods with Ahn Jae Hyun.
Have you been watching the TVING-original series 'Spring Camp'?