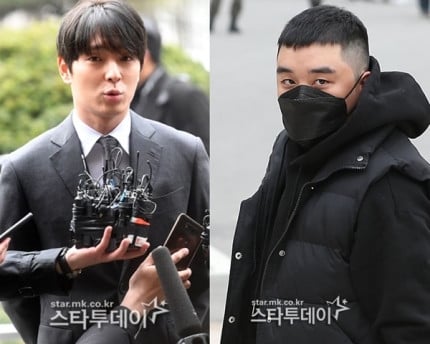 Choi Jong-hoon, a former member of FT Island, appeared as a witness at the 16th military trial hearing of Seungri, held on April 29. Choi Jong-hoon broke down and showed tears as he recalled the police interrogation process as they kept asking him about cases not related to his, which lead to him giving assumptions that turned to facts in Police books.
Choi Jong-hoon, a member of the infamous 'molka chat,' was sentenced to two years in prison earlier this year and now serving his time. He stood up as a witness related to Seungri's charges of inciting aggravated assault.
On the day, Choi Jong-hoon's witness questioning was mainly related to the inciting aggravated assault charges, which revolves about alleged gang members assaulting an individual; it was previously reported that the victim of Seungri's alleged gang member threats gave their testimony denying the entire story and confessing it was his at fault for starting an argument. Regarding the incident, Choi Jong-hoon said, "I can't remember the details because it was a long time ago," adding, "I remember Yoo In-seok and Seungri were talking to call someone."
Choi Jong-hoon shockingly revealed how he made assumptions during police questioning without any grounds to it, as he said during the trial, "It's true that both of them tried to call someone but neither Seungri nor Yoo In-seok used the word gangster. When they said they would call someone, I alone assumed, 'It must be a gangster, that's what I said at the time of the interrogation when the police said, 'The people who came to the scene were gangsters'." Choi also added, "I didn't know the gang actually came to the scene. I would remember if they had called a gangster, but I didn't remember anything because I thought it was just a happening (a happy way) drinking party."
When being asked by the lawyer, 'As a celebrity, do you think you have a motive to call a gang member to solve the problem?', he answered, "I don't think there is," and to the question, 'Have you ever had a defendant usually call in a gang to sort it out?', he answered, "Not even once."

Choi Jong-hoon said, "The police persisted in asking me what was even not my case. So even though I don't remember exactly about what the police were asking, I also answered in 'I think it was' way", while suddenly cried. Choi Jong-hoon, who was sobbing while saying, "That's when I thought of it," said, "It's a different case from mine, but it started with Burning Sun and went to Kakaotalk, I think it was a one case and I engaged in the interrogation," and "Even if in a case that I'm not involved, I answered so because I thought that if I said something wrong, it would hurt me and hurt others." Also, regarding his statements contained in police interrogation records, the lawyer pointed out it in detail, he said, "I didn't really care what I saw, what I heard, what I thought," and "I answered (until) the 'Wouldn't that be the case?' level in the police interrogation, but the interrogation records were written in a conclusive way."
Choi Jong-hoon said his apologies to Seungri as he said, "The conclusive expressions are all speculations. The interrogation lasted more than 12 hours, so I wanted to finish it quickly and avoid it. I was later tried and reflected on myself that I should not speculate. I feel sorry for the defendant (Seungri) for not checking the interrogation records carefully because I wanted to finish it quickly."