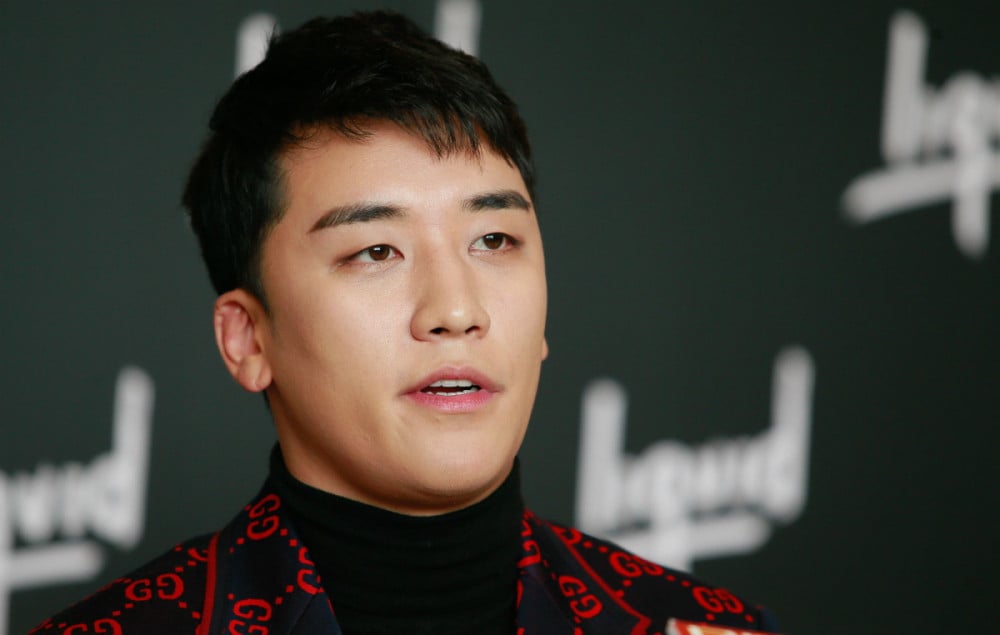 The victims of Seungri's alleged gang member threats gave their testimony.

Seungri's side previously denied he was with any gang members at the drinking establishment where the threatening took place, explaining they were simply celebrity security guards. On April 16, the 15th hearing against the former Big Bang member for arranging prostitution, violating property damage laws, physical assault, and more was held at the General Military Court of the Ground Operations Command in Yongin, Gyeonggi Province.

As previously reported, Seungri attended a year-end party with acquaintances at a drinking establishment he frequented in 2015, and altercations between other patrons erupted. Two victims captured on CCTV gave their testimony in court. Victim A detailed the start of the altercation, stating, "I was trying to find an acquaintance who went with me, and I opened the door to a room where Seungri was. Seungri made an expression like he was in a bad mood, so I asked him why he was giving me a dirty look. He was younger than me, and his attitude wasn't good. That's why I tried to lecture him. It's true I was the first one to pick a fight."

'A' continued, "At the time, Seungri was wearing a hat, so I didn't know it was him at first. He kept lowering his head, so I told him that I need to beat him up. That's when he raised his head, and I knew it was Seungri. As we're in the same business circles, I introduced myself, apologized, shook hands, hugged, and reconciled with him."

According to victim 'A,' victim B suddenly came in and out of the private room Seungri and his party were in, and B was also angered by Seungri's attitude towards him. 'A' stated he spoke with Yoo In Suk outside, and in the meantime, B had already disappeared into an alleyway with the alleged gangsters in Seungri's party. 'A' further revealed he was told the men were gang members during a police investigation in February of last year, and though he did think they could be part of a gang after viewing the CCTV, he previously thought they were simply friends of Seungri.

When Seungri's lawyer asked 'A' if Seungri was present when the men pulled 'B' away, 'A' responded, "I don't remember seeing him. I just thought that someone called B over." 'A' also claimed to have worked with Seungri for business-related reasons after the fact, adding, "I don't want Seungri to be penalized, and I told the investigators that."

However, 'B' stated he felt somewhat threatened that night. He claimed, "At the time, I went to the drinking establishment because of a model agency's year-end party, and I casually went in and out of the room Seungri was in. I stayed on the scene because the person inside was in a bad mood and because of their attitude. There were a lot of people inside and outside, and there were a lot of people I didn't know even if we were in the same business. People were talking outside, and I was naturally led outside to an alley, where 6-7 men surrounded me."

'B' continued to say he wasn't dragged away but pushed, and when he attempted to leave, he felt threatened into staying. He also stated there was no physical assault, but the way they spoke to him made him feel that they were gang members. However, 'B' further stated he was unaware about who was in the room until a police investigation in February of last year when he found out Seungri was also present.

As there was no confirmation as to whether Seungri was at the center of both incidents, there was no judgment made during the trial. The court has now called former F.T. Island member Jonghun and Mr. Kwon, who attended the year-end event with Seungri, as witnesses.

Seungri was indicted without detention early last year following 17 police investigations after he was identified as a key figure in the 'Burning Sun' club scandal that erupted in February of 2019. He stands accused of violating prostitution laws, sexual violence laws, gambling laws, foreign exchange transaction laws, food hygiene laws, embezzlement laws, and other financial laws.