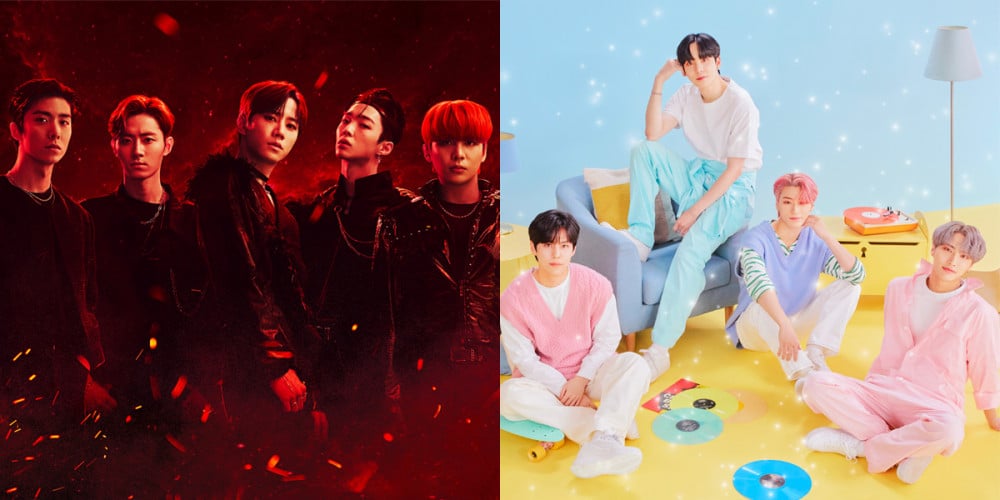 KBS2's upcoming youth drama series 'Imitation' has unveiled first official teaser posters of fictional idols groups - Shax, Sparkling, and Teaparty!

Based off a popular webtoon series of the same name, KBS2's 'Imitation' is a fictional story centered around the lives of idols, whether they're top of the industry or newly-debuted rookies. In light of the drama's premiere next month, 'Imitation' has recently released group posters of all three fictional idol groups, whom viewers will get to know very soon!
First, there's the charismatic, sexy boy group Shax, led by center member Kwon Ryuk (U-KISS's Jun). He's surrounded by Dojin (Yuri), Jaewoo (Ahn Jung Hoon), Leehyun (SF9's Hwiyoung), and Hyuk (ATEEZ's Jongho).
Second, there's the refreshing new rookie boy group, Sparkling! The group's members include center Yoojin (ATEEZ's Yunho), Seyoung (ATEEZ's Seonghwa), Minsoo (ATEEZ's San), and Hyunoh (Boys Republic's Suwoong).
Last, but not least, there's the lovely new rookie girl group Teaparty! The trio consists of Maha (Jung Ji So), Hyunji (Lim Na Young), and Lia (Minseo).
Are you convinced enough to believe these fictional idol group members might debut for real some time soon? To catch all three groups and their captivating stories, catch KBS2's 'Imitation' airing this May 7 at 11:20 PM KST!