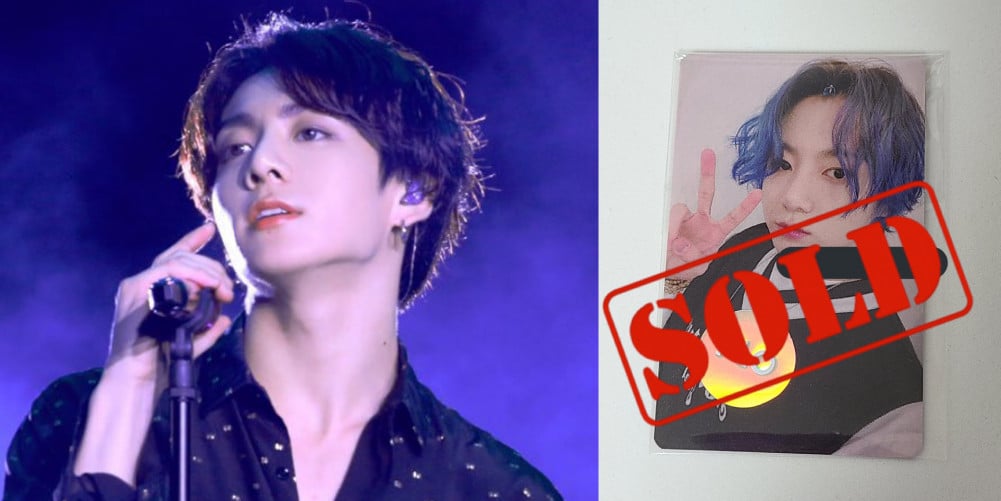 Resellers are known to put a significantly high price on Jungkook's photocards due to their high demand.
Apparently, Jungkook's photocards being priced (and sold!) at 200-400 USD is a normal thing.
There was even a photocard which was priced at 890 USD!
Despite being the highest-priced, Jungkook's photocards are always the ones to be sold out first.
Recently, there was a bidding going on for a rare Jungkook's FLO photocard. It was of a blue-haired Jungkook doing a peace sign, the front bangs were tied up in a blue hairclip, exuding a unique top-tier visual.
The reseller received offers by bidders through Twitter direct messages. At one point, the bidding went up to 80,000 PHP (1,646 USD). The auction kept on going until it was sold at a whopping 130,000 PHP which is equal to 2,673 USD!
This might be surprising to some, but there is a reason why Jungkook is dubbed the "Sold Out King" by media. His selling power is truly mind-blowing, from selling out random everyday items like Downy and TEAZEN's Kombucha (and even grew their business) to luxury items like PRADA jacket. Jungkook's influence, impact and popularity are massive to say the least, and it reflects on the insane demand for his photocards.