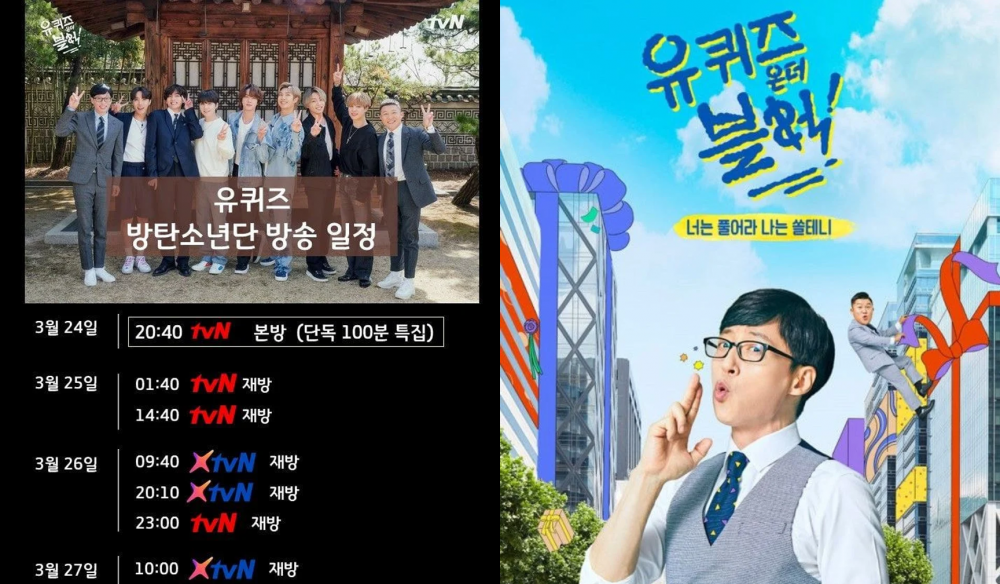 On March 24 KST, BTS graced the 99th episode of 'You Quiz on the Block.'
Many fans and netizens were ecstatic from the moment it was announced that BTS was to be guests on the tvN entertainment show. Many fans waited in high anticipation for the night when BTS would appear on the show and became more excited as the preview clips were released.
As soon as the episode aired, many fans took it to social media and various online communities to share snippets of the exciting show.
Many of these fans were the more excited when they saw the rerun schedule for the show. Starting March 25th, the BTS episode of 'You Quiz' will be aired twice to three times a day on the tvN channels. Many fans and netizens were excited as they have many more chances to watch the show if they were not able to watch it on March 24.
Netizens commented, "This episode was the best," "I'm not their fan, but I can see that the editing team worked really hard on this episode," "I was so happy to see all the members," "I should really watch it, good thing it has so many reruns!" "I'm going to put alarms on my phone, so I can watch for sure," "I was so happy," "The show ended in a flash," and "I'm so glad that there is a rerun for the episode."