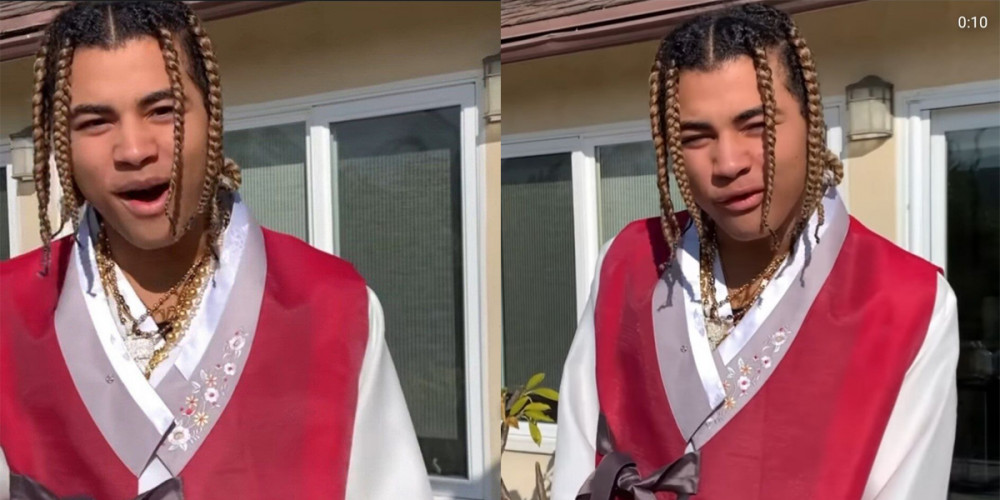 Back on February 12, American rapper 24kGoldn sent fans in South Korea a surprise Lunar New Year greeting!
24kGoldn sent his warm greeting to his Korean fans via the online community/gallery 'Million Hip Hop', a popular community for fans of American hip-hop music. In his video greeting, 24kGolden is all dressed up for the Lunar new Year holidays in an elegant, pink hanbok piece, stating, "Happy Seol-nal!" (Seol-nal or Seollal = Korean Lunar New Year).
Seeing the surprise greeting, Korean hip-hop fans warmly commented, "OMG he's cute kekekeke", "Thank you Goldn for the K-promotion!", "Love this!", "Oh, hello pure-gold-sshi!", "He looks good in hanbok kekekeke. Wonder where he got one", "Did he know how touched Korean fans would be with a Seol-nal greeting in hanbok??", and more. Many of the fans also affectionately gave 24kGoldn a Korean name, "Soon-Geum". ("순금" or "Soon-Geum" means pure gold.)
Happy Seol-nal to you too, 24kGoldn!