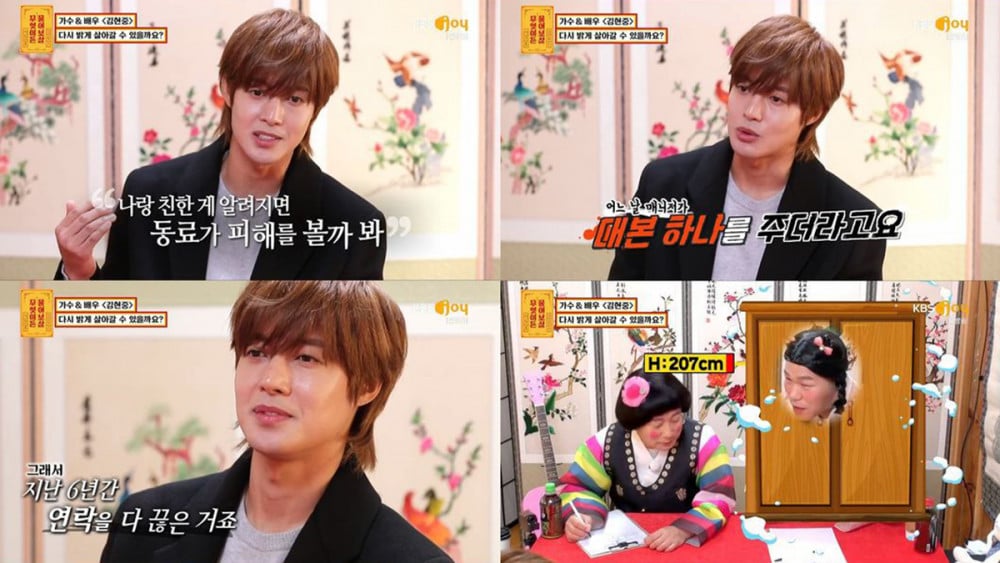 On the January 4 broadcast of the KBS2 Joy variety program 'Ask Us Anything: Fortune Teller', singer/actor Kim Hyun Joong appeared as one of the day's customers, seeking advice from Lee Soo Geun and Seo Jang Hoon.
On this day, Kim Hyun Joong opened up to Lee Soo Geun and Seo Jang Hoon about returning to promotions after his controversial lawsuit against his ex-girlfriend, 'A'. Kim Hyun Joong said, "I am worried about what people will think of me. I am actually a bright person, but [after the controversy] I became a downcast person. Will I be able to go on living with a brighter outlook?"
He then added on, "I understand that I did wrong, but every night, I have nightmares. When I'm in front of my family, I feel better, but in front of strangers I am always alert, worried that they might criticize me. I couldn't bring myself to contact my acquaintances in the entertainment industry. I thought that my presence in itself would harm others. They would gain nothing from being friendly with me."
Finally, Kim Hyun Joong discussed his outlook for the future by saying, "I am trying to have more courage to live better, instead of just being worried and afraid."
Back in 2014, Kim Hyun Joong became embroiled in a nearly 6-year lawsuit against his ex-girlfriend, 'A'. At the time, 'A' claimed that Kim Hyun Joong physically assaulted her to the point that she had a miscarriage. The lawsuit also claimed that Kim Hyun Joong had demanded an abortion from 'A', and as a result, 'A' demanded a large sum of money in damages. However, some time later, 'A' chose to withdraw the lawsuit against Kim Hyun Joong, and it was reported several months afterward that 'A' was pregnant with Kim Hyun Joong's child. Since then, Kim Hyun Joong and 'A' have been involved in several lawsuits including over child custody rights, threatening, defamation of character, etc. Most recently, in November of 2020, the Seoul Supreme Court ruled in favor of Kim Hyun Joong in the 6-year long legal battle, ordering 'A' to pay Kim Hyun Joong damages for factors such as violation of previously mediated legal contracts. On another note, some time in 2017, Kim Hyun Joong also came under fire for being charged with a DUI.
In response to Kim Hyun Joong's concerns on 'Ask Us Anything', Lee Soo Geun gave the following advice, "Whatever malicious comments you see, you must accept the criticism. This criticism came from your own doing. The person who made the mess must be the one to clean it up. Be strong and tackle it straight on, and leave the rest to the people." Seo Jang Hoon likewise commented, "As a result of this broadcast, your past issues will come to light once again. If you did wrong, the people will criticize you. If you were wrongly accused, the people will also discover it. Just wait."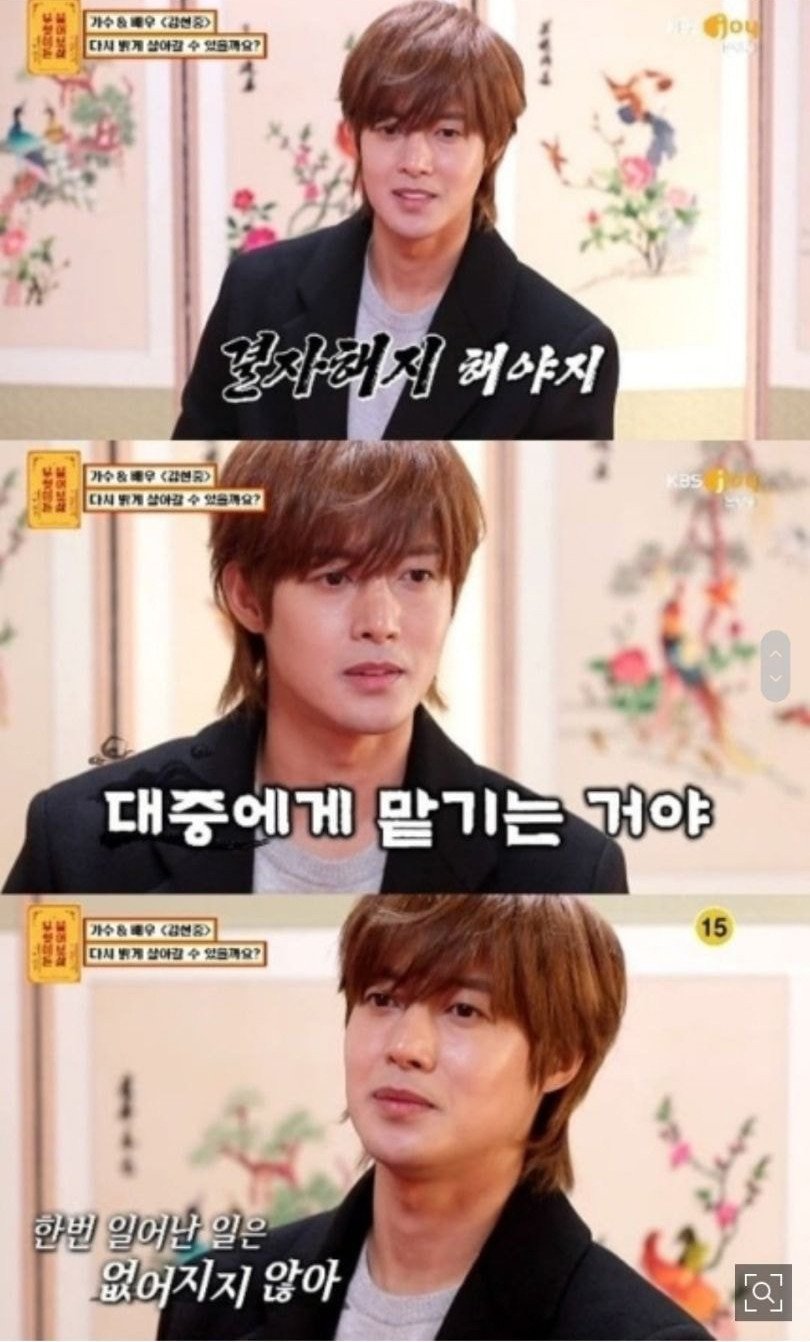 Sure enough, after the January 4 episode of 'Ask Us Anything', netizens reacted with their own opinions via various online communities. They commented:
"Please put your courage away, no one wants you back."
"Somebody take away his courage."
"Courage is for victims, not criminals."
"What is a person with a history of physical assault and drunk driving going to do with courage? Something worse than that?"
"In the end, isn't your courage just so you can make more money?"

"I don't want to see you on TV again. I'm sure you can take that courage and find another job somewhere else."
"How can he even think to return to promotions? Wow he's got guts."
"Most people wouldn't call that courage, they call it no sense of guilt."