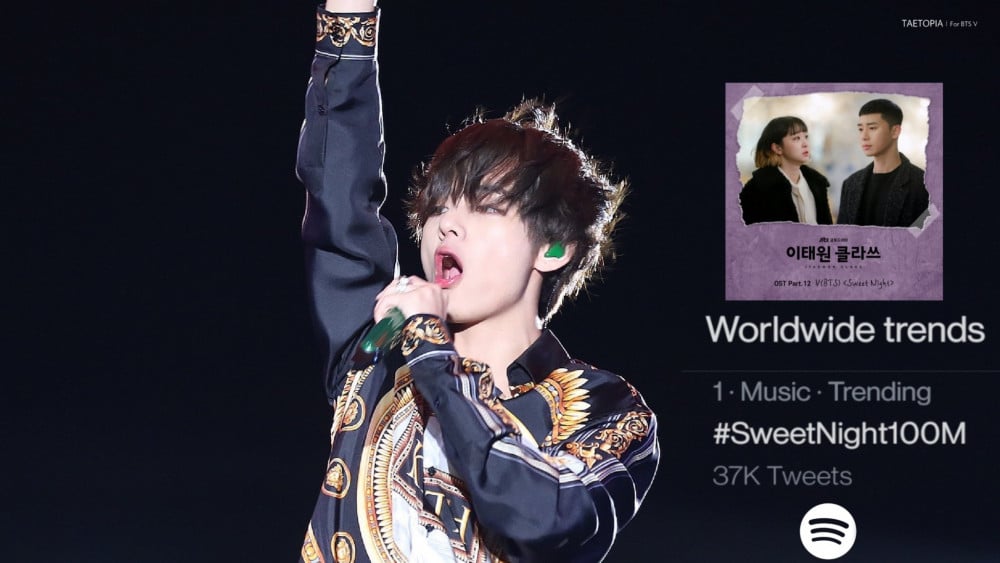 BTS V's award-winning OST, 'Sweet Night,' reached another milestone by getting 100M streams on Spotify. Like all of V's songs, it was able to carve its name in history as it became the fastest Korean OST to reach 100M streams on Spotify.

With this feat, V joined an elite club of sorts and became one of the only 4 Korean soloists in history to have a song over 100M streams on Spotify! (Collaborations excluded)
V and Psy are the only two Korean Male soloists to have songs with over 100M streams on Spotify (excluding collaborations). However, Psy only gained success in his 30s, while V has the world and the music industry on the tips of his fingers in his early 20s!
'Sweet Night' was released as a low tempo ballad on March 13, 2020, as part of the soundtrack to JTBC's hit drama 'Itaewon Class.' It topped iTunes in 117 countries, becoming the first and only song to do so. It also smashed another record by becoming the first Korean OST to debut on the US Digital songs sales chart, debut within the top 5 on Japan Oricon Daily digital singles chart, and the first OST to debut straight at #1 on the Melon chart.

What's astonishing is that it achieved all these accomplishments in less than a year's time!
Soon after the ballad reached 100M streams, fans flooded various social media platforms with congratulatory messages, and #SweetNight100M and '100 MILLION SWEET NIGHTS' trended on Twitter with the hashtag topping the worldwide trends chart and the phrase sticking close.

The hashtag was seen waltzing its way into the charts of several countries as fans cheered on this record made by 'History Maker V.'
It took 'Sweet Night' 318 days to reach 100 million streams, while 'Stay With Me' from 'Goblin' took around 3 years (1248 days) to get this many streams. V always makes everything look so easier. Even with his song having limited spins in the drama and no promotion by his own company, his own star image and sincerity paved his way into becoming one of South Korea's top soloists with only 2 official releases so far.
V aka Kim Taehyung's Sweet Night recently won 'Best OST' at APAN STAR AWARDS 2020 by competing against already established artists like IU, Baekhyun, and Joy. This reasserts the fact that V's name is a brand in itself and whatever it is that he touches or even brushes past achieves a scale of success never seen before.
He is not to be compared with Korean soloists alone because his vocal skills and achievements put him on par with some of the greatest soloists like Adele and David Bowie.
With an upcoming solo mixtape, all eyes are on the young baritone of BTS as fans look forward to him delivering another blockbuster hit like the sweetest 'Sweet Night'.