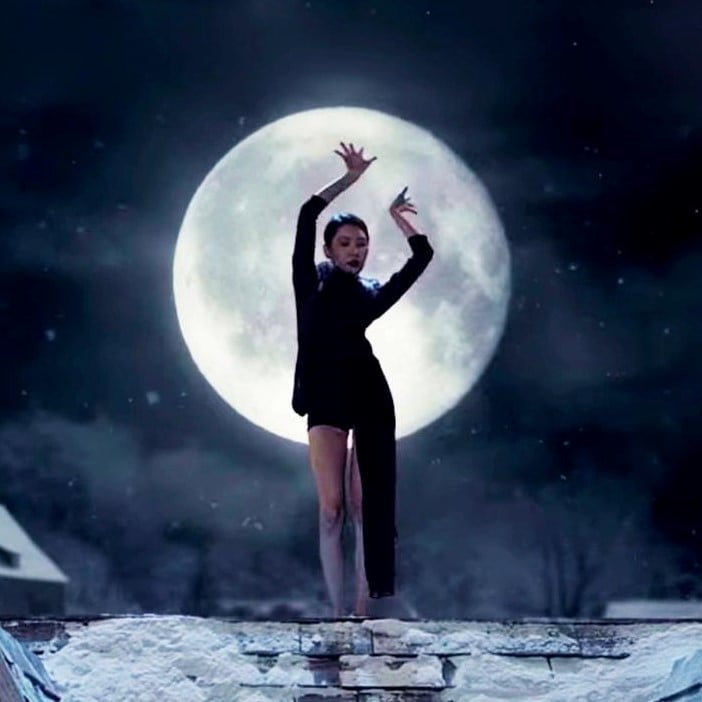 Concepts are important in the world of K-pop, where artists either stick with one concept for their group or change up concepts depending on the song they are coming back with. And, in honor of Halloween, we'll be looking at the groups who used a vampire concept. Although vampirism is not a concept that immediately comes to mind when thinking about K-pop, many artists choose to use it for their comebacks, or more increasingly, as part of their storylines.
(K-pop artists are listed chronologically in the order that they released the song with the vampire concept in)
4MINUTE -'Volume Up'
(Trigger Warning: flashing lights/images)
This MV was released on 8 April 2012 as the title track of 4MINUTE's third extended play of the same name. The ladies of 4MINUTE are seductive in this MV. The vampire concept isn't as obvious, although some scenes do give off traditional vampiric vibes, notably towards the end, where the members vanish into thin air.

Kim Jaejoong -'Mine'
Released on 16 January 2013, the MV showcases various scenes where Jaejoong is trapped, with generous use of animal imagery interspersed throughout. The MV focuses on his escape from that confinement, and by the end of the video, Jaejoong not only transforms into a vampire but also grows wings, which can be seen as a symbol for rebirth, and ultimately turns into a more powerful version of himself.
VIXX - 'On and On'
(Trigger Warning: flashing lights/images)
This was the title song of VIXX's third single album and was released on 29 April 2013. In the MV, the group is abducted and then sent on a mission in space to help a woman in need. Not what you might expect of a classic vampire concept, but the group delivered with their performances and their striking contact lenses. They also referenced their vampire concept throughout their choreography for this song, with their hands across their chest as if in a coffin and biting motions.

Sunmi - 'Full Moon'

Released on 16 February 2014, this is from Sunmi's debut solo EP of the same name, 'Full Moon.' Sunmi is a sultry vampire in this MV trying to turn the man she loves into a vampire under the full moon, which she successfully accomplishes at the end.
BOYFRIEND - 'Witch'
It might seem strange for a song with a vampire concept to be named 'Witch,' but it makes sense once you see the full MV- in a nutshell, it's vampires vs. a witch. The lyrics of this particular song also give meaning to the name as the group sings about someone who they can't stay away from and who has bewitched them (pun intended). This is from BOYFRIEND'S third EP, also called 'Witch,' released on 12th October 2014.
ONEUS
ONEUS is a group that has chosen to use vampirism to play a huge role in their storyline. It has been a key element in their songs, 'Twilight,' 'Come Back Home,' and their latest release, 'To Be Or Not To Be,' tying together the story of ONEUS as six monarchs.
'Twilight'
Released on 29 May 2019, this song was the title track of ONEUS' second mini-album, 'Raise Us.' Although not explicitly shown in the MV, the fact that ONEUS are vampires is hinted at throughout, for example, like in the scene where member Hwanwoong's eyes change color.

'Come Back Home'
(Trigger Warning: blood, gore, death/murder, violence)
This MV was released on July 27, 2020, although the song itself was released way before for the final round of Mnet's survival show, 'Road to Kingdom.' The concept film that ONEUS dropped before this MV sets the scene for the story of the six monarchs who were cursed by the sun god, Helios, to be immortal bloodthirsty creatures.
'To Be Or Not To Be'
(Trigger Warning: blood, gore, death/murder, flashing lights/images, trypophobia, heartbeat sounds/monitor, gunshots, violence)
ONEUS continues their storyline from 'Come Back Home' in this MV released on 19 August 2020. As explained in story films 1 and 2 released prior to the MV, the vampire kings are now imprisoned by Helios in a realm of sleep, and the only way for them to escape is to drink the blood of the descendants of the child they had saved in the 'Come Back Home' MV. The ending is left as a cliffhanger, hinting that the group will continue on with this storyline in the future.
Bonus I: T1419 - 'Dracula'
Released only a few days prior on 27 October 2020, this is actually the group's predebut MV. The title itself refers to the infamous vampire, Dracula, and the group brought about fierce Halloween vibes with bats flying about and wolves stalking the foreground, with a dash of mystery added in with face paint concealing their faces. The group is set to debut in December of this year.
Bonus II: ENHYPEN

The eagerly anticipated boy group, fresh from the Mnet survival show, 'I-LAND,' has been dropping trailers gearing up to their debut on the 30th of November. Fans have been speculating that the group will have a vampire concept due to the specific scenes and phrases used in the narration.
Do you know any more groups that used the vampire concept?