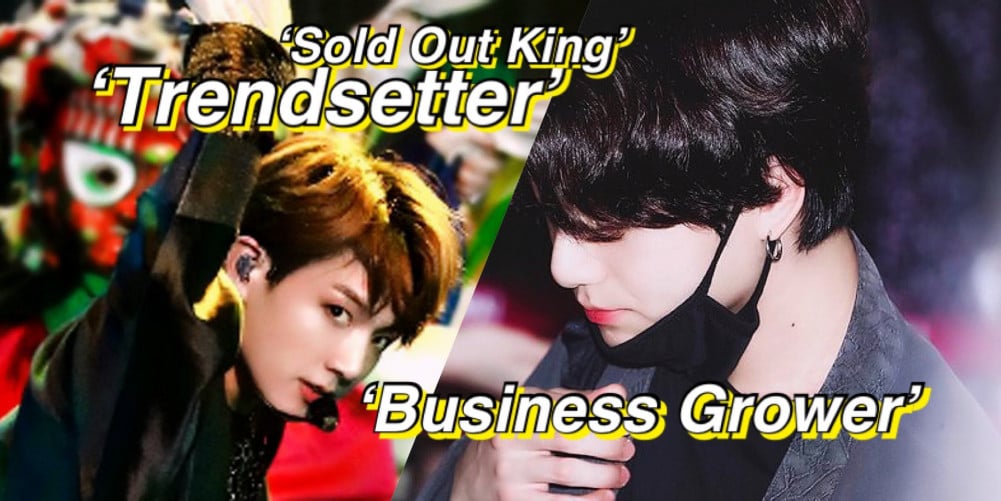 BTS' Jungkook is known for his major influence from selling things out to trending a fashion, he's been dubbed as 'Sold Out King' and 'Trendsetter' of the generation by various medias and fans worldwide. He even managed to boost consumption of milk with just a mere post on Twitter. His impact in South Korea alone had cause company's stock price to increase and homegrown start-ups booming in business. The 'Business Grower' Jungkook not only caused economic growth but promoted South Korea's culture to the world as well, here's 6 times such events took place:
1) When Jungkook rocked his airport look with a modernized hanbok by Zijangsa, the small business suddenly experienced a surge in demand which caused by Jungkook's trend craze not only in South Korea but worldwide as well. Countless orders for the modernized hanbok flooded in from countries as far as the US, Saudi Arabia and Russia which caused the company's website to crash. The homegrown business which started off with only 10 employees grew bigger and was even invited to operate at a major department store after Jungkook made their modernized hanbok a hit. Koreans TV personalities and celebrities were seen wearing the modernized hanbok in TV shows and mentioned how they were following the trend started by Jungkook. The 23-year-old global superstar not only helped grow a small business, he also set a fashion trend in South Korea and even promoted its traditional attire to the rest of the world. Triple threat, indeed.
2) When Jungkook mentioned he used Downy fabric softener in a fancafe chat which led to the product's 2-months-worth of stock immediately sold out nationwide and the rise in stock price of the supplier company. K-media economic article reported KCI's (P&G supplier) stock price started at a price which was 11.36% higher than the previous trading day, and it was undoubtedly caused by Jungkook. Legions of news outlets and TV stations around the world reported this rare phenomenon, acknowledging the Golden Maknae's mind-blowing impact. This 'Jungkook effect' eventually led to P&G making endorsement deals with BTS through their BT21 characters and Tiny TAN.
3) When fans spotted Jungkook with a book entitled 'I Decided To Live As Me' in an episode of Bon Voyage 3, the book quickly became a hit and eventually the best-selling Korean book in Japan. The author, Kim Soo-Hyun mentioned in an interview with K-media, "I think it's all thanks to BTS' fans in Japan. So many of them read the book and posted about it because Jungkook had read it". The book was also translated into English and shipped worldwide due to high demand.
4) When Jungkook performed the iconic Korean mask dance at Melon Music Award (MMA) in December 2018, generating interest in the traditional dance and give rise to its popularity domestically and globally. As a result, the clip showing Jungkook performing the mask dance was then being played in a special exhibition about traditional Korean mask dance at the National Intangible Heritage Center. In addition, the authority was planning to apply for the inclusion of Korean mask and mask dance in UNESCO's Intangible Cultural Heritage of Humanity.
5) When Jungkook wore 23.65 brand shoes and made the initially humble start-up grew tenfolds into an exporting brand with annual sales of $4M. The CEO thanked Jungkook via his social media for wearing their products since the business' early years until now. The company then made a donation to children welfare facilities under the name of 'ARMY'.
6) When Jungkook wore clothings from 'A Nothing' brand and caused the small business to gain over 8,000 followers in just 1 day. It was an enormous upgrade if compared to the 2-years timeframe needed for them to gain 1,000 followers they had. Jungkook wore the brand's clothing in his birthday Vlive and in an episode of 'In The SOOP', both of which were then posted by the brand on their Instagram account and gained huge attention ever since. As of now, 'A Nothing' Instagram account already amounting to 17.8k followers, and is still counting.
The events mentioned above speak volume of Jungkook's significant impact and influence in South Korea, as the 'Business Grower', the 'Trendsetter' and the 'Sold Out King'. As Jungkook and BTS popularity continues to grow, this 'Jungkook effect' list will surely continues to expand together with it.