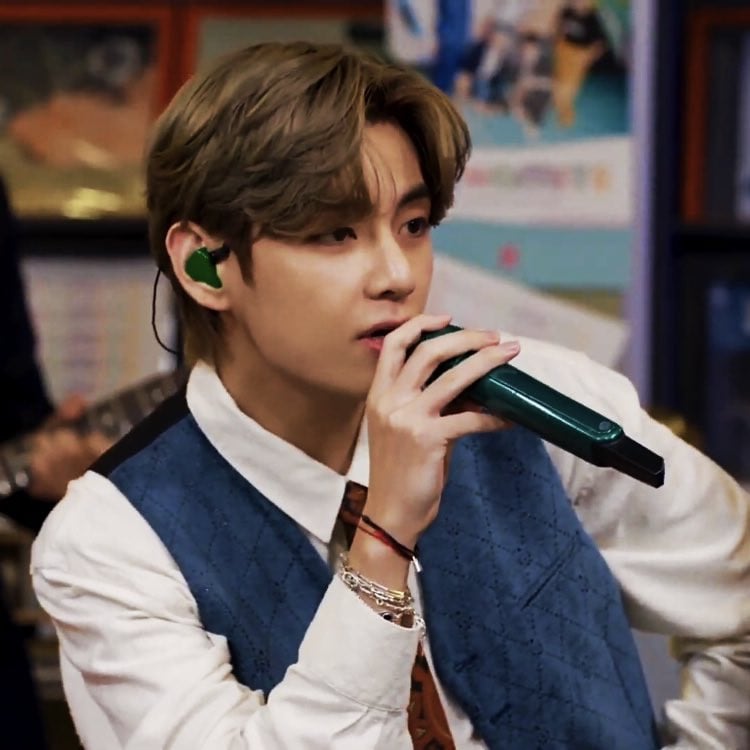 From his funky verse in "Dynamite" to the heart-warmingly beautiful bridge in "Spring Day", V became quite a sensation on the social media post-BTS' performance.
On September 21st, the global pop sensation BTS appeared on the home concert adaptation of NPR's popular video series: Tiny Desk. The group graced the fans with an acoustic version of three of their hits songs including their latest record-shattering single "Dynamite."
V in particular received major appreciation for his ravishing and flawless performance.
Many fans praised the star for his smooth and heavenly vocals in "Dynamite", noting his last verse as a highlight while others stated how pleasantly impressed they were with the clear transitions from his head voice to the falsetto. V's bubbly little dance moves were also much-talked-about as fans remarked them as an "instant serotonin boost."
V also amazed the fans with his unmatched vocal range as he effortlessly belted out velvety notes in "Save Me" and showcased his skills as a vocalist with a beautiful improvisation in "Spring Day." He also received acknowledgment for the steady control he has over his vocal dynamics.
However, one of the most-talked-about and loved moments from the entire performance was the bridge from "Spring Day" which is popularly known to tug at every heartstring without a fail. V whose execution of the bridge is often described as "magical" and "healing", once again charmed the fans as Twitter flooded with love and appreciation for his unique vocal tone and stable and soulful vocals.
V who has been named among the best baritones in the world beautifully showcased his skills as a vocalist throughout the show. Whether it was a high note, a low note, a cheerful verse, or an emotional one, V nailed every single one of them with ease, perfection, and a little bit of pizzazz.