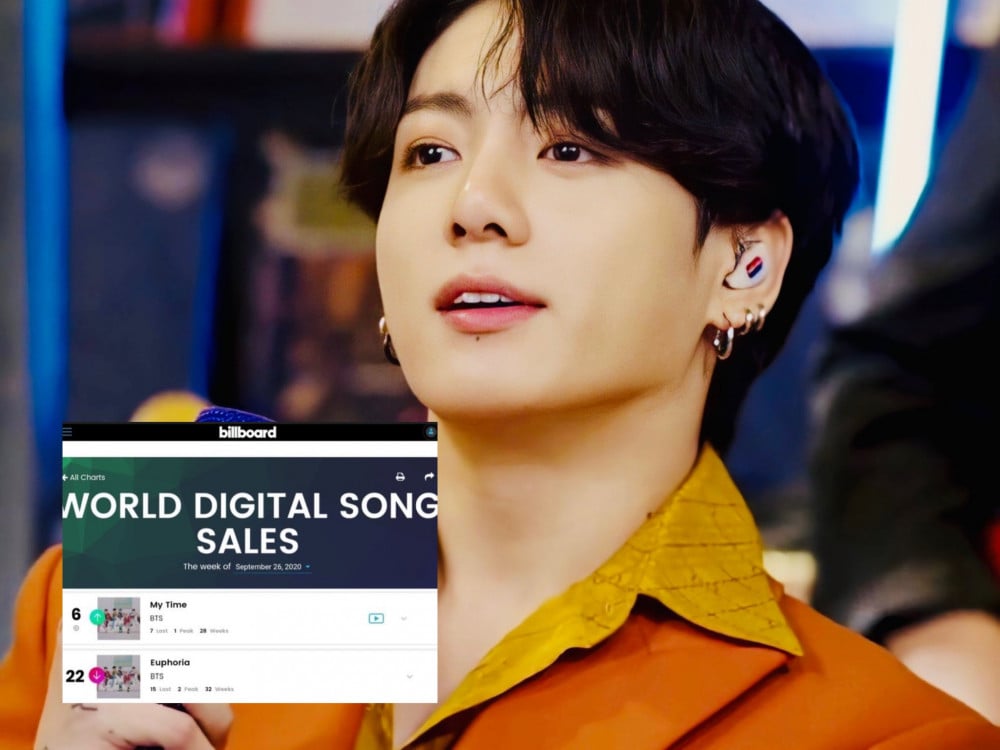 BTS' Jungkook's smash hitsMy Time and Euphoria continue to slam the Billboard this week, charting at #6 and #22 respectively on the World Digital Song Sales chart. Euphoria charting for 32 weeks making it the longest charting Korean solo song, while My Time (co-written by Jungkook) which is charting for 28 weeks (tying with BTS' Jimin's Filter) is the second longest charting Korean solo song on the chart's history.
My Time also surpassed 700k unique listeners on Genie, Korea's second largest streaming platform. Euphoria secures its throne as the only BTS solo song that surpassed more than 1million unique listeners on this platform, thus making Jungkook the only BTS member to have 2 solo songs with over 700k unique listeners. My Time also recently surpassed 70 million streams on Spotify and fans celebrated with the hashtag #70MTimesforJK on Twitter, commemorating all of its notable achievements. These include highest charting BTS solo song on Billboard Hot100, first and only BTS solo song to hit #1 spot on Billboard World Digital Song Sales, fastest BTS solo song to sell 100k units in the USA, and longest charting Korean b-side on Worldwide ITunes.
Euphoria still remain the most streamed solo song by a male K-pop idol on Spotify. It is also the longest charting b-side solo track on MelOn with 221 days, first solo song to get 100, 200 and 300M digital points on Gaon Chart and has over 1million unique listeners on Genie. In short, besides Billboard and Spotify achievements, Euphoria is also the most successful BTS solo song on Korean charts.