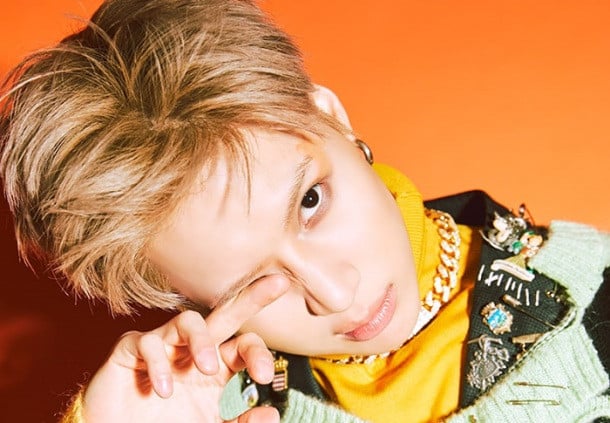 Just a two days ago Shinee member Taemin released his pre-release MV " 2 KIDS" for his third full album "Never Gonna Dance Again". With a beautiful MV to back it up, Shawols could not get enough of the song and could not contain their excitement for the promotions of the album as it consists of - prologue (2 KIDS), act 1 and act 2.
Few hours after the MV for the pre-release dropped, many fans realized that what they suspected once his comeback was announced was indeed true. There is absolutely 0 promotion and no information about his next 2 releases while SuperM who has not even released their first promo single has revealed every date revealed. SuperM fans were quick to defend the group saying it's Taemin's' fault for getting injured and that SuperM schedule might have been affected by it too but a Shawol quickly replied to correct them that it's not his fault for getting injured and that despite Taemin being injured he was even seen filming for SuperM activities right after he received his injury instead of resting which meant all SuperM preparations and schedules have not been affected unlike his "because the group is much more important than he is".
SuperM jus announced 3 big dates - 2 in August and 1 in September in which they will surely have grand promotion activities as Capitol and SM have shown they don't spare any penny when it comes to SuperM promotions from posters all over the U.S.A, ads on social media, paying shows and using connections to put them on TV and etc. which no doubt are the most expensive promotions ever done by a K-POP artist let alone overseas. SuperM schedules have made Shawols wonder:
-"What is Taemin supposed to do for Act 1 and Act 2?Wtf? What about his album sales? Your making sure we pre-order the SuperM Taemin version first if there is even any? Is his album sales important? SuperM achievements are not his but his solo album is his long term achievement along with Shinee, Why does his solo have to suffer? You even made him apologize for his injury...I wonder how much smack he got for SM potentially messing up SuperM activity because they don't want beef with those Capitol gangsters. Bet he gets told everything is his fault. He is too nice"
-"Isn't EXO Kai supposed to debut a solo album and isn't EXO-SC supposed to have a repack is Taemin gonna release with them and SuperM? Isn't that too much overlap? EXO-Ls, when Kai solo gets neglected, you will sing the same tune we do. You just don't care because it's not Kai and his debut getting neglected...yet. If not him I bet you EXO-SC will be the sacrificial lamb because they don't want anyone at all overlapping with SuperM at all let alone SM artist.so that SuperM can keep their sales streak like they did with SUJU and EXO album pre-orders last year getting fans their orders cancelled because they did not request enough albums to be made. SM will sabotage their sales SM would not mind them overlapping with other companies or other SM artists because who cares about anyone that is not SuperM. Just disband the group and treat Shinee, EXO and NCT right. NCT has 18 members lastly by what I remember with more to come so many members to feed you only promote Taeyeong and Mark, sometimes Lucas and Ten and the others are their nameless backup dancers who you hope leave at some point so that you can blacklist them like you did with EXO-M, SNSD, DBSK and Suju ex-members who could not stand the slave contracts and lack of freedom and the neglect to their health and careers, EXO is your best artist send them abroad only they can step on the same place with BTS and make Shinee start preparing for an album together."
-"Someone's career will suffer because of neglect made ON purpose for someone else to shine...If they don't mind overlapping put SuperM on the same week and date as BTS and BLACKPINK instead of avoiding them like the f**king Plague. Everyone else gets announced months before but SuperM waited desperately for BTS and BLACKPINK details first...Wasn't chart and sales manipulation and album bundles, not enough? SuperM is not EXO or BTS who have achieved their western success way before even stepping on U.S land meanwhile SuperM cant do it with millions of worth promo so only desperate international fans who want to see main group members keep them alive even if they dont like or even if they hate the group. I went to a SuperM concert only to see Taemin majority of the fans there had EXO-L lightsticks doesn't that show that EXO tour was that much needed like the one NCT 127 had instead of SuperM. Just disband SuperM or send them into eternal hiatus. Everything with the letter M made by SM is cursed anyway. Must be the reason why WayV is not called WayM or NCT-M."
-"We all know Capitol and SM waited for BTS and BLACKPINK to announce their release dates and schedules so that they don't overlap the same week but no doubt they will have no problem putting Taemin and main group activities of the neglected the very next day after BTS and BLACKPINK because their charting, achievement or careers don't matter. Shouldn't the best be done for every artist? Fans of your groups don't even want the SuperM grand promo just the stupid normal minimalism of 1 show or one-week schedule. TREAT TAEMIN RIGHT"
"2 KIDS has been so neglected and his album too...What about Shinee? I am starting to feel like this might one of the last Taemin albums and there might not be a Shinee album...Does the neglect main groups face a hint towards members to pack their bags and leave SM? SuperM should have been a one-time thing then it would have been well received instead more albums when their first album dead flopped with low sales because some of the album songs were really bad so you gave them away for free at concerts for months and gave discount codes and buy one second is free promo to boost sales. Do you want Shawols,EXO-L and NCTzens to buy SuperM albums instead of the main group albums? not gonna happen...NCTzens save your money for those other albums because NCT dream should have their 1st full album too soon. Support the ones that need it most. NCT Dream albums are better anyway"
Shawols are now saying that the only thing the group has done is ruin Taemin's solo career and possibly even ended Shinees' career as a group as SuperM has show to make a huge divide in all fandoms resulting in the loss of many fans of each fandom.
*Some comments are translated from Korean to English and all comments are taken from social media platforms like Twitter, Facebook, Youtube and etc.* Here are more tweets from twitter. Share down below. What do you think about the concerns of Shawols? Is it fair to prioritize SuperM over Taemin solo career and the main groups? Would you buy or pre-order a SuperM album right away without even hearing it instead of waiting for upcoming confirmed Shinee/Taemin, NCT or EXO albums keep in mind you can afford to buy only 1 or 2 albums this year so would you wait for all albums to come out and then decide which to buy or be inpatient and buy whoever comes first?