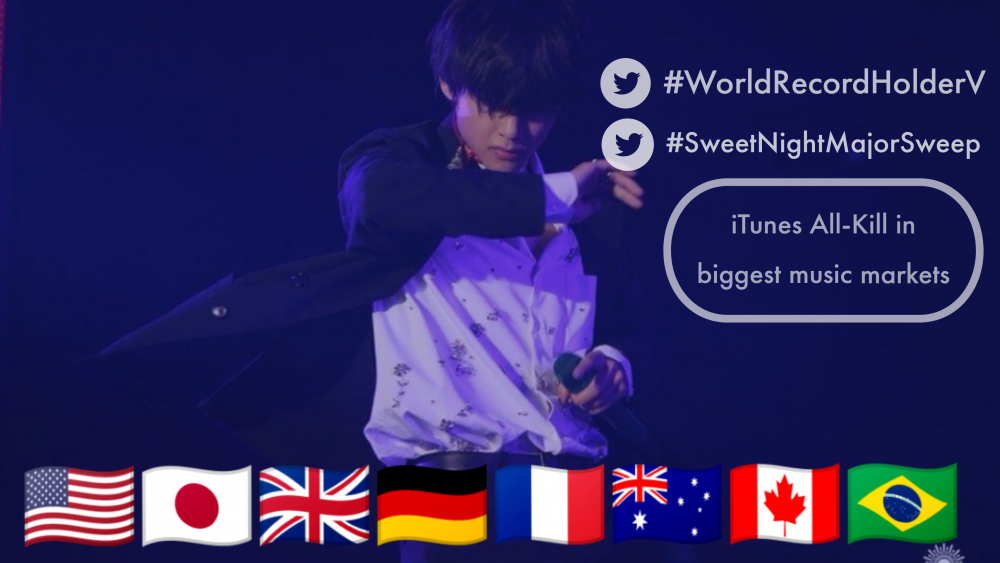 BTS' V soars to the top spot of Japan's iTunes Top Songs Charts with his self-composed OST track "Sweet Night", making him the first Korean Solo Artist in the history to reach this milestone. This record is more impressive and significantly notable because "Sweet Night", an unpromoted Korean release, beat the Japanese OST "Emotional" from the popular Japanese TBS drama "MIU404" to achieve the #1 in Japan iTunes Chart.
Meanwhile, V's popularity in Japan aka Teteland seems to be rising exponentially, as he is the highest ranked Korean celebrity on Twipple, which measures the scale of popularity among locals in Japan, as well the the most searched BTS member on Google Japan.
Recently, the Japanese portal site "Biglobe" reported that "Sweet Night" by V is leaving its name in the history as a very successful solo song due to its phenomenal popularity globally.
Previously, Japanese music media "Real Sound" analysed the success and popularity craze of "Sweet Night" and praised V's deep low baritone voice, whose vocal performance with the acoustic guitar has the power to push across the boundaries and win the hearts of diverse music listeners.
'Record setter' V has now extended his previous record, reaching #1 in iTunes Charts in total of 114 countries around the world, including the top ten biggest global music markets (where iTunes is available), that is the United States, Japan, United Kingdom, Germany, France, Australia, Canada and Brazil (iTunes isn't available in China and South Korea). With this, V has now become the first and only Asian solo act in the history to attain a major 'All-Kill' in all of the biggest music markets in the world with same song.
Fans took it to Twitter to celebrate V's new record with the hashtags #WorldRecordHolderV and #SweetNightMajorSweep that occupied the top spots in Korea trends.
V's record-breaking saga continues..... Congratulations V!!