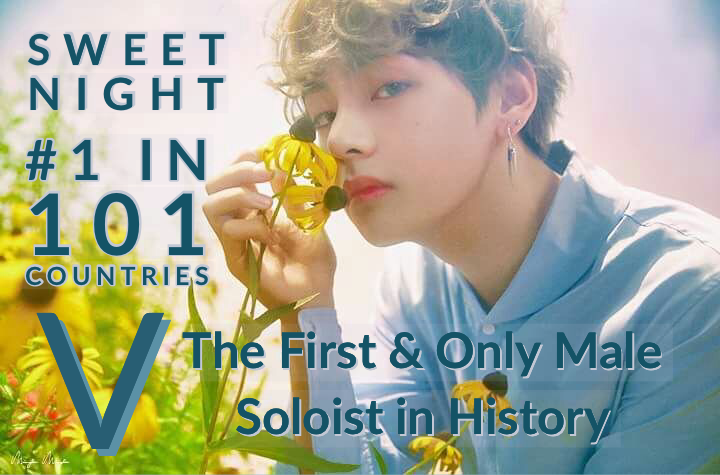 With the release of his first-ever solo soundtrack "Sweet Night" from the popular drama series "Itaewon Class", BTS's member V has rightfully earned the title of the "most successful soloist of 2020." In just two months, V broke an eight-year-old record set by the 2012 global hit song "Gangnam Style" by topping the charts of 86 countries. Slowly but steadily, V continued to extend his record as the "Korean soloist with the most #1s on the worldwide iTunes chart" and has recently bagged another monumental title to his name.
On the 7th of July, "Sweet Night" topped 101 countries marking V as the first and only Korean soloist to achieve such a milestone. V currently ranks behind "Adele", one of the most critically acclaimed artists in the world as the soloist with the second most #1s on the chart. The record is also highly significant as V is not only the first Korean soloist but the first and only male artist in the world to enter the elite club. Many fans have stressed on the extraordinary impact V has on the music industry as popular western artists known as digital monsters such as "Ed Sheeran," "Ariana Grande" and "Justin Beiber" have not yet achieved such a milestone.
In addition, "Sweet Night" currently ranks as the third solo song in history to score #1s in 100 countries, falling shortly behind Adele's "Hello" (102) and BTS's "Black Swan" (104). Furthermore, as BTS recently surpassed Adele to the top, V is now the only artist in the world to chart two songs on the prestigious list.
As V continues to set several historical records with no official promotion or appearance in the drama or music video, fans are crediting the success of the song solely to V. Many fans have remarked that because "Sweet Night" is written, sung and produced by V, he has successfully proven his potential as one of the finest composers and also shown his powerful impact as a soloist.
Furthermore, as V has on different occasions stated that he is currently working on his first-ever solo mixtape and shared his hope of releasing it sometime this year, fans and the media alike are anticipating him to take the music industry by storm.