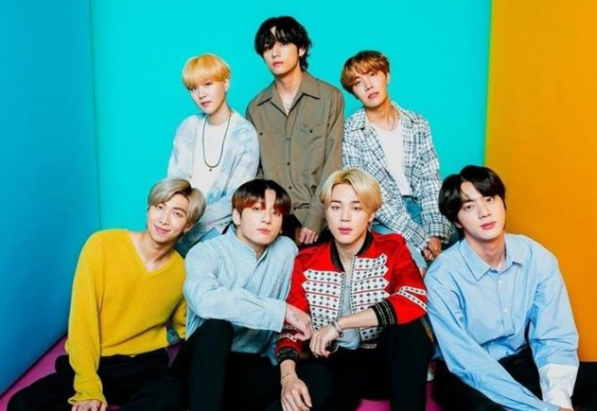 On July 4st local time, Tudo Information Awards 2020 has awarded BTS the following award: 'Group The Year". BTS competed with several popular international artists in Brazil: Now United, Little Mix, EXO, CNCO and Blackpink.
Other k-pop artists besides BTS and Blackpink also competed in the vote for the Brazilian award. They were TXT and the Twice girl group. On Twitter, thousands of fans were excited about BTS's victory in the Brazilian award and had tweets with more than 30 thousand likes on the subject.
Some of the best known artists here in the USA who won the Brazilian award show are: Shawn Mendes, Ariana Grande, Lauren Jauregui, Dua Lipa and Now United.
BTS é o vencedor do Tudo Information Awards 2020 na categoria Grupo do Ano, veja https://t.co/fbEShYwXYR #TudoIAwards #BTS @BTS_twt pic.twitter.com/8ouOnsBzD1

— Tudo Information Awards (@TudoIAwards) July 4, 2020
🏆 Parabéns ao @BTS_twt por ter ganho a categoria de 'Grupo do Ano' no 'Tudo Information Awards 2020' 🇧🇷! pic.twitter.com/Wqme0EZFy0

— BTS ⟭⟬ BRAZIL⁷ (@BTSxBRAZIL) July 5, 2020
Check the list of winners
Brazlian Female Artist
Anitta (Winner)
Ivete Sangalo
Joelma
Ludmilla
Luisa Sonza
Marília Mendonça
Brazilian Male Artist
Dilsinho
Gustavo Mioto
Gusttavo Lima
Jão
Luan Santana (Winner)
Vitão
International Female Artist
Ariana Grande (Winner)
Billie Eilish
Dua Lipa
Lady Gaga
Lizzo
Selena Gomez
.@ArianaGrande won the category "International Female Artist" at the 2020 Tudo Information Awards. pic.twitter.com/H2PpzXqCe0

— Ariana Grande Charts (@chartariana) July 4, 2020
International Male Artist
Drake
Harry Styles
Justin Bieber
Sam Smith
Shawn Mendes (Winner)
The Weeknd
Boom Artist
Danna Paola
Doja Cat
Meghan Thee Stallion
Melanie Martinez
Now United (Winner)
Trevor Daniel
Brazilian New Artist
BFF Girls (Winner)
Day
Du Black
FLAY
Orochi
Rebecca
BTS has won the "Group Of The Year" award at the 2020 Tudo Information Awards in brazil.

This brings their total of awards won up to 328, remaining the most awarded Asian act in history. pic.twitter.com/8Yucdjhvrf

— Pop Base (@PopBase) July 5, 2020
Group Of The Year
BlackPink
BTS (Winner)
CNCO
EXO
Little Mix
Now United
Funk Hit
Hit Contagiante – Felipe Original feat. Kevin O Chris e JS O Mão de Ouro
Rave de Favela – Major Lazer feat. MC Lan, Anitta & BEAM (Winner)
Sentadão – Pedro Sampaio, Felipe Original, JS o Mão de Ouro
Surtada – Dadá Boladão, Tati Zaqui feat OIK
Tudo no Sigilo – Vytinho NG & MC Bianca
Vem Me Satisfazer- MC Ingrid
Brazilian Hit
Áudio de Desculpas – Manu Gavassi (Winner)
BRABA – Luísa Sonza
Chama Ela – Lexa feat Pedro Sampaio
Gelo – Melim
La Vida Continuó – KAROL G, Simone & Simaria
Parabéns – Pabllo Vittar feat. Psirico
Supera – Marília Mendonça
Tudo OK – Thiaguinho MT feat Mila e JS O Mão de Ouro
Best International Song
Amarillo – J Balvin
Before You Go – Lewis Capaldi
Blinding Lights – The Weeknd
Boss B*tch – Doja Cat
Dance Monkey – Tones and I
Don't Start Now – Dua Lipa (Winner)
Hate Me – Ellie Goulding, Juice WRLD
Look At Her Now – Selena Gomez
Music Video of The Year
Adore You – Harry Styles (Winner)
Daisies – Katy Perry
Good In Goodbye – Madison Beer
How To Be Lonely – Rita Ora
I'm Ready – Sam Smith, Demi Lovato
Shameless – Camila Cabello
Slide Away – Miley Cyrus
You Should Be Sad – Halsey
Collaboration Of The Year
10,000 Hours – Dan + Shay, Justin Bieber
Alone, Pt. II – Alan Walker & Ava Max
Bellaquita (Remix) – Dalex feat Lenny Tavárez, Anitta, Natti Natasha, Farruko, Justin Quiles (Winner)
Como Así – Lali ft. CNCO
Midnight – Alesso feat. Liam Payne
Oye – TINI, Sebastián Yatra
Rain On Me – Lady Gaga & Ariana Grande
Tusa – Karol G & Nicki Minaj
Brazilian Fandom
Anitters – Anitta (Winner)
Biazins – Carol Biazin
Caracos – Kaysar Dadour
Emillynáticos – Emilly Araújo
Gavassies – Manu Gavassi
Luanetes- Luan Santana
Mamadeiras – Lucas Viana
Vittarlovers – Pabllo Vittar
International Fandom
Bardigang- Cardi B
Bey Hive – Beyoncé
Jaguars – Lauren Jauregui (Winner)
Lovatics – Demi Lovato
Mixers – Little Mix
MOA – TXT
Once – Twice
Swifties – Taylor Swift
Instagram of The Year
Álvaro Xaro
Ananda
Hariany Almeida
Jade Picon
João Guilherme
Maisa Silva
Rafa Kalimann (Winner)
Sthe Matos
Brazilian Influencer of The Year
Any Gabrielly (Winner)
Bibi Tatto
Felipe Neto
JP Mota
Leo Picon
Luara Fonseca
Lucas Olioti
Samira Close
Best TV Show
Anne with an E (Winner)
Control Z
Elite
La Casa de Papel
Riverdale
The 100
The Witcher
Toy Boy
Best Star of Reality Show
Bianca Andrade
Flayslane
Gizelly Bicalho (Winner)
Gui Araújo
Guilherme Napolitano
JP Gadelha
Pyong Lee
Rafa Kalimann
Actress of The Year
Camila Rodrigues
Carol Macedo
Deborah Secco
Isis Valverde
Juliana Paiva
Larissa Manoela
Regina Casé
Taís Araújo (Winner)
Actor Of The Year
Danilo Mesquita
João Baldasserini
Murilo Benício (Winner)
Nicolas Prattes
Rafael Cardoso
Thiago Fragoso
Thiago Martins
Vladimir Brichta