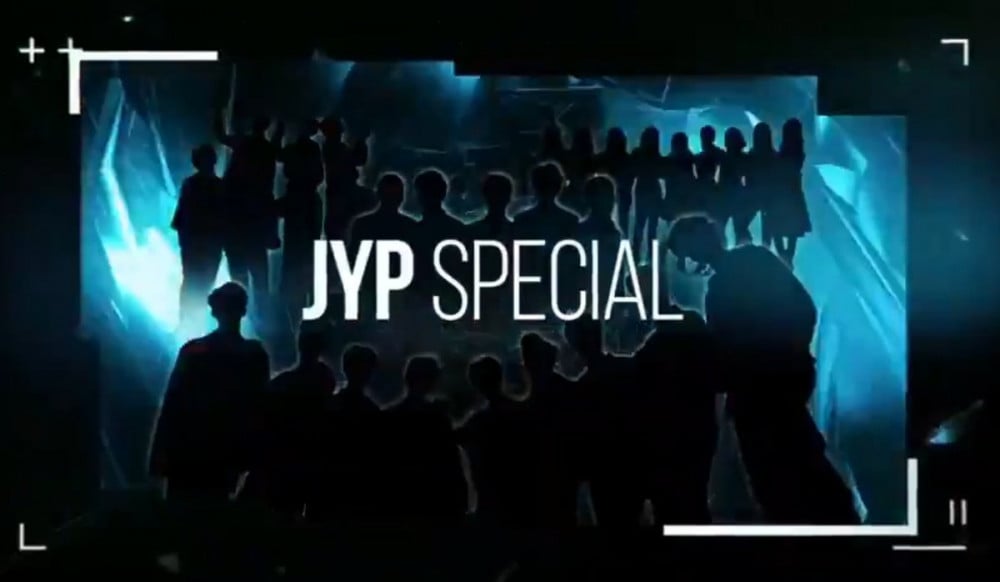 JYP Nation artists have a historical tradition of supporting each other and collaborating with each other for special stage performances. Here are some of the best moments when JYP Nation artists collaborated to create live stage performances.

2007 MBC Music Festival: J.Y. Park + Wonder Girls
During their rookie year, JYP came out to perform alongside his first girl group, the Wonder Girls, at the end-of-year MBC song festival. The Wonder Girls performed their debut song "Irony" and viral hit "Tell Me", during which JYP popped out to dance alongside the girls to the song he produced and choreographed for them. (You can see his initial choreo demo video for Tell Me playing in the background screen). They then performed JYP's hit song "She Was Pretty", before going into a medley.

2008 Mnet KM Music Festival: Wonder Girls + 2PM
After their trio of viral #1 hits "Tell Me, "So Hot" and "Nobody", the Wonder Girls had reached the top of the girl group hierarchy in 2008. They then collaborated with JYP's new rookie boy group 2PM to perform a tango dance at the MKMF (precursor to MAMA) that year. The Wonder Girls also performed a disco version of Nobody and 2PM got to show off some acrobatics and rip off shirtson stage. (Behind-the-scenes clips of the tango dance practice can be seen here. The first clip shows Taecyeon dancing with Sunmi).
2010 Korean Music Festival: 2PM + Miss A
Two years later, while the Wonder Girls were touringin the U.S.,JYP's second girl group MissA debuted. During their rookie year, the dance line of Miss A performed a partner dance with three members of 2PM before moving on to present their debut hit song "Bad Girl Good Girl". JYP's sexiest girl group and boy group performing a sensual dance collab makes this worth a watch. (Especially since you can see the early signs of what would lead Fei, Miss A's main vocalist, to win Dancing with the Stars later on).
2011 SBS Inkigayo special stage: 2PM + Miss A
One year later, when both 2PM and Miss A were achieving great success and happened to promote together on music shows, they put on a collaboration performance of a summery fun dance song "Expecting Barefoot".
2012 Music Bank ONEDAY special performance: 2PM + 2AM
Even though dance-pop group 2PM and vocal-ballad group 2AM were formed on the same survival show, were close friends in real life, and were meant to be part of the same super-group ONE DAY, they rarely got a chance to perform together because of differences in their genres of music. Finally, four years after both groups' debut, they finally managed to put on a collaboration performance, singing each others' hit songs before doing a cover of "The Place You Need to Be", a song by JYP's first boy group g.o.d.
2015 MBC Music Festival Opening: 2PM + GOT7 + Hyun Jin Young
For the opening of MBC's Music Festival, 2PM and GOT7 collaborated to perform a cover of the 90's Korean hip hop hit "You in My Fading Memory", an upbeat, energetic song that got everyone jumping and blood pumping. They then revealed the original artist himself, Hyun Jin Young, to perform with them on stage, for a glorious finish.
2016 JYP Nation concert: GOT7 + TWICE
The JYP Nation concert in 2016 featured collaboration performances from all of its' artists mixing together, including the Wonder Girls, 2PM, 2AM, Miss A, GOT7, and new maknaes TWICE, as well as their solo artists. This was the last JYP Nation concert and signified the passing of the baton from the 2nd-generation groups to the third-gen idols. While there are many performances, I will simply highlight two performances to show that the chain of senior artists supporting juniors is still continuing. The first is GOT7's collab with TWICE to perform their song "Just Right":


2016 JYP Nation concert: MissA + 2AM + GOT7
Another really "interesting" performance to watch at the JYP Nation 2016 concert was BamBam from GOT7 and Jo Kwon from 2AM collaborating with Miss A's Min and Fei to perform the girl group's dark and sexy song "Hush".
2017 MAMA in HONGKONG: GOT7 & Day6
Even though dance group GOT7 and genre-breaking band Day6 were trainees together, similar to 2PM and 2AM, they rarely got a chance to collaborate because of the differences in their music formats and styles of promotion. The 2017 performance at MAMA was the opportunity they needed, performing a rock version of GOT7's dance song "Never Ever".
2018 KBS Song Festival "JYP Special": GOT7 + Day6 + TWICE + Stray Kids
The JYP Special performance at the 2018 KBS Song Festival was special in a lot of ways. Not only did it allow for collaboration between all of JYP's third-generation groups, it also welcomed the new rookies Stray Kids. And it linked this generation of JYP idols to the previous generations, by covering hit songs from many of JYP's past artists, including soloists Park Ji Yoon, Rain and JYP himself, as well as groups 2PM, Wonder Girls, and g.o.d.


Bonus Video: JYP Nation encore tradition
JYP Nation artists also happen to have a tradition of being on stage for the encore and dancing / celebrating together if one of their agency mates happens to win a music show trophy. Also for celebrating when any of their label mates win an award.
And so, the baton is passed on to the groups and fandoms of JYP's 4th-generation idols. STAYs and MIDZYs, remember the tradition. In JYP Entertainment, the senior groups always support their juniors, and expect their fans to follow suit in cheering all of their labelmates on. They are family and they are friends, and can be expected to behave as such. Don't fight it, don't destroy it via negative comments over social media. Don't let the JYP family tradition die by your words or actions. Keep it and pass it on to each new generation.
Sincerely, from a 2nd-generation fan writing to the 3rd and 4th.