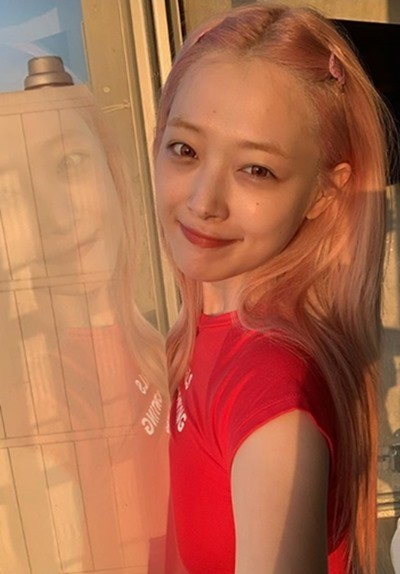 Singer and actor Sulli posted several photos taken in Los Angeles on her SNS on Thursday.
Previously Sulli talked about why she prefers not to wear bras on her new show 'Night Of Hate comments'.
Sulli who has frequently been the subject of malicious comments about how she sometimes uploads photos in which she's not wearing a bra said in response to one of these comments, "I think this is about the freedom of the individual. Bras aren't good for your health. They have a wire. They're not good for your digestive organs, and I have issues with my digestion. Since it's more comfortable not to, I don't wear them. I think that it's free and beautiful."
She went on to say that she thinks of bras as accessories. She said, "They suit some clothing, and if there's a piece of clothing that doesn't look good with a bra, then I don't wear one." She surprised the others when she said, "I'm not wearing that accessory right now."
When asked why she continues to upload photos of herself without bras on social media, she replied, "When I first posted a 'no bra' photo, there was a lot of talk about it. I was scared and could have hidden, but the reason I didn't is that I want to change peoples' prejudices about that. Part of me also wanted to say 'This isn't that big of a deal'."
"I've heard that lately there are more people who go out without bras on," said Sulli.
Meanwhile, Sully released her single "Goblin" on June 29.
Source: News 24 via Naver
1. [+393, -11] Honestly, I'm not brave enough to but I really don't want to wear a bra in the summer either
2. [+221, -5] I want to take mine off too, it's so suffocating and uncomfortable
3. [+93, -4] Men don't know how comfortable going bra free is... most women aren't as brave as Sulli and only take their bra off at home. It's not that we don't understand her. I support her confidence.
4. [+79, -60] So she's too lazy to wear a bra but will colored lenses?? Attention wh*re
5. [+17, -0] Yeah, bras really are uncomfortable... the first thing I do when I get home is take it off
6. [+10, -1] Nowadays there are bralettes and seamless bras that are very light and moisture whicking. If going bra free is more comfortable for you, that's fine too, but no need to force other women to go bra free too.
7. [+9, -3] I want to go bra free in the summer~ Sulli fighting!
8. [+11, -7] Hmm... so wearing a bra is uncomfortable but she's fine wearing a short skirt and high heels?..