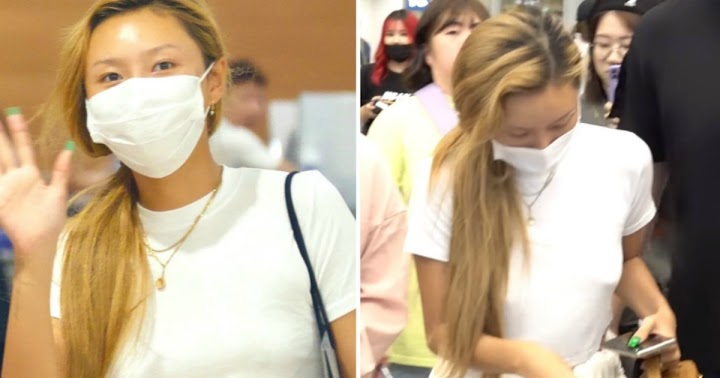 The female singers from Sulli to Hwasa are showing their confidence in not wearing bras when conducting outside schedules.

On July 7, after finishing the schedule with "SBS Super Concert in Hong Kong" event, Mamamoo returned to Korea via the Incheon International Airport. The four members still conducted the schedule as usual but Hwasa's fashion style that day became the focus of attention.
​
Hwasa appeared at the airport with a short-sleeved white T-shirt and didn't wear a bra. She confidently expressed the no-bra fashion style when chatting with fans naturally.
​
Earlier, Sulli (former f(x) member) drew a lot of public attention when revealing her no-bra fashion regularly on SNS. At first, as soon as Sulli posted a no-bra photo, a debate broke out among netizens about whether Sulli really didn't wear a bra.
Even later, Sulli often appears confidently with no-bra fashion. She became the topic of the talk when she didn't wear a bra at official events.
​
In the show "Reply Night" (JTBC), Sulli expressed her philosophy of no-bra fashion, "I think the bra is an accessory. There are outfits that suit it, there are also outfits that do not suit it."
​
Sulli and Hwasa are continuing the path of expressing their own opinions despite being able to be criticized by anyone as members of girl groups who are standing in the center of the public's gazes. Unlike the past, the public is showing their support for the no-bra fashion of artists.
​
My Daily = Reporter Myung Hee Sook aud666@mydaily.co.kr
Photo = My Daily DB
Mamamoo Hwasa 'nobra' airport fashion, Netizens 'noisy'
original post: naver
1.[+2188, -116] Leave her alone. She says she's gonna do it. Why are you so upset?
2. [+1197, -38] Don't worry about other people's bras.
3. [+935, -31] Is this going to be an issue? What kind of crime is Nobra?
4. [+316, -16] Just leave her alone
5. [+142, -21] She should put breast pads on her chest. I don't want to see any men pay attention to her chest.
6. [+105, -5] Is the bra uncomfortable in the summer?
7. [+107, -9] I'm a big fan of NOBRA. I hope you can put on a nipple sticker. This is embarrassing for women, so please.
8. [+151, -60] She is also a woman, but she doesn't look good. Moreover, white clothes … I think there's a certain line of personal freedom.
Credit source: NAVER