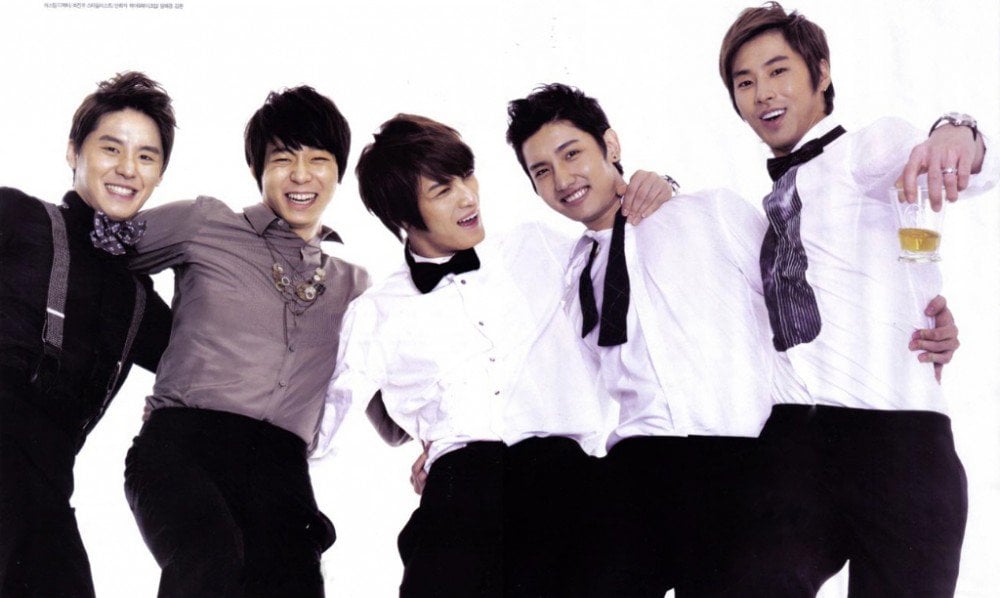 1.Trainees With the Best Vocal Talent
Each member of TVXQ was supposed to debut as solo singers or lead 5 different groups. However, due to financial problems, SM Entertainment chose the most talented trainees and formed TVXQ as an acapella-dance group. Lee Soo Man stated that out of several different teams, he chose the best member from each and brought them together to create a 'major-league' team. That team was TVXQ.

2.Saved The Industry

In the early 2000s, people had lost their interest in idol groups so the K-Pop industry started dying out due to financial problems. As TVXQ debuted on December 26, 2003, with 'Hug', they immediately attracted everyone's attention. Back then digital music sales weren't relevant and selling 100 thousand cassette albums, which were cheap, were considered a huge success. In 2004, TVXQ's debut album 'Tri-angle' and single albums 'Hug' and 'The Way You Are' sold more than 800 thousand CD albums. They gained huge popularity in Asia when they came back in 2008 with Mirotic and paved the way for K-Pop in Asia.

3. No Solo Works


Although they were supposed to debut as solo artistsin the beginning, SM Entertainment in 2008 stated, "TVXQ will not be doing any solo work in the future or neither do we have any plans for it. TVXQ is a group that puts group and team first". Finally, Changmin and Yunho released mini albums in 2015 but they didn't promote them solo.
4."Rising Sun" in Fast & Furious 4


TVXQ's 2nd studio album's title track 'Rising Sun' was featured in the blockbuster movie 'Fast & Furious 4,' during Paul Walker's opening scene.


5. 2 Times they were on the Guinness World Record

TVXQ was recorded in Guinness Book of World Records as 'having the largest official -paid- fan club' back in 2008. Apart from international fan clubs and the official Japanese fan club BigEast; the official Korean fan club, Cassiopeia, had well over 800,000 members. TVXQ's Korea fan club closed in 2009, after the split of TVXQ.
TVXQ also put their names on the Guinness Book of World Records for being the most photographed group back in 2009. Through their official activities, the group was photographed over 500 million times.

6.Historic Win on Japan's Kohaku Uta Gassen
TVXQ participated on Japan's year-end show Kohaku Uta Gassen in 2008, 2009 and 2011. In 2011, they recorded a historic win. Besides bringing in 42.6% viewership, TVXQ obtained 49.7% of the total votes cast, leaving 21 top artists such as Arashi, SMAP, AKB48, Perfume, Girls' Generation,and KARA behind, winning 1st place with a record of almost half the total votes. The voting was only open to those within Japan, and Korean fans, as well as international fans, were not able to participate. After excluding the repeated votes, TVXQ maintained the 1st place with a shocking 65.3% of the total votes.
7.One of The Big 3 in Japanese Live Scene

Japan is a country where Asian groups and singers do concert tours a lot. On May 14, 2015, Kei Nishiyama, chairman of online ticketing site Ticket Street called TVXQ as one of Japan Live Scene 'Big 3' along with Arashi and EXILE. Kei Nishiyama stated, "The BIG 3 in the Japanese live scene today are Arashi, TVXQ and EXILE. More than 40% of Avex-held dome-stadium level concerts were TVXQ. Avex will show a big decrease in revenue due to TVXQ's upcoming enlistment."
He also released the list of 'Artists with the hardest to get concert tickets in Japan'. TVXQ ranked #2!
8. The Members Were Initially Disappointed at the Group's Name

When Lee Soo Man told the members about what name he chose for them (TVXQ, which means 'Rising Gods of the East'), the members were very disappointed... Jaejoong and Yunho even cried!

9. Highest Earning K-Pop Group

On December 31, 2009, tvN ENEWS 'Blackbox' revealed the top earners of 2009 in Korea. TVXQ ranked 1st with a revenue figure of $109M USD, followed by Rain ($53M USD) and Big Bang ($17M USD).
On November 25, 2013, Korean media outlet Sports Seoul reported that TVXQ made a career revenue of $1.1 Billion USD up to that point.
On February 22, 2018, Korean media outlet Cidermics reported that TVXQ made a career revenue of $2 Billion USD up to that point, which makes them the highest earning K-Pop group in history.
10. They were Offered The Role as F4 in Boys Over Flowers

Almost everyone knows about Boys Over Flowers and it's Legendary F4 (Lee Minho, Kim Hyungjoong, Kim Bum,and Kim Joon).
In 2007, when the publisher was in the planning stages to produce the Japanese manga 'Hana Yori Dango' into a Korean drama, they wanted to cast the 4 members of TVXQ as F4, and the plan had been specifically discussed. However, TVXQ's overseas activities in Asia made it impossible to spare time for the drama shooting, so they had to politely decline the offer.
Even though they didn't make it, but it's still fun to guess which TVXQ member gets which role in the 4 men of F4, right?