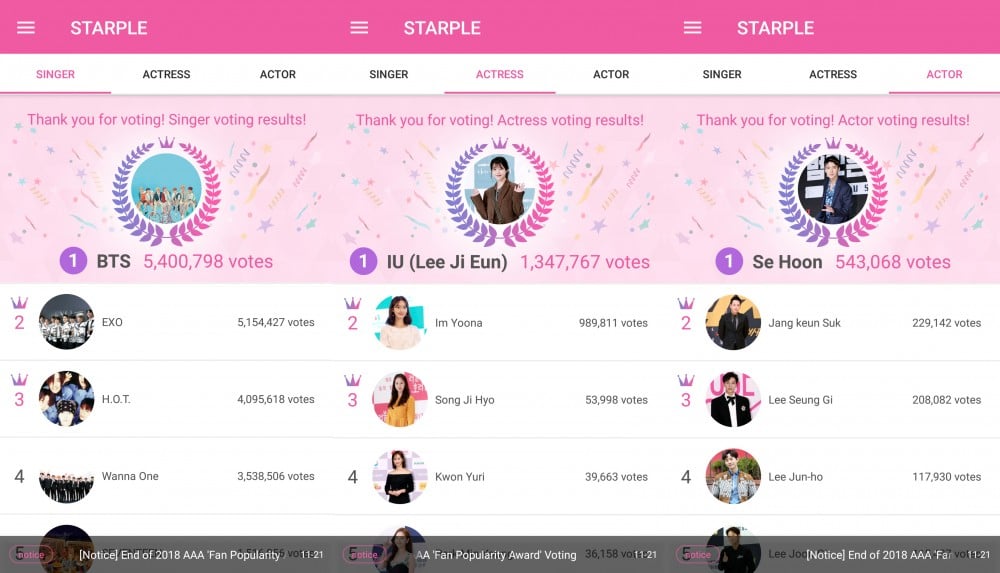 The final round for "Fan Popularity Award" of 2018 Asia Artist Awards has just ended on 20th November 2018 with BTS won on the Singer category, IU won on the Actress category, and EXO Se Hoon won on the Actor category. But regardless of the good news, there's an unresolved controversy from the awards that has been held for the third times since 2016. The controversy is about vote deduction that are believed to be vote manipulation in choosing the winner in Singer and Actress category.
In case you miss it, YoonA's fans decided to stop voting after fans claimed that their votes were deducted 2 times (59,403 votes on 8th November and 41,743 votes on 15th November, 101,146 votes in total which worth 8,260 USD) as STARPLE considered it as illegal votes. But as there was no clear numbers of how many real illegal votes that were being cut, fans are sure that there's high possibility for legal votes were included in the 'illegal votes' that were being cut, and this claim was not without any reason and evidence.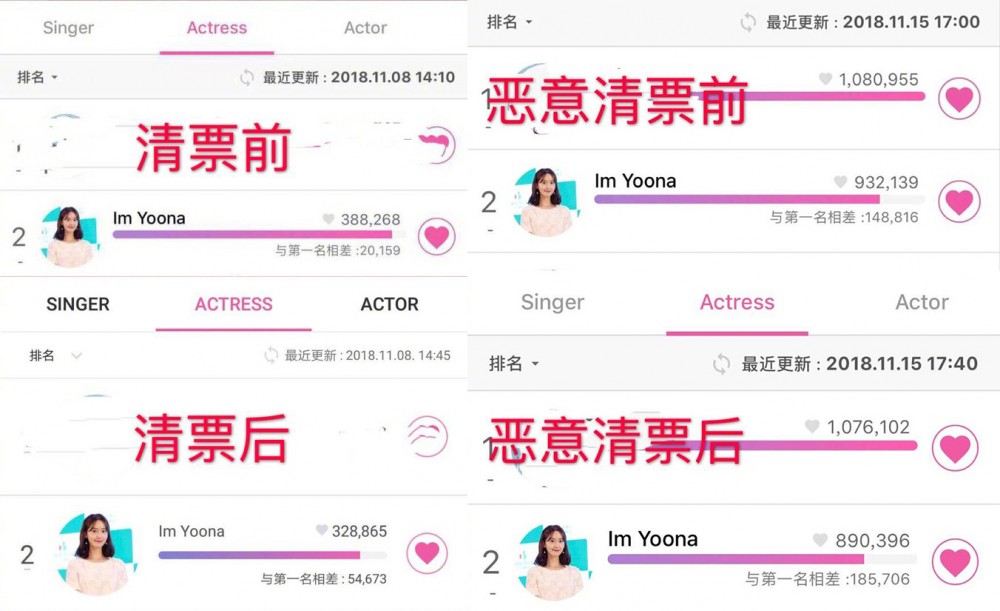 YoonA's fansites and fans are sure about high possibility for legal votes being removed as they have evidence of their purchased votes. Limyoonabar which is one of YoonA's biggest fansite in China have used around 14,000 USD to vote for her. At first, many fans suspected that first vote deduction may be due to mass voting in big amount so STARPLE assumed it as illegal votes, but after fans voted in smaller numbers, it happened again for second time. As the big amount of legal votes was purchased from the application around the vote deduction days, it's reasonable to come with the conclusion that there was vote manipulation for "Fans Popularity Award" of 2018 Asia Artist Awards.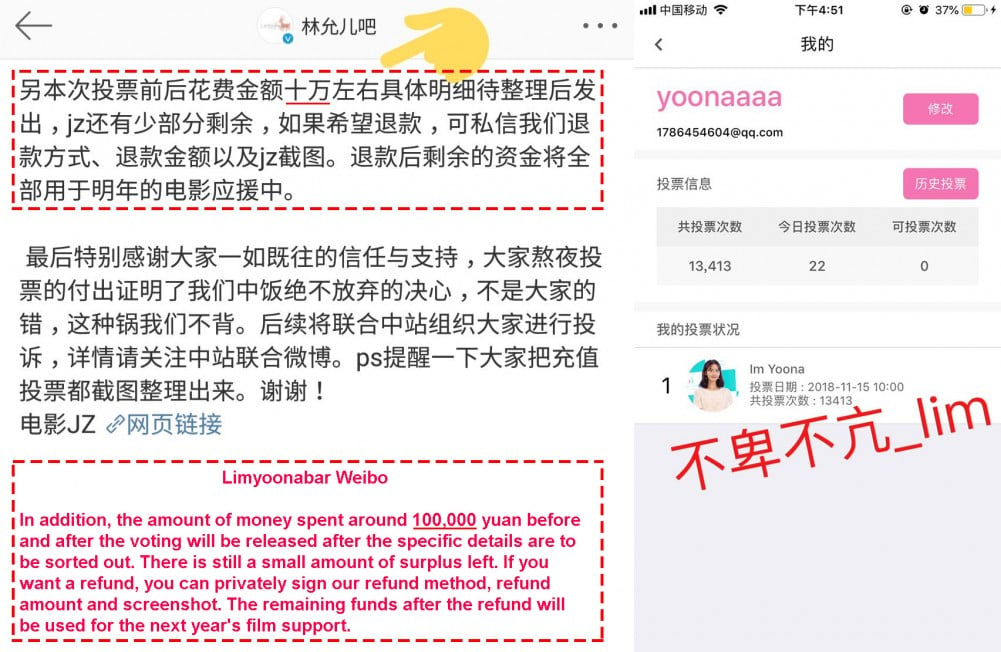 Considering the big amount of fund the fans have used to vote, the result was too far from what they expected. In the end, YoonA's fansites followed by her fans announced to stop voting, and asked STARPLE for refund. It was supposed to be done by showing history of purchased votes to Google Play Store or Apple Store, but unfortunately fans were faced with a shocking fact that the history of purchased votes were removed! And it even got worse when the other legal way to earn votes like watching videos also can't be found in history of some fans.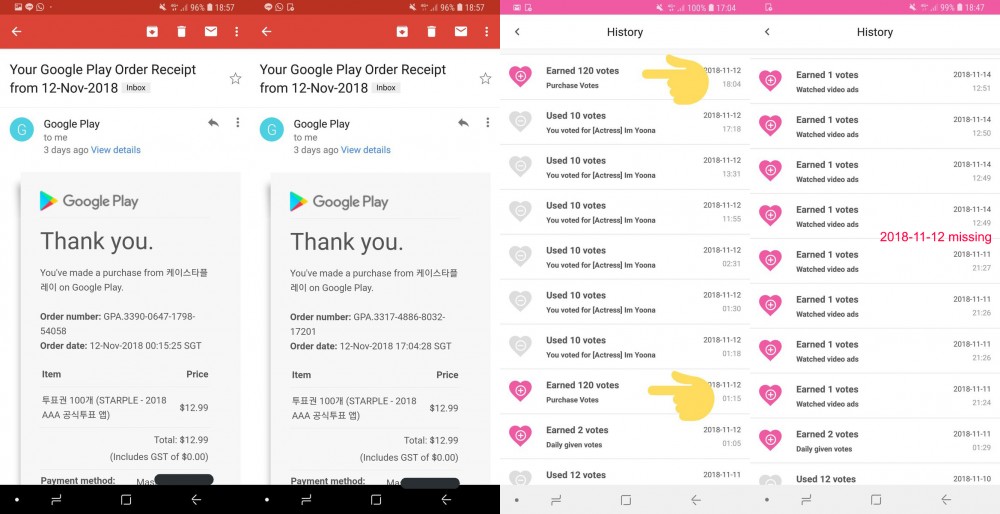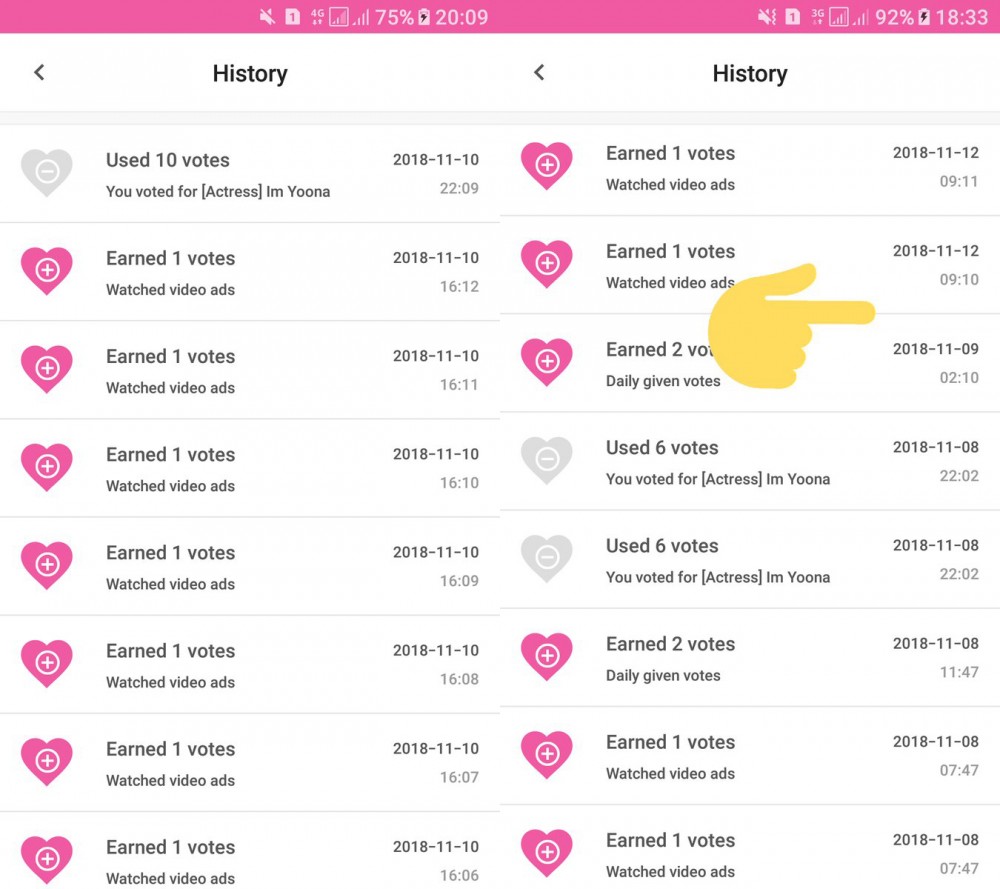 There was no either explanation or reply from STARPLE even after fans sent complains to the email which was provided on the application page. Disappointed with the silence from the company, YoonA's fans tweets #AAACheat with explanation about how they got their votes deducted and the evidences of legal votes they got from the application. Fans also wrote reviews and rated the application based on the disappointment. This move was followed by EXO's fans who also suffered from same problem with 462.956 of their votes deducted.


Reviews and Ratings of STARPLE on Google Play Store.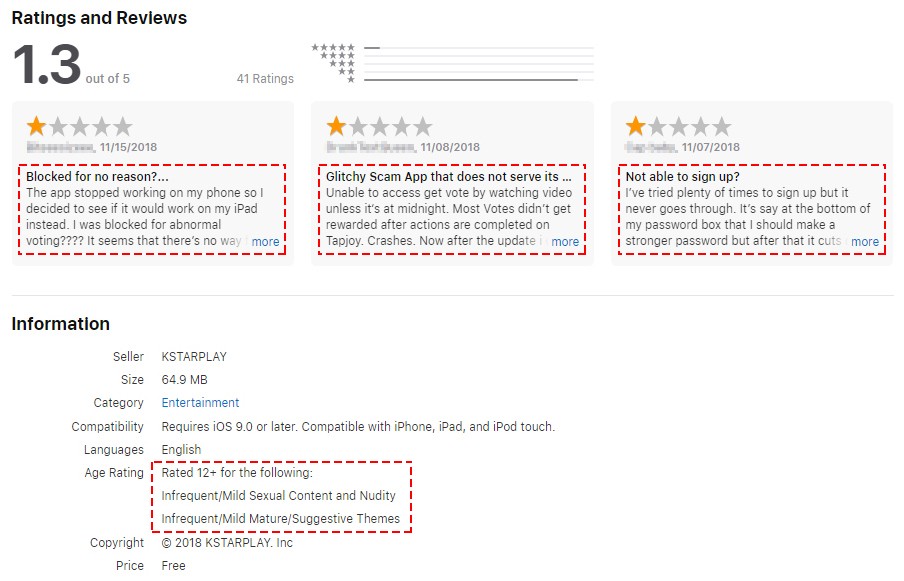 Reviews and Ratings of STARPLE on Apple Store.

Trending #AAACheat on Twitter.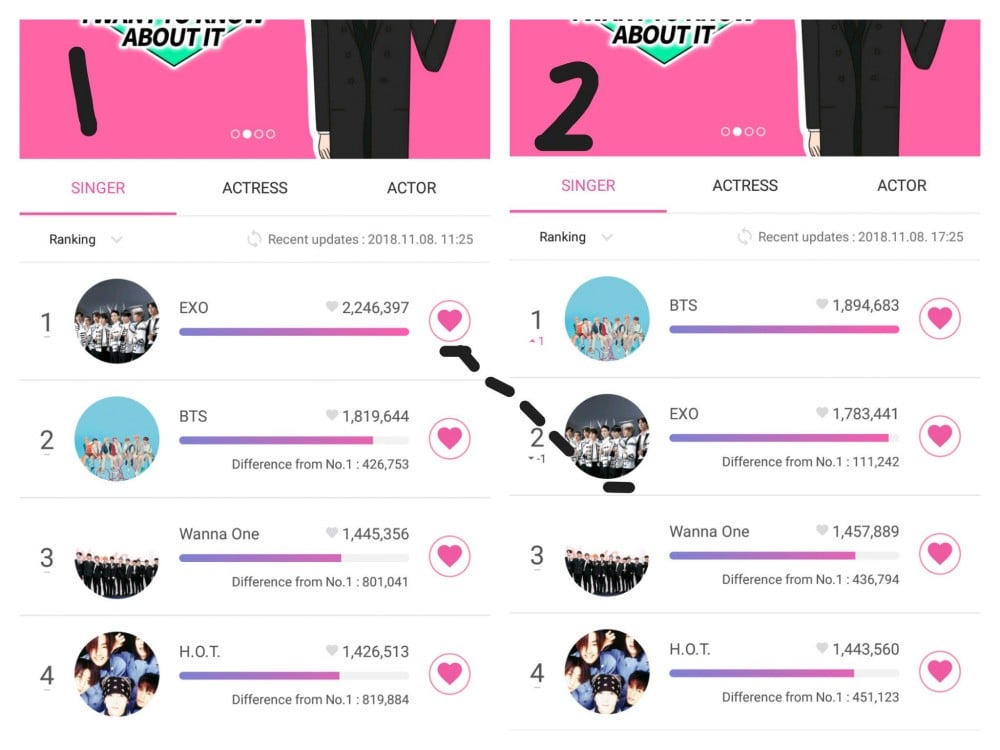 Screenshot of EXO's votes which was deducted.

Lately it was known that the email to reach the company is
starple@kstargroup.tv
, which is different from what they provided on the application page.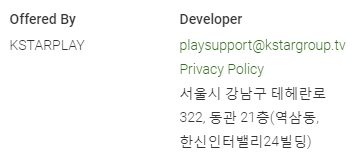 On 20th November, STARPLE notified the users about paid votes deduction controversy which have been surrounding this awards as not true. But this notification was not followed by any explanation about what happened.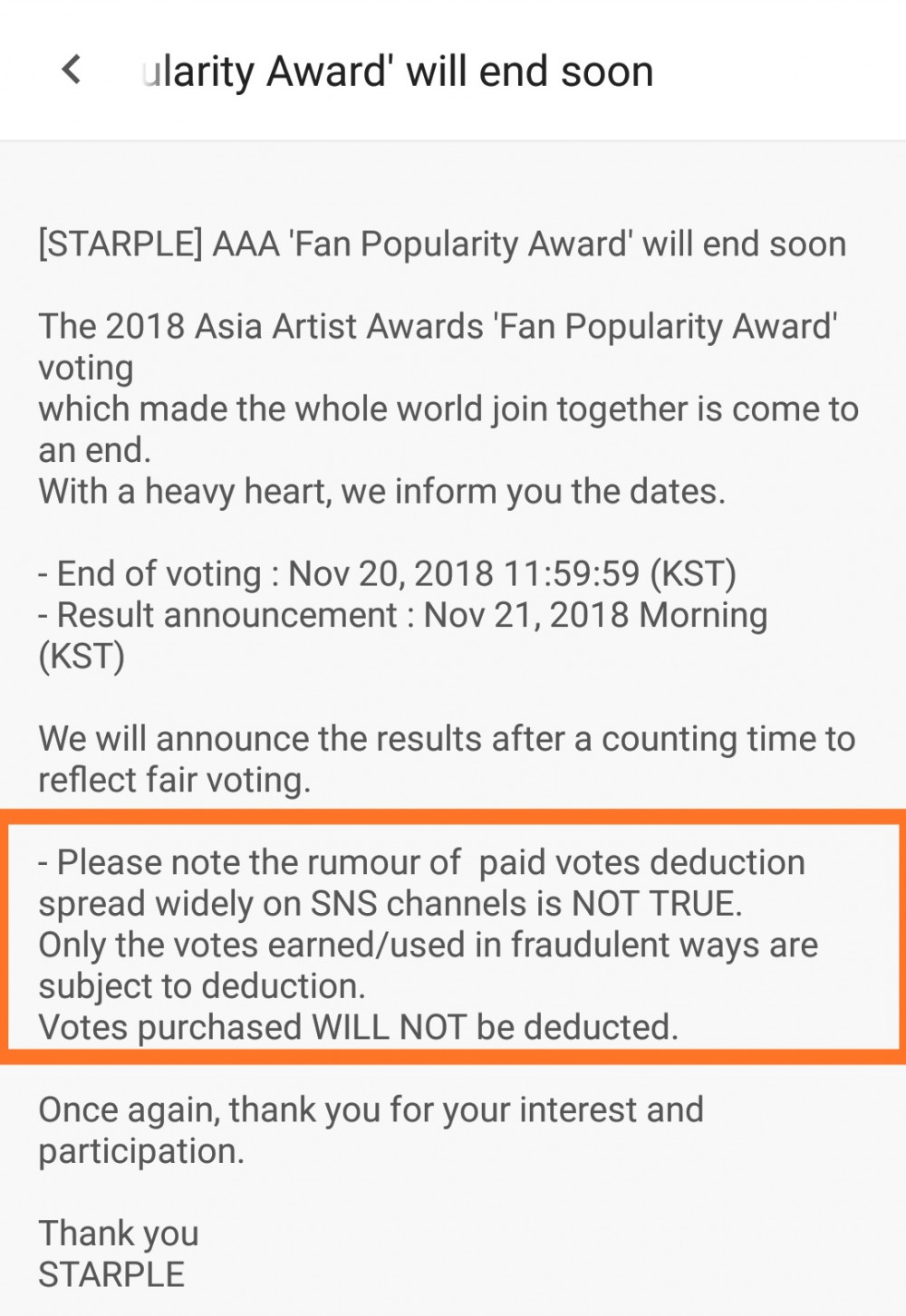 And since then, there's still no words of explanation or apology from STARPLE, as if the company don't care about the controversy at all. Many fans are disappointed against the silence of STARPLE, and demands that South Korea's Ministry of Culture, Sports, and Tourism to give serious attention and investigate this case as it's considered as scam by taking advantage of worldwide fans' love and support to the favorite idols. And it's considered as serious crime as it's involving fans' money in big numbers.
In order to simplify what happened to fans, here is the summary of problems on STARPLE app from KSTARGROUP that can't be explained and fixed by the company even until the vote ended :

1.Legal vote deduction.
As mentioned before, 101,146 of YoonA's legal votes was deducted.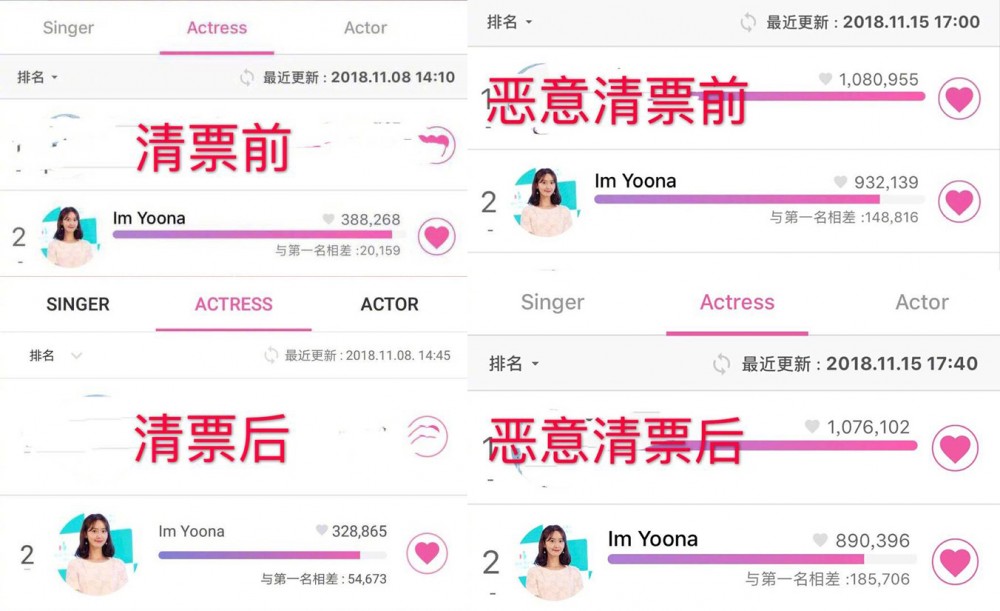 2. Missing history of purchased votes.
Fans can't find the history of their purchased votes inside the application as it's missing from the history.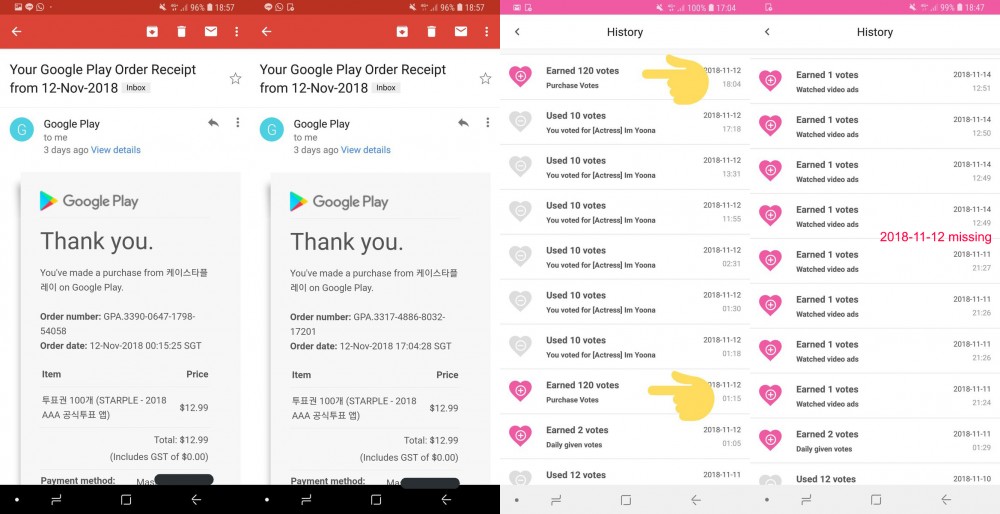 3. Error on history of votes.
The history of earned votes is not in order and on some fans it shows more votes earned from what they actually earned. For example, on the history page of fan it shows he/she earned 16 times of 1 vote from watching video ads when fans can only earn max. 10 votes from it in a day. On the contrary, some fans also got the history of earned votes from watching videos missing.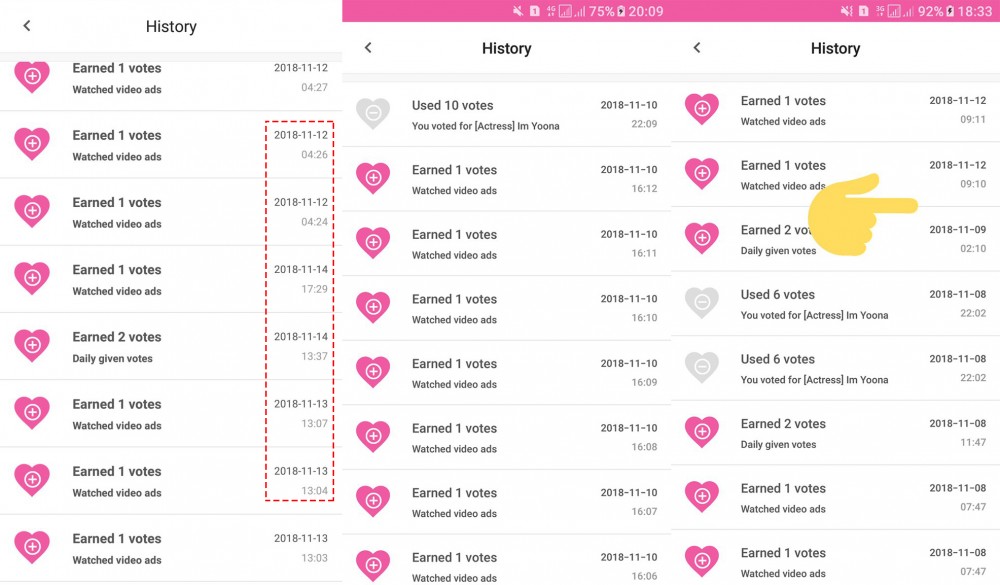 4. Some fans tried to vote for specific idol on one account, and then got free votes in high numbers on the second account. Fans tried to ask about this problem to STARPLE, but there's no explanation even when the awards ceremony is just counting days.

5. Fans didn't get the votes despite completing games/missions.
6. Fans suddenly earned votes without doing anything.
7. On 19th November one fan asked about the missing votes from app history, but STARPLE replied with 3 different replies that the fan had never done before. First, STARPLE accused the fan cheated. Second, the company detected the fan changed the device. Third, the company would check the system again.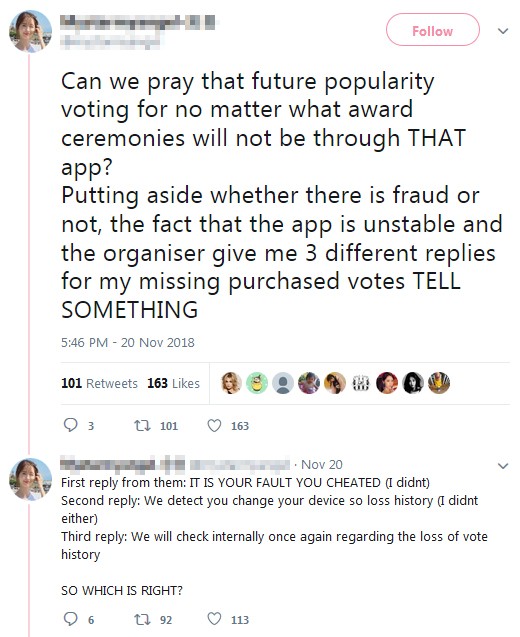 Since the controversy began, the news of it has been published on some countries.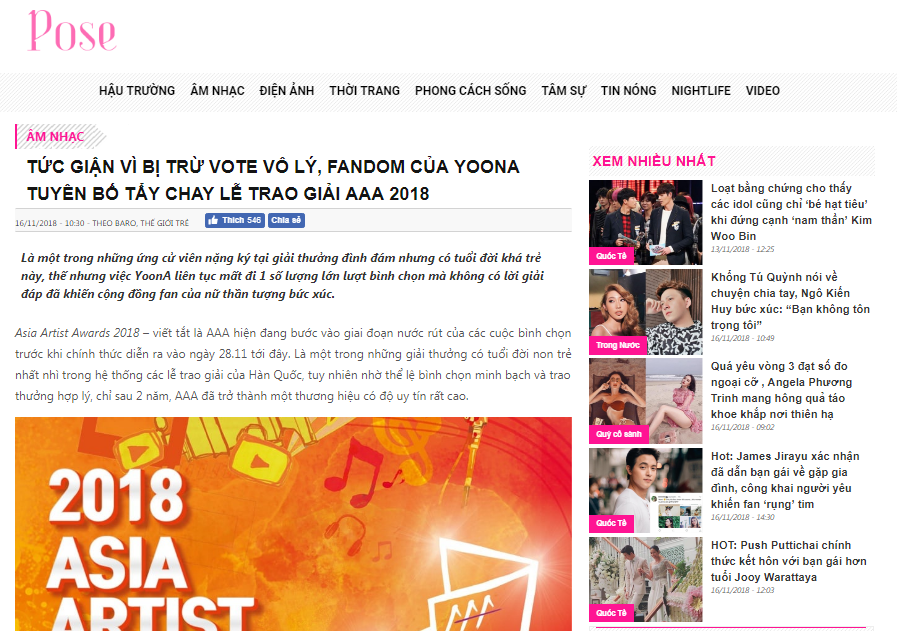 https://pose.vn/am-nhac/tuc-gian-vi-bi-tru-vote-vo-ly-fandom-cua-yoona-tuyen-bo-tay-chay-le-trao-giai-aaa-2018-644422.html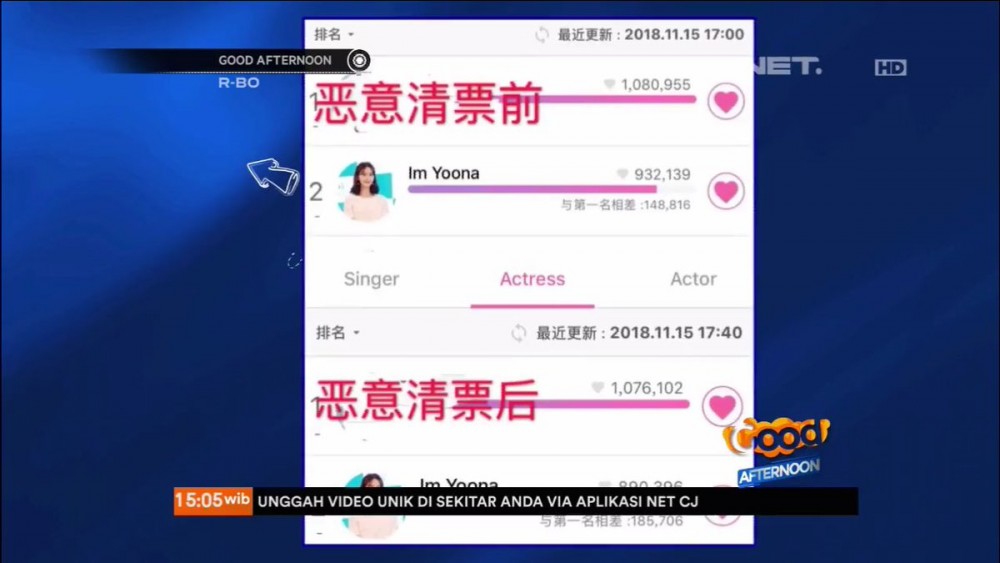 2018 Asia Artist Awards News in Indonesian TV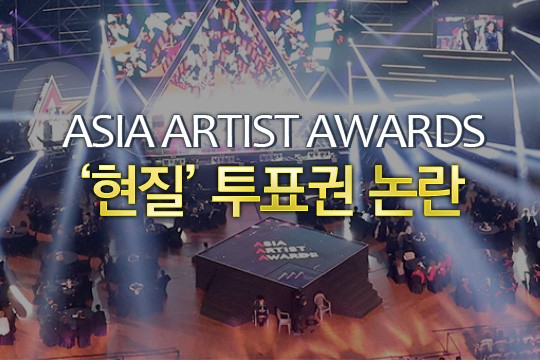 http://m.ilyo.co.kr/?ac=article_view&toto_id=&entry_id=316860

Many fans are worried that same controversy would happen again on other upcoming awards. Many tweets with #AAACheat hashtag from fans can still be found on Twitter. Hopefully, this news could reach South Korea's Ministry of Culture, Sports, and Tourism, so proper investigation could be done against STARPLE app and KSTARGROUP as the company who is in charge of it, in order to prevent the same problem from happening again.