G-Friend
's
Yuju
finally made an appearance after a mysterious lengthy absence, but the rumors are ongoing.
Lately, Yuju has been absent from G-Friend's activities, which made fans worried about her whereabouts. Her absence also led to all kinds of rumors. Some claimed Yuju is leaving G-Friend, a few claimed she's pregnant, and others believed she went under the knife for cosmetic surgery.
Despite the
agency's update on Yuju's absence
, the concerns and rumors continued to erupt.
Then finally on November 27, Yuju made an appearance through G-Friend's live stream. This is the first time in weeks that Yuju greeted fans, and after finally seeing the idol star in a while,
netizens are speculating that the reason for Yuju's absence is cosmetic surgery.
According to netizens
, Yuju seems to have gone under the knife. Many believe Yuju got extra work done on her eyes, as well as in the jaw area.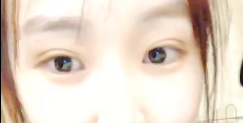 Comments stated, "Of course, it was cosmetic surgery lolol," "She definitely did her eyes, and toned her jawline," "She already had double eyelids but she got a retouch," "Her eyes are so obvious," "Her eyes are still swollen."
What are your thoughts on the cosmetic surgery accusations against Yuju?