Kevin
is here with the answers to your questions!
The former U-KISS member recently released his first solo single "Ride Along" in two versions; Japanese and English. The single was produced by hitmaker Ryan Jhun, who has produced multiple hits for top K-pop artists such as EXO, Wanna One, and SHINee. 
The English version MV filmed in Kevin's home state California was just released on his birthday, November 25. 
Kevin has co-produced the MV alongside director
Tim Milgram
. 
In celebration of his first solo single under the new agency Coridel Entertainment, allkpop provided an exclusive chance for fans to ask anything and everything to Kevin. 
Now, after looking over the interesting questions, Kevin is here with some interesting answers. Check out what he has to say to your Qs!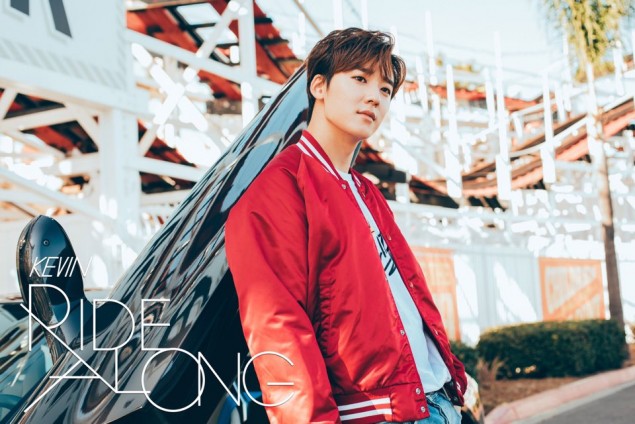 ---
Paitw_vue647: How does it feel to be a solo artist?
Kevin: It's definitely going to take some time to get used to being solo after being in a group for 10 years, but I'm excited to make music that shows my personality and have complete freedom over what I want to do as an artist. 
JessicaXusagi: Who's your favorite singer of all time?  An artist you would like to collab with?
It's hard to choose just one because I looked up to so many artists. I grew up listening to a lot of R&B so some of my favorite singers are Usher, Mariah Carey, and Ne-Yo just to name a few. 
I want to do a duet with Tori Kelly.
H8erade: What was your favorite song to promote while in U-KISS?
"Man Man Ha Ni." It was the song that brought us to fame. Everyone in Korea knew this song at the time, so every time we performed it, they would sing along to it. I can't believe I'm saying this, but "Man Man Ha Ni" is almost 10 years old! How time flies!
Transparentbobas: Do you believe in soulmates? 
Yes, I do. You<3
HenyWoo: Where do you want to go on your first date? 
I love being outdoors, so I'd go for a picnic during the day and then maybe a movie afterwards. I like being pretty casual. Nothing fancy on first dates.
Kpoplover308: What was your favorite memory from After School Club?
I have so many memorable moments from After School Club! If I had to choose one, it probably be when we had friends over as guests and we would roast them or make them do funny things on camera. It was more like a casual hangout rather than a TV show. 
Kimberley_gray: Are you still in contact with your members and After School Club MCs?
Definitely! We don't get to see each other as much as we used to, but they'll always be family to me. #fam 
Callmetree: How do you handle stress? 
I know it's strange, but I rarely get stressed. But when I do, good food and company always make me feel better. 
Vullery: Message for your bashers/haters?
If you have nothing good to say, stop wasting your time stealing other people's happiness. 

Ghostwriter: What is your favorite book, song, and TV series at the moment?
Current favorite book: Crazy Rich Asians

Current Favorite song: Better by Khalid

Current TV series: Terrace House
What is your favorite food/restaurant?
YeonSooz: Have you achieved your dreams yet or are there still things you want to try out?
Yes! I have achieved my dreams of becoming a singer/idol, however, I'm always hungry for new challenges and goals as an artist. I'd also love to pursue an acting career. 
Rennu: I want to tell you that I've been a fan of U-KISS since 2011. Your voice helped me through some very awful times. Your personality and kindness has shaped me into who I am today. I look up to you so much and will always, always support you. Thank you, love you! As for a question: what are your future plans? Where do you see yourself in 10 years?
Thank you for your support! I'm truly happy that I got to make a positive impact on your life.
I want to make more music as a solo artist and to go on tours around the globe. I hope I continue to make music and perform for the next 10 years and even more! 
Love you, too!