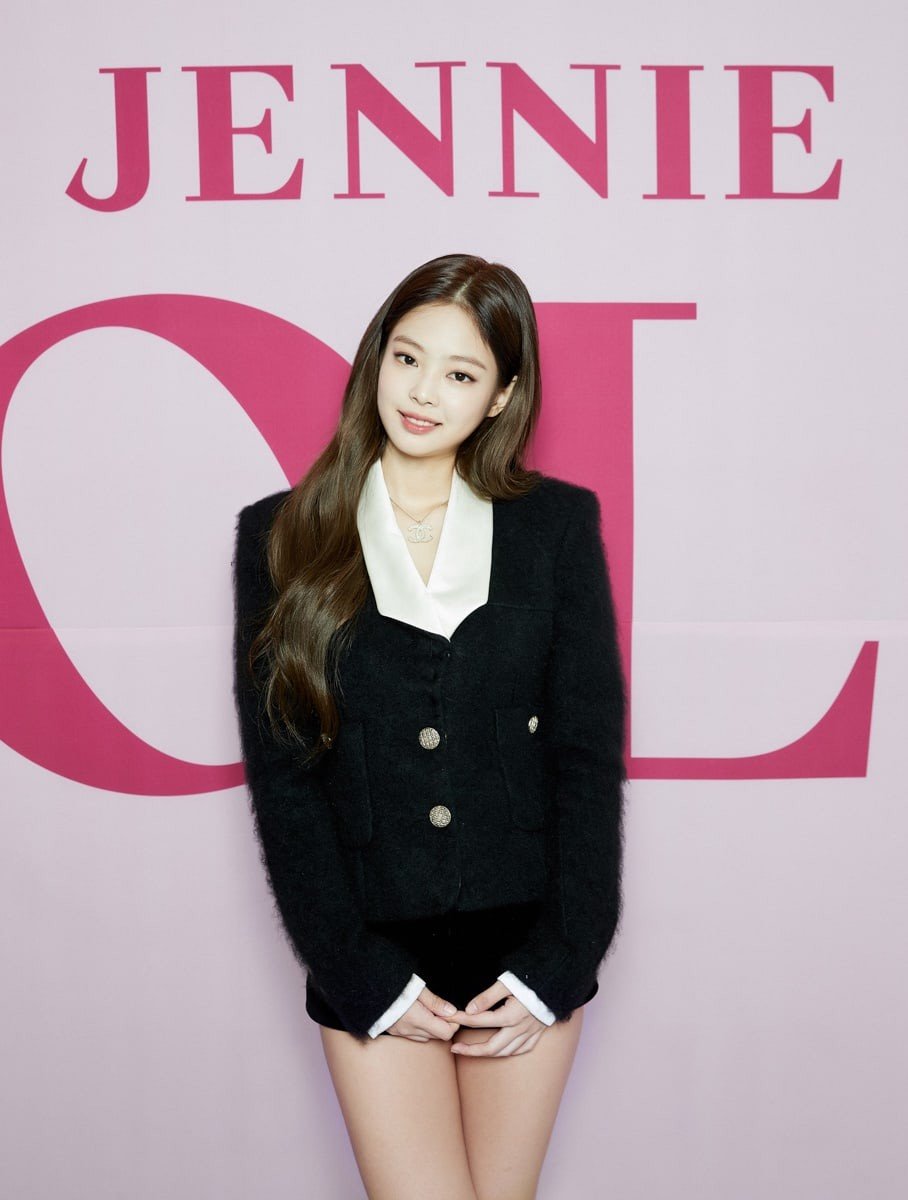 On November 12, JENNIE had a press conference to announce the release of her first-ever solo digital single titled 'SOLO', in Platform-L Contemporary Art Center, Gangnam-gu, Seoul.
JENNIE will be the first runner of BLACKPINK's solo project. She raised expectations on her debut by revealing teasers presenting her variety of charms, including her natural self and her image as a young girl, dressed in a red dress with freckles on her face. She performed the song for the first time through BLACKPINK's solo concert held in Seoul KSPO DOME (Olympic Gymnastics Arena) on the 10th and 11th.
Her new song 'SOLO' contains two sides of JENNIE, coexisting within her inner and outer self. The track expresses her aspect as a delicate young girl and as a strong independent woman. The song was written and composed by TEDDY, who worked on all songs released by BLACKPINK since debut. TEDDY and 24 composed the track together.
JENNIE will release her solo debut digital single, 'SOLO', through various music platforms today at 6 PM.
▲ What are your thoughts on being the first runner for BLACKPINK's solo project
"I performed 'SOLO' for the first time through our concert. I still can't believe that the song is coming out. I didn't start working on the song after I was decided as the first runner from our group. All members were preparing together, as if we're starting together. I do feel pressure for being the first runner, but I want to have fun by thinking it's a continuation of what we've been presenting for the people. Rather than stating, 'I'm this person' as a solo artist, I hope the people would consider this as one of many aspects of BLACKPINK".
▲ What kind of song is 'SOLO'
"When you're dating someone, you tend to present what the other person wants rather than your true self. I wanted to express that feeling. Rather than the heart wound coming from a breakup, I wanted to express myself more freely".
▲ What did the members of BLACKPINK and president YANG HYUN SUK say
"The members knew I felt nervous, so they told me to do well while laughing. I'm getting tense and eased repeatedly. President YANG HYUN SUK put in a lot of care. I received text messages every day. He even evaluated the outfits one by one, objectively. He also saw that I was shy and told me, 'Go out there and kill them all'. (Laughs) I think he wanted me to be confident".
▲ You worked with TEDDY again this time, how was it
"It's been a couple years since I started working with TEDDY, and often, I go out there as a guide when he makes songs. The upcoming song also came out like that. He didn't give me the song saying, 'It's your solo track'. He makes the members' characteristics stand out in BLACKPINK's songs, so I think he put in my individuality and character more into the song since I'm performing the full song".
▲ The MV has many contrasting elements, such as white and black clothing
"I change into black clothes from pink clothes in one scene. I put in elements that would express my charisma as a wounded and instable young girl. It's not included everywhere, but please think that 'SOLO' itself is an expression of myself.
▲ What does the public see and doesn't see from you
"Since I've presented strong and charismatic performances, people think I'm like that in real life. But when they meet me, they tell me that I have aspects of a young girl. I'm actually very shy and quiet. But I've expressed that image into coldness and darkness. My bright side has been expressed more than I've expected, but I'll be able to present more since this is only the beginning".
▲ What's your differentiation as a solo artist rather than as a member of BLACKPINK
"It's not that I have differentiation as a solo artist rather than as a member of BLACKPINK. What I show in BLACKPINK is also me. The difference is that since the song starts and ends with me, the focus is on JENNIE. In terms of concepts, the focus was split into 25% when I was active as BLACKPINK, but I've put in more work since it will be 100% JENNIE this time".
▲ What are your determinations as a solo artist
"I thought I got strong after 6 years of practice, but I've always thanked the members since I depend on them a lot after our team was formed. I would probably have to remind myself of the times when I was a trainee, who had to fill in the space all by myself. I can't really explain how I feel, but I would like to do well so that the time invested in myself would be worthwhile".