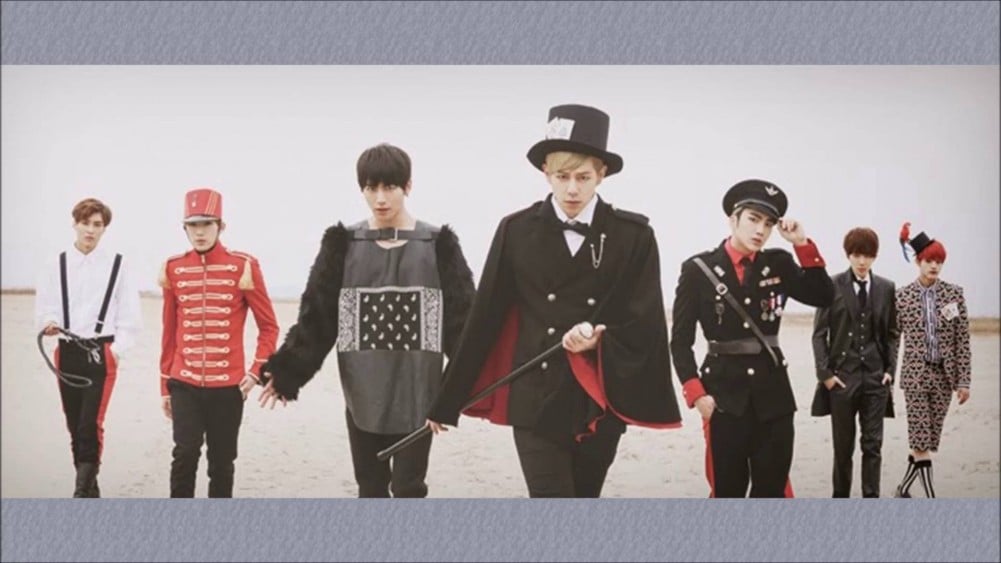 A big part of the Kpop experience is the high quality music videos that look like little movies. But not every great Kpop song has a music video. Here's a list of five great sings without a music video.
1. Girls Girls - Deal
For their debut Girls Girls did not release a music video. Deal was released to the world in the form of a dance practice video in which the girls hope to capture the audience with their sharp and powerful moves.
Girls Girls debuted as a five member girl group under H Brother Entertainment in 2015. They consisted of Bori (Kim Suyoung), Rina (Lee Minji), Lee Aryeong, Kim Gyurang and Kim Miso. Their fans were named after their debut single, namely Dealers.
In 2016, the group made their first comeback with the song Girls Girls, which was a b-side on their debut single. For this song, they did release a mv and released two choreography videos: one for Girls Girls and one for Deal.
After the release of Girls Girls, member Gyurang left the group. The group continued on with the remaining four members and released Juicy Secret in late 2016. While the group went for the sexy female warrior concept for the first two songs, the went full on sexy for Juicy Secret.
The group hasn't made a comeback since. Where the groups stands is unknown to anyone besides the members themselves and the company. Miso made her solo debut in 2017 and is currently running a Makestar project for her third solo album. When she releases, she will have more songs to her name then the group.
At the beginning of the year, member Rina released a video on her Instagram saying that 2018 would be the year the group would have many activites together, but it's almost November and we have not even seen a festival performance by the group.
The girls all stopped mentioning Girls Girls and the company changed all their social media links on Youtube to Miso's solo accunts and their group accounts are filled with Miso posts. Their hasn't been an update on any other member on those accounts since May 2017. Only Rina is still confirmed to be signed to te company as she and Miso both started up BastarBastar accounts mentioning the company and she tagged Miso (only Miso) in the post.
Whether the group is still the same four members as they were or if they are undergoing a line-up change, or if they even are still a group has yet to be seen.
2. Hwang Injeong - Flame
Hwang injeong made her debut as a solo singer-songwriter under HJ Company/Grovve-Rilla Entertainment in 2016 with the release of this single! She was introduced to the public as a powerful vocalist, with a great rapping ability as well. A peformer who can hold the stage.
So far, Flame is the only song she has released. It sadly went unnoticed by 99% of the Kpop fans and news about this singer is scarce.
3. MFECT - Rumble
MFECT is a five meber boy group from Midas Entertainment. They made their debut with as self-composed and choreographed song in 2015.
One thing that stands out about this group is that they usually don't release their music videos when they are promoting their comebacks. Impact, their debut, was released in July. Two months after the official release. Reason, their second comeback, was released in December 2016. The mv wasn't released until february 2018.
Only Just You's mv was released a day after the album release.
Currently, Rumble, their latest comeback from June 2017, is mv-less. It only has this dance practice video and one broadcast performance.It's a simple, yet catchy song.
4. Sunny Days - I Don't Need You Boy
I Don't Need You Boy, also known as Half the World Are Men, was released in 2014 by girl group Sunny Days. The group made their debut in 2012 under Haeun Entertainment and sadly disbanded in 2015 after not getting enough recognition with their last single Blah Blah.
During their career, the group had multiple line-up changes. The group started out with five members, but member Minji left right after their debut due to an ankle injury and was replaced by member Seoyeon. In 2013, two members were added to the line-up: Bichen, who is currently a very popular soloist in China, and Gyuhee. Halfway through 2014, they and Seoyeon left the group and Jungyoon was added (this is the line-up that released I Don't Need You Boy). End 2014/beginning 2015, three of the original members, Jihee, Soojung and Soohyun, left and Dasom (Terry from NeonPunch), Heuira (currently solo) and Dayoung entered. They relased the group's final comeback Blah Blah.
their disbandment was confirmed by the company through an email sent to a fan, who was concerned for the group after the comeback's results.
5. SPEED - Don't Tease Me
This song is probably well-known among Kpop fans for it's dangerous choreography.
SPEED debuted in 2012 under Core Contents Media (currently MBK). Originally, SPEED was the male sub-unit of coed group Coed School, just like Five Dolls was the female sub-unit. They grew to become an independent group as stated by the CEO of the CCM in 2013.
The group consisted for the most part of Kim Yuhwan, Shin Jongkook (Superstar K3), Park Sejoon (currently an actor), Kim Jungwoo (currently part of Maroo Entertainment), Taewoon (Woo Jiseok, Block B Zico's older brother), Choi Seungmin (currently an actor, older brother of IZ*one's Choi Yena) and Taeha (Oh Sungjong, currently solo as IONE). Taewoon left the group in 2015 to focus on his solo career, but still stayed close with the group, even coming to the mv shoot for What U and appearing in their behind the scenes footage showing support to the members. Member KI-O was added to the group at this time.
The group unofficially disbanded in 2015, after promotions were cut short, the group's page on MBK's website was deleted and members started leaving. Till this day, MBK has confirmed nothing.