On the August 20 broadcast of '
Hello Counselor
', one girl told the story of how her younger sister is so obsessed with fangirling over idols, that she mistreats her family, refuses to go to school, and watches idol videos all day. 
According to the older sister, the younger sister biases 9 different boy groups/artists - she started liking idols when she was 10 years old with EXO, but is also a fan of BTS, Wanna One, ASTRO, Seventeen, BTOB, Pentagon, and Kwon Hyun Bin - a total of nearly 70 male idols!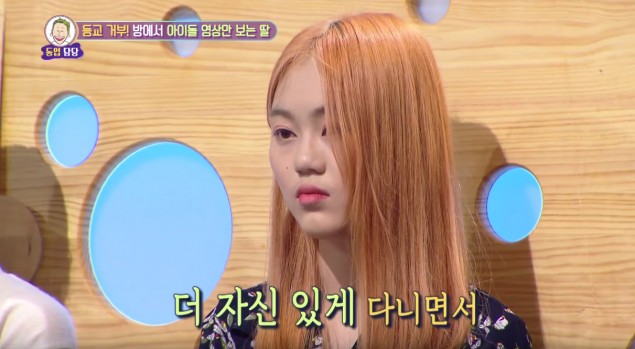 The older sister then went on to explain how her younger sister hides the TV remote from their family, watching the same footage 10 times, and sits in the living room yelling out fan chants. Not only that, she spends around 20,000 - 30,000 KRW (180 - 280 USD) a month on idol goods, lying to her parents to earn more allowance. She then yells at or curses at family members for eating idol-endorsed foods she bought, or for simply coming into her room.
After watching the episode, K-netizens began discussing whether or not they could pull it off, biasing as many idols as the girl from 'Hello Counselor'. Some said, "It's totally possible if you don't participate in communities", "That's lightweight (spending). I only bias one idol but I spend more than her. Other real fans, you agree right?", "I mean, as long as you're happy what's the problem?", "If you count it the way she was counting her biases, then I probably have 100+, with all my idols and anime idols", "I bias 42 idols and I'm a true fan", etc. 
However, others argued that to "bias" multiple idols meant "not biasing anyone deep enough", "It only looks like one bias member per group, and EXO is her main. That's not biasing 70 idols", "How can you like EXO and BTS at the same time...", "20,000-30,000 KRW isn't a lot for idol biasing, but if it's your parents' money then that's bad. But what about for voting? If you like EXO, BTS, and Wanna One all at once then who are you going to vote for? Kekekeke", "She doesn't even know all 70 idols' birthdays. It's just lighthearted biasing", "Just watching videos of them doesn't count as biasing", and more.
Check out clips from the latest episode of 'Hello Counselor', above and below. What do you think about this particular fan's story?